Rocking chairs make the perfect solution for indoor and outdoor relaxation, especially for seniors.
As old as the concept may be, the rocking chair still impacts our lives and is still a preferred comfort chair among seniors.
However, styles and designs have changed from the basic wooden rocking chair.
So in this article, we will explore more advanced designs and styles of Rocking Chairs for Seniors.

---
---
why Invest in a Rocking Chair for Seniors
Seniors need a comfortable space to sit and relax, as they may not be as mobile as they were in their younger days.
A rocking chair is a chair that rocks back and forward in a soothing motion to comfort you and soothe you to sleep.
For seniors who struggle to sleep or suffer from conditions that cause them to be nervous or anxious, such as dementia, the rocking chair can be a soothing space where they can relax and unwind.
You get rocking and Gliding chairs, which are essentially the same thing. However, they work with different mechanics.
The Glider is a more modern version offering less rocky and smoother back and forward motions than the rocking chair.
---
Choosing the Right Rocking Chair
Here are a few designs of Rocking Chairs that you Could Consider;
Traditional Rocking Chair – The traditional rocking chair has an old-school wood frame design and a comfortable cushioned seat. It is the most affordable and portable type of rocking chair.
Recline Rocker – A reclining chair in its full comfortable glory with padding and upholstery that can recline and rock back and forth. This is a stationary design that is heavy and not portable.
Glider Rocker – The same thing, the gliding motion works differently and is much smoother than rocking. They are more ergonomic in design and glide in a flat plane.
---
Features of a Good Set of Rocking Chair for Seniors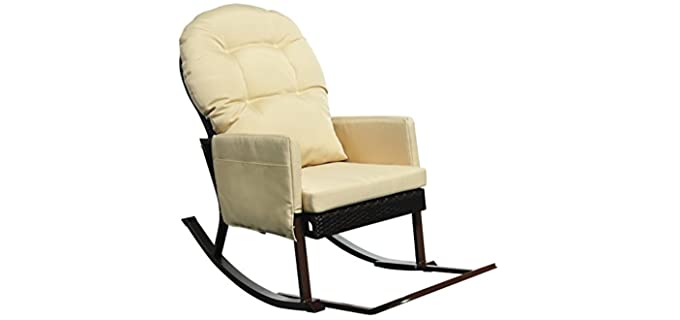 Purpose of the Rocking Chair – Before deciding on a rocking chair, you will need to decide what and where it will be used for. The space you have available plays a role in the size of the rocking chair you can get. Please decide whether you need a basic rocking chair or something with more features, such as a rocking recliner.
Design – We have included a range of rocking chairs, from the most basic chair with a wood frame and seat cushion to more plush cushioned reclining rocking or gliding chairs.
Materials – The rocking chair should have a sturdy wood or metal frame and base, a cushioned seat and back, and fabric, leather, or Pu leather upholstery.
Chair Weight – Most rocking chairs and recliners have a weight limit of around 250 to 350 lbs. It will also depend on the type of rocking chair and its functions.
Portability – You will need to consider whether you need the chair to be moved around or transported. In this case, more lightweight and portable models are advised.
---
Reviews: The Best Rocking Chairs for Seniors
In our review list, we have a range of different types of rocking chairs and recliners that are perfect for seniors;
---
1
---
2
The Comhoma PU leather rocking recliner is fancier and feature-rich.
It is a comfortable reclining chair that also offers a soothing rocking motion.
The rocking chair has durable PU leather upholstery and is available in a few neutral color options.
It comes fully equipped with side storage pockets and cup holders.
The electric rocking chair features massage and heat functions as an additional extra.
---
3
From Art to real, we have an Outdoor Rocking chair for seniors.
The rocking chair comes complete with a footrest and Glider rocking function.
It consists of UV-resistant materials and has a rust-resistant aluminum frame.
The rocking chair has thick and soft cushioning for your comfort.
---
4
The Christopher Knight rocking chair is also a comfortable rocker recliner model.
It has soft fabric upholstery in an Overstuffed design and brown color.
The recliner rocker has a gliding rocking function that is much smoother and more comfortable.
It consists of 100% polyester fabric that is durable and easy to maintain.
---
5
The Coaster Upholstery Glider and Rocker chair come with a matching Ottoman in a neutral beige color.
It has a solid cherry wood frame and beige-colored textile fabric upholstery with soft cushioning.
There is a separate ottoman on which you can rest your legs while rocking in n your chair.
The Seat cushion is thick and comfortable, and the Ottoman is similarly cushioned.
---
6
From Amazon Brand, we have the Ravenna Home Oakesdale Contemporary style rocker recliner.
An exquisite piece recliner and rocker all in one comfortable chair.
The rocking chair is upholstered with fabric and has foam padding.
It has a softer Gliding rocking motion that is smooth and quiet.
---
7
From Ashley, we have their signature design rocker recliner in lovely; leather upholstery.
The recliner has a Power Lift function and rocks, ideal for elderly persons.
It comes in neutral color options with rich Pu leather upholstery that is easy o clean and maintain.
The Rocker chair has slow power movement and a corner-blocked frame with metal reinforced seats.
---
8
From Yoleny, we have something simpler and more lightweight in a rocking chair.
It is a wood-framed cushioned rocking chair that also comes with an ottoman as a footrest.
The rocking chair has a lightweight wood frame that is durable and sturdy.
Removable seat cushions are made of a soft fabric, available in neutral colors.
The seat and ottoman are generously padded.
---
Index Table: Top Rated Rocking Chairs for Seniors
---
---