Choosing the best wheelchair option as a senior for yourself or a loved one is a significant decision that should be well thought out and researched.
As the user will be spending a significant amount of time in their wheelchair, you will need to look at something functional and very comfortable and cater to the individual senior person's specific needs.
The best wheelchair for seniors will be discussed in-depth in this article to help you make a responsible and informed decision for a senior or yourself as a senior person.

---
What Wheelchairs Are Available for Seniors
As every person has slightly different mobility needs, let us start by taking a look at the main types of wheelchairs that are available for seniors;

Standard Manual Wheelchairs – Standard Manual Wheelchairs are usually the most budget-friendly and the first options most people consider. A manual Wheelchair needs to be pushed by the user by pushing the handles on the heels or pushed from behind by someone else. These wheelchairs are ideal for independent seniors that can push themselves or more fragile seniors needing care from a nurse or family member that can push them.
Electric Wheelchairs – Electric or motor-powered wheelchairs are more suitable for seniors who struggle with upper-body mobility and cannot push themselves yet who still want to enjoy some independence. They are on the more expensive side and very heavy, so they are quite hard to transport.
Heavy Duty Manual Wheelchairs – Heavy Duty Manual Wheelchairs are perfect for seniors who need additional support and durability from their wheelchairs. Heavy Duty Wheelchairs can accommodate taller and larger individuals, up to around 500lbs. These wheelchairs will also be much bigger and heavier, so likewise hard to transport.
Light and Ultra-Light Manual Wheelchairs – These wheelchair models are designed to be very light and foldable; they fit easily into the trunk of a car and are easily folded and carried around because of their lightweight. I recommend them for a senior who may tire of walking or cannot walk with an outdoor excursion or trip to town. However, they are not the most comfortable design for everyday all-day use.
---
Thing to Consider When Choosing a Wheel Chair for Seniors
It would be best if you kept quite a few things in mind when choosing the best wheelchair for a senior, and their specific requirements will also affect the choice;
Cost – Firstly, Cost wheelchairs are expensive; unfortunately, most of the more luxurious user and advanced models are the most expensive. You should balance quality and cost and consider exactly what the user or you as a user's needs are. If you need something daily, it is better to invest in good quality and luxury items. However, if it's only for use now and then, a cheaper, easily portable device is advised.
Transportation – Heavy-duty manual and an electric wheelchair are heavy and difficult to transport and more advised for home daily use. At the same time, foldable light options are easily transported and light.
User's Mobility – Seniors with severe mobility issues will do better with an electric wheelchair than a manual, as this still gives them some independence. But more frail seniors may need a push-around wheelchair, and those with mobility can use a self-pushing wheelchair. So, it all depends on the individual using the wheelchair.
Comfort – A more comfortable wheelchair with additional features such as adding footrests and back or armrests is ideal for seniors who spend most of their day in a wheelchair. However, the extra features are not required for seniors who will only use a wheelchair now and again.
Size is – Keep in mind the size and width of the wheelchair for transportation and for seniors that need to move around through narrow spaces.
Weight – Heavy-duty wheelchairs ate more suitable for heavier and larger seniors, while you can invest in something lighter for small and lighter-weight individuals.
---
Features of a Good Wheelchair for Seniors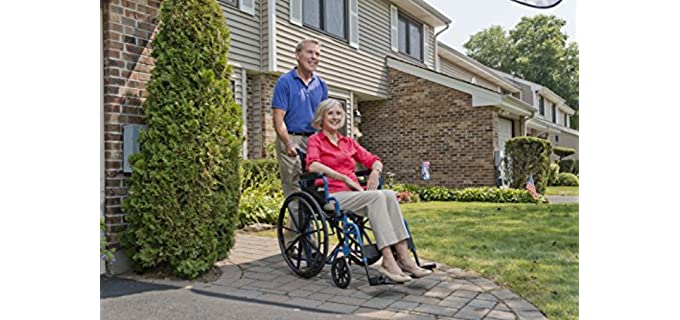 Design – You can choose an electric or manual wheelchair. There are also lightweight foldable options, heavier stationary options, and heavy-duty wheelchairs.
features – Flip-Back arms, Adjustable seats, kick-back Leg rests, and cup holders are all features that come in handy in a wheelchair for seniors.
Wheels and Motor – The wheels and motor should run smoothly and with little noise.
Durable Frame – The frame of the wheelchair needs to be sturdy, durable, and usually metal.
Padding – Padding in the seat and back is ideal; the armrests and leg rest may also be padded for comfort.
---
Reviews: The Best Wheelchairs for Seniors
In our list of reviews, we have some top brands and models in wheelchairs that have the perfect features and designs for seniors;
We hope you love the products we recommend!
We may collect a share of sales or other compensation from the links on this page.
---
1
---
2
The Medline model Wheelchair aims at extra comfort and accessibility in the perfect design wheelchair for seniors.
Medline is another popular quality brand with its lightweight wheelchair.
This design comes in two options and is very lightweight for easy transport.
It has a flip-back and desk-length arm set.
The upholstery is breathable and durable nylon.
Premium weld ensures better quality and durability.
The mag wheel rolls smoothly with low-maintenance tires.
---
3
The Carex Wheelchair is a full house of wheelchairs for seniors.
The Carex Wheelchair is a large heavy-duty design.
The seats are fully padded for your comfort.
It stores quite compactly and has a 250lbs weight limit.
The wheelchair has swung away and removable footrests and can easily fold for storage.
---
4
The Drive Medical Blue Streak Wheelchair has a comfortable and convenient design for senior individuals.
The Blue Streak from Drive Medical is a more lightweight foldable option.
It comes with flip-back desk arms and a swings-away footrest for your convenience.
The chair is padded and covered with durable and breathable nylon.
There are also two options available from which you can select.
---
5
The NOVA medical design wheelchair for seniors is lightweight, with safety locking hand brakes.
This is a lightweight, easily transportable wheelchair available in a few options.
It is versatile enough for outdoor and indoor terrains and has handy patented locking brakes.
Effortless user transfer with a removable padded desk arm set.
There are easy-to-use and removed footrests for your comfort,
---
6
The Drive Medical Silver range is a more basic but comfortable and convenient wheelchair model for seniors.
The Drive Medical Silver is a sporty wheelchair model for seniors.
It comes with all the accessories and extras that you may need.
The motor is quiet and smooth in operation, as well as durable.
The frame is sturdy and lightweight.
There are also various arm styles and front rigging options.
---
7
From Drive Medical, we have a heavy-duty wheelchair for seniors with padded armrests.
The wheelchair has a carbon steel frame and triple-coated chrome.
It is a heavy-duty, durable design,
There are various arm styles and Front Rigging Options, and the seat is extra. wide.
It is comfortable and easy to use by seniors.
---
8
The Angle USA is a heavy-duty design wheelchair for seniors.
This is a heavy-duty wheelchair design.
It is durable and can handle heavier weight.
The design is spacious and comfortable, with a padded seat.
The leg rests are comfortable and ideal.
The chair also comes with a dual ramp.
---
9
This model from Drive medical comes with many luxury features for seniors.
The Wheelchair comes with a detachable desk and an elevating leg rest.
It has a sturdy frame and a comfortable seat.
The armrests are padded for comfort, and there is a headrest.
Lightweight and very durable.
---
10
A lightweight and comfortable wheelchair for seniors from Karman.
The wheelchair is lightweight and durable.
It has anti-tipping technology and a seat belt.
The brakes are standard, and there is an ergonomic seat.
Comfortable size and lightweight design.
---
Index Table: Top Rated Wheelchairs for Seniors
---
---