Just as seniors enjoy kicking back in their recliner chairs and watching television, they also need to spend time outdoors in the fresh air or with family for a barbeque or outdoor event. Therefore, an outdoor chair for the elderly is just what you need to ensure an amazing comfort and lounging experience.
We have compiled a shortlist of the best options available online. Check them out!

---
---
Choosing the Best Outdoor Chair for Seniors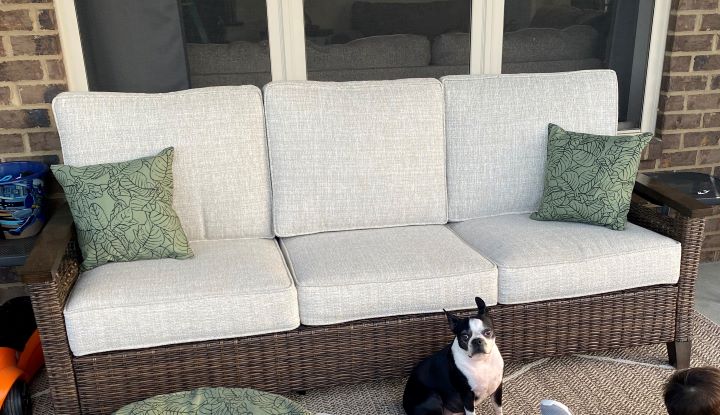 When you picture a senior person outdoors or on a patio, you may picture a withered old grandfather with his granddaughter in a rocking chair or an old grandmother with her grandson on a porch swing. These are very idyllic scenes, but there are many more ideal seating options for an older person than a rocking chair or outdoor porch swing.
So, what are we looking for?
While older adults may be just as sharp mentally as they used to be in their younger days, their backs, knees, shoulders, and body parts may become more creaky and sore. They may not be able to do what they used physically, and a simple outdoor chair could be uncomfortable and unstable for them.
Thus, you need to consider these points;
Consider a chair that is easy for them to get in and out of, so look t depth, size, and height.
Sitting on the chair should hold their posture properly and not cause them to bend down or hunch over.
The seat needs to be cushioned and comfortable to reduce pressure points.
It must offer adequate back support, especially for the lower back.
---
Types of Outdoor Chairs for the Elderly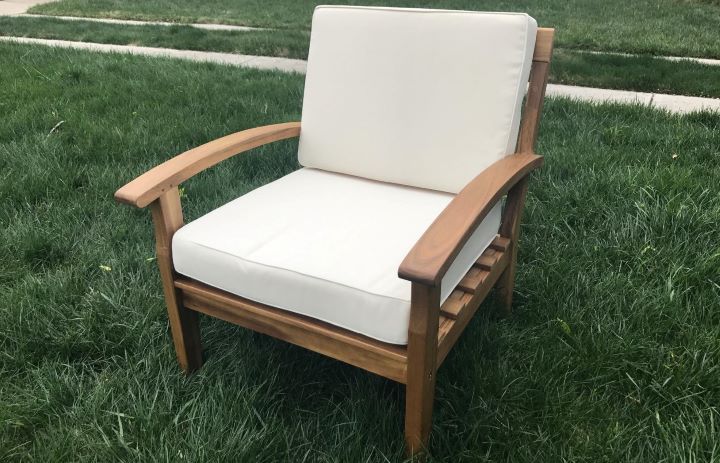 Here are a few ideas on outdoor chairs that are the best outdoor chairs for the elderly;
A Patio Recliner – The Patio recliner is a heavy-duty chair that usually has rust and a weather-resistant frame. It reclines with comfortable cushioning and a supportive back. Some recline designs may not have to cushion and rather just webbing.
A Outdoor Rocking chair – Outdoor Rocking chairs come in foldable, portable, and fixed-standing options. The chair has a rocking, functional, and comfortable design with or without cushioning.
An Outdoor Chaise Lounger – The Chaise Lounger for the outdoors is similar to the indoor design but with more durable and weather-resistant materials. The chair is sturdy and allows you to fully extend and get comfortable for many hours in the sun. The Lounger also has comfortable armrests.
Zero Gravity Recliner – The Zero Gravity recliner is available in a beach or camping chair design or a sturdier fixed option. It can recline into zero gravity and infinite positions and offers full neck, leg, head, and neck support. The chair may be padded and comes with armrests.
Outdoor Club Chairs – A wood or wicker outdoor club chair is comfortable and looks good. It has a cushioned seat and back with a wood or wicker frame and armrests.
You can opt for an appropriate design Camping Chair for a more portable outdoor chair option. Taller and higher camping chairs are easy to get in and out of, and they may come with armrests and comfortable webbing, along with other features.
---
Features of a Good Outdoor Chair for Elderly
When choosing a good outdoor chair or patio chair for a senior individual, three main considerations can help you make a more informed choice;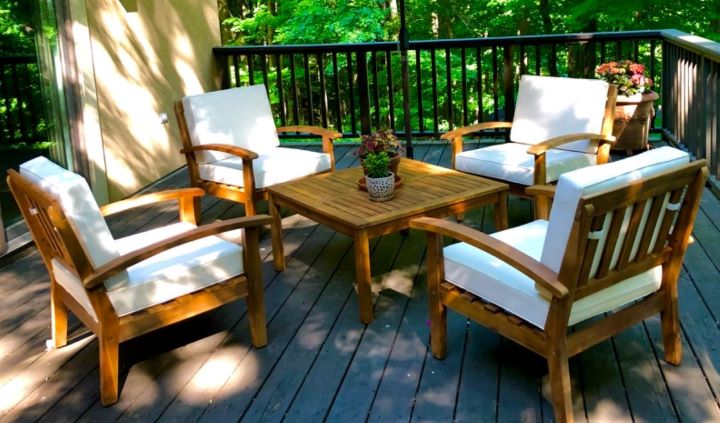 Proper Posture – Proper posture is of utmost importance for a senior person. Proper posture holds many health benefits for seniors and can significantly boost their energy levels and confidence in life. I am sure that they have a comfortable lounge chair indoors that supports their posture, but the goal here is to invest in an outdoor or patio chair that supports their posture to feel even better when enjoying the fresh air outdoors.
Sturdiness – Another key consideration is the sturdiness of the outdoor chair for a senior individual. You cannot risk having a flimsy chair that may cause them to fall or break under their weight, as a fall for a senior adult can be very severe. Quality is usually directly related to how sturdy the chair will be, and a good quality sturdy outdoor chair will consist of good quality materials with proper construction. Have you ever sat on a plastic lawn chair and had it just snap off? This is why I would like you to select good quality and sturdy outdoor chairs with heavy-duty quality plastic, sturdy wood, or a durable and sturdy metal frame.
Ease of Use – Choose a chair that is easy for a senior. Generally, elderly people struggle to sit down and get back up again. It is always important to consider height in an outdoor chair for the elderly. A low-profile chair is not advised for a senior person as it is difficult to sit down and get back up, so always opt for a higher-profile chair. A simple design with an armrest is most comfortable and user-friendly so that there is something for them to grab onto and hold onto when getting up and sitting down.
Comfort – Comfort is essential as you want your senior loved ones to enjoy their time outside. So, look for a chair with comfortable and durable cushioning or materials that are comfortable to sit on, and that will not cause pressure points. When choosing an outdoor chair with cushions, remember to look for some that have a removable cover that you can wash and a weather-resistant design.
---
Reviews: The Best Outdoor Chairs for Elderly
Here we have a variety of the best available outdoor chairs for elderly persons.
We hope you love the products we recommend!
We may collect a share of sales or other compensation from the links on this page.
1
---
2
The Preston wooden Club chair is a decorative and functional piece of your garden and patio that is also very comfortable for an older person to sit on.
You get two club chairs in this option.
The chair has a comfortable seat and cushions and an acacia wood frame.
The cushions come with a water-resistant cover that can be removed and washed.
---
3
The Walker Edison Estrella is a comfortable outdoor chair designed for seniors.
It comes in several options you can choose from as needed.
The color is neutral, and the design is quite elegant.
The chair has a steel frame and UV and Water-resistant materials.
It is functional and contoured for your comfort.
---
4
The Hanover Ventura Chair is a sturdy outdoor recliner chair for seniors.
This chair has a hand-woven wicker frame and thick cushions for comfort.
The chair is rust-resistant and very durable.
It is a generous size and a good height.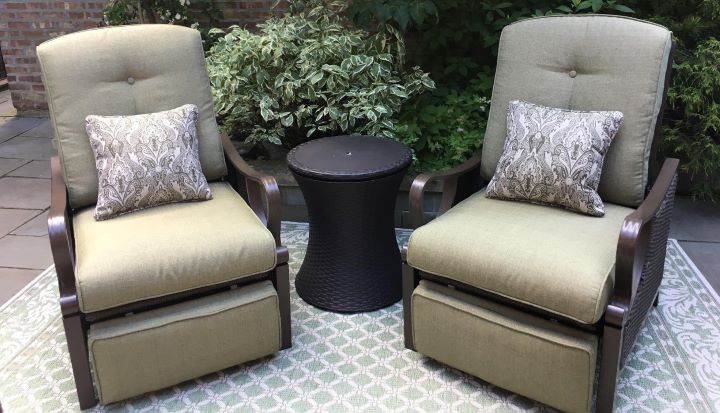 ---
5
From the Portal store, we have an oversized mesh-back zero-gravity outdoor chair for the elderly.
The chair offers zero gravity and infinite recline positions.
It has full back and leg support, a breathable mesh cover, and a sturdy frame.
It is oversized for larger elderly individuals.
---
6
The Lokatse Outdoor chair is perfect for elderly individuals.
It has a higher seat and a comfortable design.
A Barstool type design with a wide seat and swivel function.
The chair is fully cushioned for your comfort.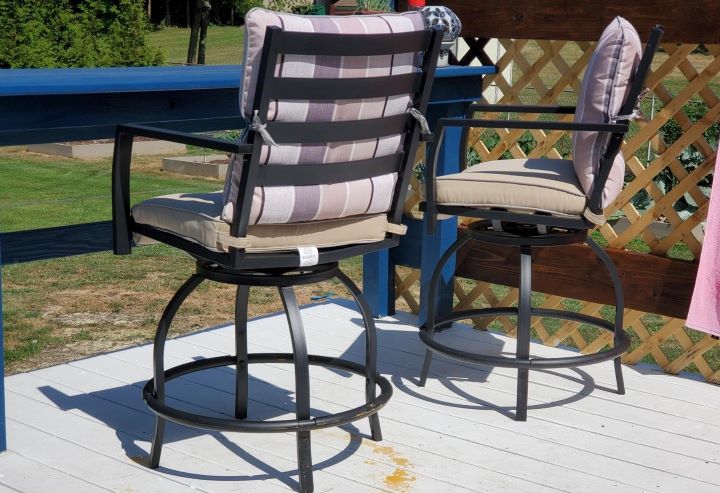 ---
7
For a camping chair design, we have the GCI outdoor chair that is portable and foldable.
It has a wide and comfortable seat and a supportive back.
This chair is ideal for travel or if you have minimal space in your garden or patio.
It folds up easily and stores compact.
There are two colors available.
---
8
The Patio Tree Outdoor Recliner chair is also perfect for elderly persons.
It has adjustable legs and a back mechanism that can adjust.
The frame is durable, powder-coated, and rust-resistant.
It has thick foam cushions with a premium olefin fabric that is durable and UV resistant.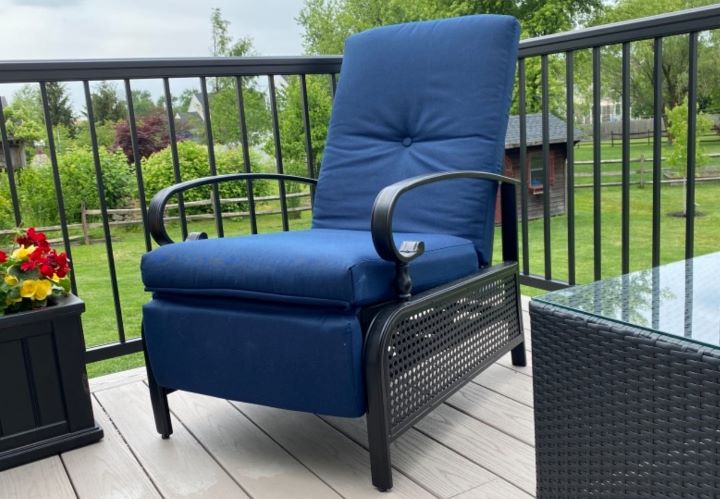 ---
9
The Art Leon outdoor chair for seniors comes in a three-piece set for your garden or patio.
The chairs are a rocker swivel design with PE rattan Wicker construction.
They have removable thick sponge seat cushions and backrests.
An elegant and modern design is available in neutral color options.
---
Index Table: Top Rated Outdoor Chair for Elderly
---
---