A Booster Seat for the Elderly can be used for height on a chair or car seat or more comfort, especially for long car rides or longer periods of sitting.
A Booster seat for the Elderly will have a soft foam fill and ergonomic design that provides comfort and pressure relief from sitting. They will also add a few inches of height to a seat.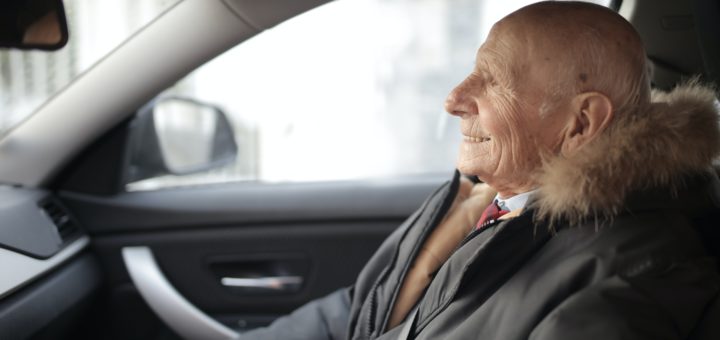 ---
What is a Booster Seat
The Booster seat can add a few inches to a car seat or chair.
A Booster seat, or cushion for adults, is basically a cushion designed for car seats, usually, or for office chairs that can help eliminate pain and discomfort from sitting for long periods.
---
How Do Booster Seats Work for Seniors
As seniors may not have the necessary muscle mass or fat deposits they used to in their legs and buttocks, it may be straining and painful for them in a stead position, especially for long periods.
Booster Seats and cushions are ideal for seniors, and they work in the following ways;
Overall Comfort – Being seated, especially for long car rides or long periods on a chair or office seat, can cause pain, tingling, and numbness in the legs, buttocks, and back pain. A Booster seat provides better alignment for your back with softer cushioning and support features that relieve pain and improves blood circulation to prevent numbness in the legs.
Height – Many Booster seats offer a few inches of extra height to a seat or car seat, which can be ideal for seniors.
Relieves tailbone and Coccyx Pressure – Most booster cushions or seats have an ergonomic design especially for relieving pressure off your coccyx and tailbone. Pressure on the tailbone and coccyx, especially in elderly persons, from sitting,g can lead to pain and injuries.
Pain relief Associated with Sarcopenia – Sarcopenia is a condition with drastic muscle loss throughout the body. The condition is found mainly in the elderly and can cause much discomfort. A Good Booster seat can help relieve pain and provide more cushioning for sitting when there is none in the buttocks.
---
Features of a Good Booster Seat for the Elderly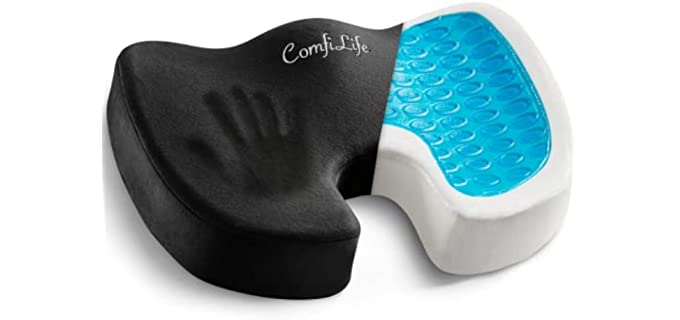 Comfort Features – For seniors, you will need a Booster seat that has much softer and more comfortable cushioning than for children and babies, as they have much less muscle and fat from age. The seat needs a much more ergonomic design to help with proper alignment that will not cause back aches or pain.
Materials – Most Booster seats for seniors will have foam, memory foam, or Gel cushioning, sometimes a blended option. The cover will be mesh, polyester, or a breathable material that you can remove and easily wash, usually with a zip or Velcro closure.
Design and Height – You can look for a contoured or Orthopedic design booster seat for the elderly that provides much better comfort and support. The height should be correct for the seat that is to be used for elderly individuals. Most Booster seats for seniors do not have adjustable heights.
Options – the Booster seat may offer size and cover color options, which will all depend on the brand and model of a booster seat.
---
Reviews: The Best Booster Seats for the Elderly
In our list, we have chosen some of the best available booster seat brands and models with a design especially suitable for elderly persons;
---
1
The Everlasting Comfort Booster seat is designed specifically for cars and trucks to provide comfort and height for a senior person.
It has Crystal Velvet material for the cover that is breathable and will stray fresh.
There is Memory foam cushioning that is soft and moldable for seniors.
The booster cushion has a wedge design that is ergonomic and comfortable.
It has a non-slip bottom with grips to keep it perfectly in place on the car seat.
The travel Booster seat relieves pressure and provides comfort, especially for long driving trips.
It has a three-inch thickness height.
---
2
From Cylen, we have a home booster seat that you can use at home or in a car for extra height and comfort.
The Booster cushion consists of Memory foam and bamboo and is charcoal infused, which helps reduce odors, absorbs and wicks away moisture, and provides comfortable and plush cushioning.
The memory foam is excellent quality and offers good pain relief.
The Booster seat comes with a five-year warranty for quality.
It can be used on any chair design and in a car seat.
---
3
Here we have the Everlasting Comfort Booster seat that you can use on a car, chair, or office seat.
It is specially designed oy relieve coccyx and tailbone pain in seniors.
The Booster cushion contains Oeko-Tex standard materials and memory foam cushioning, which is the highest quality and safe for human health.
It will easily fit all types of seating firm, office, and home chairs to a car seat.
The size is 17 by 14 inches with a 2-inch height.
The cushion has a breathable cover that is removable and washable for your convenience.
---
4
The Dreamer Car Booster Seat cushioning is a larger size for more comfort for seniors.
It is a wedge-style cushion designed specifically for seniors that do plenty of traveling.
The Booster cushion has a high-density soft foam inner and a comfortable and breathable cover that you can easily wash.
It provides excellent coccyx and spinal support with an ergonomic wedge design.
The seat cushion is a versatile design that is convenient to use and fully portable for the elderly.
It has a non-slip rubber base which means it will stay securely n place on any seat type.
---
5
From Larrous, we have a car booster seat for seniors that offers much more height.
The Booster s.
The seat has an ergonomic design that reduces back pain, leg pain, numbness, and fatigue from sitting for long periods.
It is a luxury 100% Pure Memory foam seat cushion with a high-density inner core and breathable mesh fabric cover.
There is a non-slip bottom fabric that will help to keep the Booster seat in a fixed position.
The Booster seat has a wedge design with 1.70 inches in the lower and 2.16 inches in the rear to add height and comfort.
---
6
The ComfiLife booster seat for seniors is one of the most comfortable cushions for coccyx and tailbone support that you will find.
It adds some height for seniors and provides very effective pain relief and comfort.
The booster cushion can be used in an office chair, a regular chair, and a car seat, making it very versatile for seniors.
It consists of a Gel-infused Memory foam which has a cooling effect of preventing overheating from memory foam.
The Booster cushion has a soft and breathable velour cover with a zip closure so that you can remove it, and it is machine washable.
The Booster seat will add height and provide excellent comfort and ergonomic support.
There are a few options in color if you would like to choose.
---
Index Table: Top Rated Booster Seats for the Elderly
---
---