The power lift recliner or power lift chair for seniors is an electric chair with a lifting function, which easily places you from a sitting position into a standing position. The power lift chair is ideal for seniors that struggle with mobility or to get in and out of a reclining chair or a comfortable chair.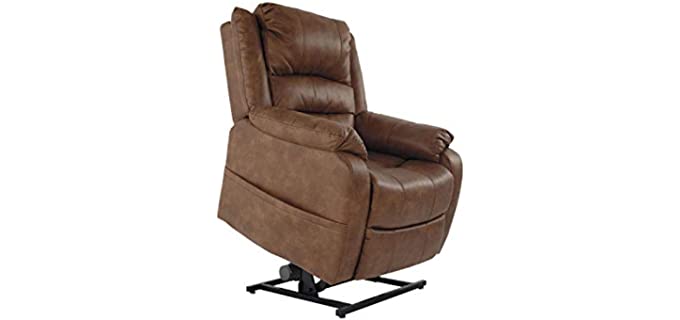 ---
Lift Chairs for Seniors
The power lift chair for seniors can incredibly impact the quality of their life. It can improve mobility and reduce pain for them as well as the potential for an injury suffered when they may fall. There are a few good reasons why a senior should get a power lift chair or recliner.
Mobility Issues – Sometimes seniors might find themselves, having much difficulty sitting down and standing up on their own without any help. It can be distressing for them, and it can create a large loss of Independence. Having a lift chair can make it easier for them to sit down and stand up again without having to ask for any help.
Safety – A lift cake can help to reduce the risk of an injury. That could cause an elderly person to fall. A lift chair may be a much safer way for them to get up in and out of their reclining chair or lift chair.
Ideal for Caregivers – Most kids gave us to try to help an elderly person as much as they can to set up and sit down. However, this can take considerable time, and it can be difficult for them to handle an elderly person. The Lift Chair can help an elderly person from a sitting possession in. With standing position and vice versa.
When Not to Buy a Lift Chair – If you have a health condition that is so manageable, it is important to continue using your muscle functions to prevent further loss. Having a power left chair when you do not need it when you are still quite mobile and do not have pain or any other conditions, can make you lazy and also reduce the use of your muscles, which has much needed as we age.
---
Benefits of the Lift Chair
The lift chair or lift recliner is a stable way to help you get up and down off the resting in your chair or recliner. It saves you from pulling your body in specific ways and feeling pain. And it also helps you win. You need a family member or someone else to help you to extend up and sit down. The power lift chair comes with a comfortable remote, so you can use it at ease to relax in your chair and to get in and out of your chair.
As you will see, some of the models of lift chairs that I have included also come with other features, such as reclining features, massage, vibration, heat, and also small extras such as cup holders and storage pockets on the sides, which are all for your convenience.
---
Features of a Good Power Lift Recliner for Seniors
Upholstery – Power Lift Chairs do come in a variety of upholstery options. You can choose from genuine or synthetic leather that is durable and easy to clean and maintain. You could also choose from fabric upholstery such as Microfiber, linen, polyester, or chenille, which is more warm and comfortable.
Lift Function – The Power Lift recliner will be an electric recliner that lifts with the push of a button to help you up in a standing position. It may also offer electric recline and footrest functions.
Extras – Many Power Lift Chairs or recliners do come with additional extras such as cup holders, side storage pockets, and a USB charging point. Some electric models also offer heat and massage functions for your comfort.
---
Reviews: The Best Power Lift Recliners for Seniors
These are some outstanding choices in good quality Lift Chairs that are perfect in design for seniors;
---
1
The Canmov Power recliner has a Lift function and is a comfortable style for seniors.
It has soft and plush anti-skid upholstery in a durable fabric, and Overstuffed pillows on the back, seat, and armrests for soft comfort.
The back is tall and it has a 300 lbs weight capacity.
The Recliner has a powerlifting function and additional side storage pockets.
---
2
From the Signature Design By Ashley, we have the Yandel a Power Lift recliner for seniors.
It has synthetic leather upholstery that is easy to clean, water and stain resistant, and affordable.
The recliner has a contemporary design and thick cushioning.
The Power lift movements are slow and steady and it is ideal for seniors and disabled individuals.
The recliner is medium size and comes in easy neutral color options.
---
3
From Homelegance we have a Power Lift recliner that also features heat and massage functions.
It is a more compact size with a wood frame and Microsuede fabric upholstery.
There are 4 massage power levels, and multiple Lift and reclining positions.
It is operated electrically.
The recliner is available in a few neutral color selections.
---
4
The Harper and Brights Power Lift chair is specially designed for the elderly.
It is a fabric recliner that is easily operated with a single remote.
It has a massage and heat function for extra comfort.
The recliner adjusts smoothly and easily into different positions.
---
5
The Irene House Power Lift recliner is perfect for seniors.
It has a Dual Okin motor that works independently so that you can adjust the backrest and footrest separately.
The chair has an easy lifting function and can recline into infinite, and zero gravity positions for sleeping in.
It has a humanistic comfortable design and also offers heat and massage as an extra.
There is a comfortable lumbar support pillows and durable upholstery.
The wooden frame is sturdy and durable.
---
[/super_product]
6
For seniors that live in a small space, the Mcombo lift chair is smaller and more compact.
It has high-quality synthetic leather upholstery that is easy to clean, and maintain.
It has additional USB charging ports and dual side pockets for storage.
The recliner offers three Lifting Positions and comfortable recline positions for the elderly.
---
Index Table: Top Rated Power Lift Recliners for Seniors
---
---