You may not think twice about getting from a sitting position to a standing position, but as you get older, this simple and unthought-of function may prove harder and harder with time.
If you do not want to invest in a proper Lifting recliner or Chair, which may be large and costly, not to mention a not-so-portable option, the answer for you is a LIFTING Cushion.
---
Why Get a Seat Lifting Cushion
The Seat Lifting Cushion is a cushion that you can place on any seat type, whether a sofa, chair, or even a car seat in some models, with the manual or electrical function to lift, helping you get up and sit down.
The Lifting Cushion is a much more affordable and portable solution to the Proper Lifting Chair or recliner, which will give you easy mobility right now, where and whenever you need it.
You can choose between a self-powered or electrical lift cushioning option or an electrically powered option.
---
Best Seat Lifting Cushion Types Available Today
Standard Manual Seat Lift Cushion – This is your basic manual lifting seat cushion that uses a spring design usually operated with Hydropenumatics or Pneumatic gas for slow and easy lifting. Some design uses your body weight and a simple push-up with the arms to lift when seated. This is your most basic option which is usually also lightweight and portable.
Heavy Duty Seat Lift Cushion – This option could be manual or electrical, but the only difference is that it is designed to hold heavier weights and usually hold from 300 lbs up to 350 lbs. Whereas your standard Lift chairs hold between 800 lbs and 200 lbs in weight.
Portable Seat Lift Cushion – This is usually a manually operated design that is smaller and lightweight for portability and can be used on a car seat. It also uses a Pneumatic spring for raising and can usually handle a weight capacity of between 80 lbs and 220 lbs.
Memory Foam Cushioned Lift Seat – The Memory foam Lift seat is available in both manual and electrical versions. This cushion is filled with comfortable memory foam, which contours to the shape of your body and is a more luxurious type of fill than the general foam fill.
Electrical Operated Lift Seat Cushion – The Electrical Lift Seat Cushion uses electricity and usually comes with remote control for easy operation. A simple button pushes on the handheld remote lifts and stops the lifting chair in any required position. However, this option is more costly and not portable and requires an electrical source for operation.
---
Features of a Good Lift Cushions for the Elderly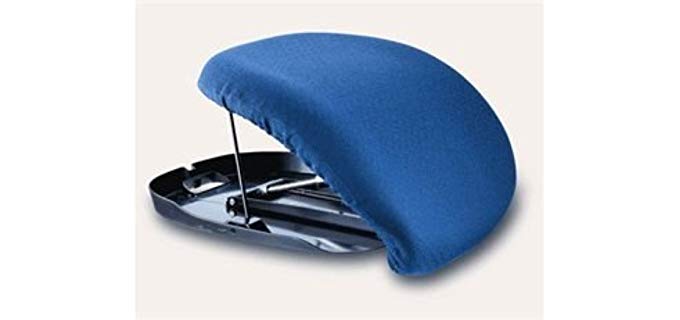 Padding – Comfortable cushioning from foam or memory foam.
Cover – Removable and washable cover that is breathable and waterproof sometimes.
Operating System – Easy HydroPneumatic or Neumatic gas lifting system, or electronic lifting system.
Weight Capacity – Weight capacity options and size options.
Compatibility – Compatible with most chairs and sofas.
---
Reviews: The Best Lift Cushion for the Elderly
We hope you love the lift cushions we recommend!
So that you know, We may collect a share of sales or other compensation from the links on this page.
---
1
---
2
The seat assists with mobility, allowing a more active and independent lifestyle.
It comes in the option of a large, which can handle up to 340 pounds, or a small, which you can choose from for up to 220 pounds.
Portable and lightweight design that you can take with you wherever you go.
A non-electric option is a Hydropneumatic gas spring and a safe and reliable lifting mechanism.
Features a softly curved pillow top with a durable fabric cover.
---
3
From Carex, we have their Uplift Premium, a heavy-duty lifting cushion that can hold a weight of up to 350lbs.
A heavy-duty or lightweight option is available for 230lbs or 350 lbs weight capacities.
You can also use this portable lifting seat and chair cushion in your car.
Easily washable cover that is waterproof and soft foam base for comfort.
Levelift technology ensures a much gentler and safer lifting function.
---
4
This cushion gives some elevation and comfort with a memory foam plush fill and a breathable and absorbent Bamboo cover option in black or blue.
Ergonomic support design that offers comfort and pain relief.
It gives slight elevation when you need it and is an easy design to get up from.
Infused with bamboo and charcoal for better ventilation and to reduce a rise in temperatures.
The cover is washable and very easy to slip on and off.
---
5
The Seatboost Lift Cushion supports up to 360LBS in weight.
It is an up-easy seat design for seniors that is also portable.
The chair is comfortable and easily maintained.
It has a Pneumatic lift system, so no batteries or electricity is needed.
---
6
An adjustable heavy-duty lifting cushion from Upeasy is ideal for seniors and those struggling with mobility.
You can adjust the lifting seat cushion to the appropriate weight setting for your weight capacity or requirements.
Can lift to 340lbs in weight with ease.
Fits on most chairs and sofas easily.
Sit down and lean back slightly; stand up, lean forward, and push with your arms to activate the lifting function.
Wide and comfortable cushioned seat with a durable fabric cover.
---
7
This is the Electric Option from Carex in their superb Premium luxury lifting cushion for seniors.
It has a width option of 17 or 20 inches wide and can handle a weight capacity of up to 300lbs.
Designed to easily fit most armchairs, couches, sofas, and chairs in general.
The cushioned seat is filled with plush memory foam and covered in a durable fabric cover.
The cushion of the seat is also waterproof and washable.
An automatic electrical lifting seat with easy-to-use controls and flexible hand-design control can adjust the seat to different settings.
---
8
From Carex, we have the Uplift Premium Lifting cushion for seniors.
It is an exceptional quality design lift cushion.
The seat is extensive and comfortable for seniors.
The Lifting mechanism works smoothly and effectively.
---
9
The Stand Assist is a portable lift cushion for seniors.
It offers 70% lift assistance to help you maintain leg strength.
The Lift cushions are easily portable and lightweight.
Comfortable and very easy to take care of the design.
---
Index Table: Top Rated Lift Cushion for the Elderly
---
---