Many seniors may suffer from incontinence, or be too weak to reach a bathroom in time, which could cause accidents, and which will also affect their confidence.
The Potty Chair for the Elderly is a portable chair with armrests and opening with a container and usually raised toilet seat that you can place inside their room or use for travel that is much easier to access.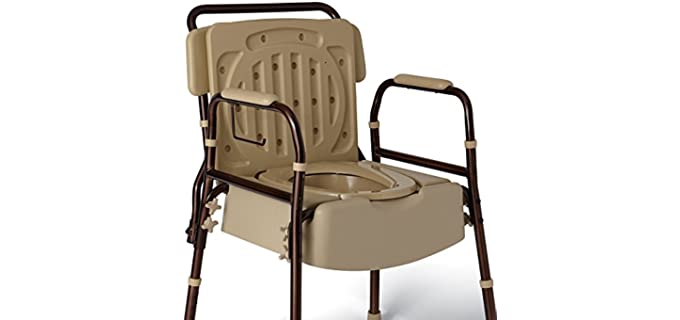 ---
Potty Chair Uses
The Potty Chair is a very versatile piece of equipment for an elderly person and can be used for more than just a toilet;

Travel – The Potty chair is usually foldable and portable and comes with wheels, so you can easily take it along for traveling or camping trips. It can easily be moved from one room to the next, as most come with wheels.
Bedside Potty – The main use for the Potty Chair is as a bedside toilet for seniors that is more comfortable to get on and off of, as well as more easily and quickly accessible.
Shower – Some Potty Chairs can double up as a shower or bath chair if you remove the potty, and they are ideal for an elderly person to take a shower or bath in a safe seated position.
Transfer Chair – You can likewise use a Potty Chair to easily transfer an elderly person to a toilet, shower, or bath.
Raised Seat – Some people use the Portable commode or potty chair as a raised seat over an actual toilet, which is much higher and easier for an elderly person to sit down on or get up from. Toilets are usually quite low and can be difficult for seniors when they try to get up.
---
Who Will Benefit from a Potty Chair?
Any seniors that has an issue with getting to the bathroom fast enough or incontinence may benefit from the Potty chair as it is easily accessible.
Seniors who struggle to get on and off of the toilet may also benefit more from a potty chair.
Then again, seniors with weakness, mobility issues, and who are sick or injured may also benefit greatly from a potty chair.
---
Features of a Good Potty Chair for the Elderly
There are quite a few types of Potty chairs available on the market, some are more stationary designs, while other do come with wheels making them more portable. Some may also have padded seats, while most have plastic seats.
For the most part, the design should be easy and sturdy to use, as well as hygenic, and easy to clean by a caregiver or family member.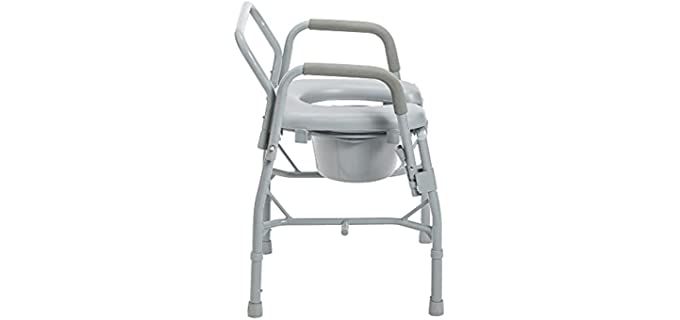 Removable Seat – A bedside Potty with a removable seat is much easier to clean, and you can also use the chair for showering and other purposes.
Adjustability – You need to be able to adjust the height of the bedside commode to make it easier for an elderly person to comfort and get on and off easily.
Stability – The Bedside Potty needs to be very stable with a durable frame for the elderly person to place their entire weight on. Most steel frames are heavier than aluminum, so they feel more sturdy.
Multi-Purpose – Many bedside Commode designs have more than just a toilet's purpose. They can also double up as shower or transition seats for bathroom safety.
Bacteria Protection – Some Bedside Potty for seniors provide an antimicrobial treatment on the surface for safety.
---
Reviews: The Best Potty Chairs for the Elderly
---
1
From Medline, we have a three-in-one bedside potty chair for the elderly.
The potty chair has a foldable design for easy storage and adjustable height that you can conveniently set.
It has a strong, durable steel frame that is powder coated and easy to assemble.
The potty can be used as a bedside toilet, a raised seat, or over a regular toilet.
It has an easy push button design for simple customized height adjustment.
---
2
The McKesson bariatric Commode chair is foldable and has a bariatric design for seniors.
It has a powder-coated sturdy steel frame that folds easily for storage.
There is arm rests for comfort, and it comes with a commode bucket with a splash shield.
It can be utilized s a bedside toilet, raised toilet seat, or as a toilet safety frame over your toilet.
---
3
The Drive Medical Commode Chair is the perfect design for the elderly.
It doubles up as a commode chair and a shower seat that is easy to clean and convenient.
It is highly portable and has three-inch non-skid casters for easy transportation.
The toilet seat is padded for comfort and has an easy clean, safe cover.
It likewise has a weight capacity of 300 lbs.
---
4
The Carex Bedside Commode is the perfect portable potty for seniors to use at home or when traveling.
It has a foldable design that stores compactly and is easy to transport.
The system can be used for camping, as a bedside toilet, or as a raised toilet seat for the elderly.
It has a sturdy and durable frame and a comfortable and easy-to-clean seat.
---
5
The Drive Medical Potty Chair for the elderly is very comfortable and convenient for use at your bedside.
The three-in-one toilet seat is versatile as a bathroom chair, bariatric bedside toilet, or a raised toilet seat.
It is easily folded and highly portable with a durable but lightweight frame.
The Toilet Chair has a comfortable padded seat and a large capacity bucket that has a splash shield and easy carry handle.
---
6
The Medline Elements potty chair for seniors has a seat infused with Microban protection against germs and bacteria for your safety.
It has an elongated seat opening and adjustable contoured backrest for roomy comfort,
The seat height is fully adjustable, and it has comfortable armrests.
There is a flat-seat lid cover to conceal the commode.
It can support up to 400 pounds in weight.
---
Index Table: Top Rated Potty Chairs for the Elderly
---
---