Having a comfortable, soothing, and Therapeutic chair for the elderly can be extremely beneficial to both their mental and physical health.
Most therapeutic chairs have an Orthopedic design and come with additional features that are comforting and relieving to an elderly person.
We will be looking at some therapeutic chairs and recliners with features that are ideally suited to seniors.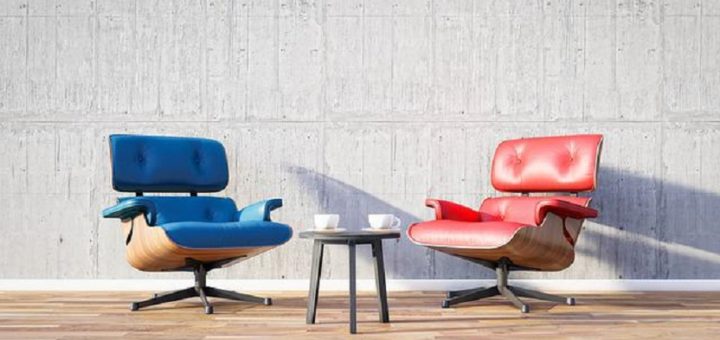 ---
What Exactly is a Therapeutic Chair
Well, a Therapeutic chair should not be confused with an Orthopedic chair, though they are much similar, and there is very little information as to what renders a chair therapeutic in the first place.
But let me start off with an ergonomic chair or recliner, for that matter.
An ergonomic chair or recliner is designed with the main purpose of giving your body proper support to keep it in optimal alignment, especially with spinal alignment, and to keep you in a position that fully supports your entire body, especially the spin.
Ergonomic chairs have cushioning and lumbar support, with a curved back design and deeper seat, as well as a proper armrest to support your body in a safe and comfortable position.
Ergonomic chairs and recliners do offer some pain relief and comfort. However, it is the additional features where the Therapeutic relief lies in.
Therapeutic chairs, and recliners, will have an ergonomic or orthopedic design, but they have an additional features to provide pain relief and also soothe sore muscles or provide stress relief.
Therapeutic chairs may have functions such as heat, massage, and other features that soothe aching muscles and that relax you in order to reduce stress.
Therapeutic chairs are especially for seniors who may have sore joints and muscles and those with conditions such as dementia and Alzheimer's that may cause much stress.
---
Types of Therapeutic Chairs
Though I have not listed all these therapeutic chair types in my review list, here are a few different types just to give you a more basic ideal for what a therapeutic chair is;
Massage and Heat Chairs – These are usually electric recliners that come with a massage and heat function that offers soothing pain relief and comfort.
Ergonomic Recliners – The ergonomic-shaped recliner offers Orthopedic support that can have therapeutic relief for seniors that may have posture issues or pain in the back and the body.
Rocking Chairs – Rocking chairs or recliners are therapeutic in the sense that they offer light exercise and are soothing, especially for seniors that are a little more stressed or anxious.
Adjustable High Chair – the Adjustable high chair is a chair in which you can adjust the seat height in order for an elderly person to get in and out of their chair much easier. These types of chairs come in recliner models that are known as Lift Chairs that loft up electrically to place you in a standing position when you want to get out of the chair and to do the same when you need to get in the chair.
---
Features of a Good Therapeutic Chair for the Elderly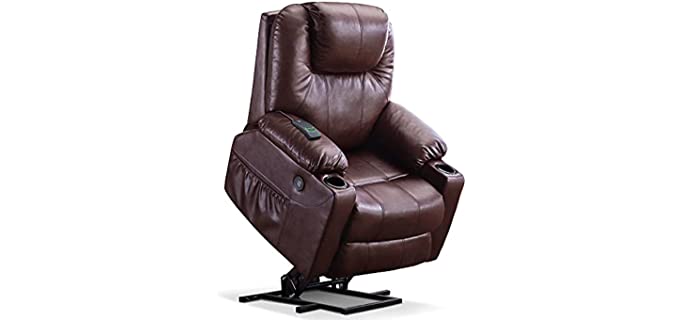 Type of Therapeutic Chair – You do get different types of therapeutic chairs. The basic are regular sofa chairs, office chairs, reclining chairs that are manual, or electric reclining chairs. For this article, we have concentrated more on electric lift chairs that may have reclining, rocking, massage, or heat functions.
Size – You need to consider the size of the Therapeutic chair or recliner that you need with regard to the space you have available in your home and the space you need for the body shape and size of the senior person.
Upholstery – Therapeutic chairs can come with a range of upholstery from genuine or faux leather to fabric polyester and soft suede upholstery. They may have different textures and are usually available in neutral color options.
Extras – Therapeutic Chairs and Recliners may come with extras such as Cup holders and storage pockets. The electric models may have USB charging ports and lighting.
---
Reviews: The Best Therapeutic Chairs for the Elderly
In our list, we have some super comfortable and therapeutic chairs that are ideal for the elderly;
---
1
The Ashley Yandel is a very comfortable recliner with therapeutic features for seniors.
It has comfortable and easy to clean leather upholstery,
It is a power lift recliner that is easy to get in and out of.
There is a supportive back and lumbar cushion.
The recliner has slow power movements and offers therapeutic comfort.
---
2
The Mcombo reclining Chair is a smaller and more compact therapeutic chair for seniors.
It comes with a lumbar support cushion and an ottoman for resting your legs. On.
The Chair has a swivel base and is adjustable with the use of remote control.
It has durable leather upholstery, with many colors available.
---
3
The ComHoma Reclining chair is the full house when it comes to therapeutic chairs.
It has a generous and comfortable size with plush cushioning.
There is durable leather upholstery available in a few more color options.
The power recliner has a massage and heat function for Therapeutic relief.
It also has an ergonomic design and cup holders.
---
4
From Flamaker, we have one of the most comfortable Therapeutic recliners for the elderly.
The recliners have a lift function for easy in and out.
It is a power recliner that has massage and heating functions for your comfort.
There is durable but affordable PU leather upholstery.
The recliner has a large size for a comfortable fit.
---
5
The Best Choice Therapeutic reclining chair is perfect for seniors.
It also features an electric lifting function, as well as massage and heat features.
The reclining chair has leather upholstery and additional cup holders.
It is similarly available in more color options.
---
6
The Mcombo Power Lift Therapeutic electric chair is slightly more compact for smaller spaces.
It has a lifting function and additional USB ports, and cup holders for your convenience.
The chair has an ergonomic design with comfortable cushioning.
It has easy-to-clean leather upholstery available in more colors.
---
Index Table: Top Rated Therapeutic Chairs for the Elderly
---
---