A fun day at the beach does not have to exclude an elderly loved one just because it may be difficult or uncomfortable for them. There are many aids and equipment that you can use to make the day as fun and comfortable as possible for them.
One of these aids is the best beach chairs for Elderly persons, which are comfortable, easy to use, and ideal for all age limitations.

---
The Beach Chair For Seniors
As we age, the requirements and abilities of our bodies change and become quite limited. We need to rest for longer periods and may not move around as much as usual.
Simple actions such as getting up and sitting on a chair or bed can become quite difficult, not to mention balance that declines greatly with age.
Stability and strength decrease to a point where we need certain aids to perform simple daily tasks.
However, this does not mean you have to skip life and fun days such as beach days and picnics because of these limitations. These trips are just as important to your health as an older person and can be a refreshing change.
The Beach Chair for seniors is designed to provide stability, carry the weight of the elderly individual, and be taller, thus easier to get up from and sit down on. It has all the right dimensions and features to cater to all limitations that you may have as an elderly person.
---
Types of Beach Chairs for the Elderly
There are a few types of beach chairs that you can have a look at for an elderly person;
Tall Beach Chairs – Beach chairs are mostly very low to the round. However, you get big and tall model beach chairs that are easier for an elderly person to get in and out of and are more spacious and comfortable.
Picnic Beach Chairs – Picnic or camping chairs that are sturdy and have a higher design are ideal beach chairs for an elderly person. They are lightweight and comfortable yet still very sturdy.
Zero Gravity Beach Chairs – A Zero Gravity beach chair is designed to hold your body in a position so that it can receive equal gravity pull on all parts. A Zero Gravity chair does not leave your legs dangling and is ideal for persons who have swelling, edema, or varicose veins in their legs. The hammock-like structure can recline in any position and offers excellent support and comfort for an elderly person.
---
Features of a Good Beach Chair for the Elderly
Setting out with a regular beach chair for the day may seem the most natural and easiest task for you, but remember, this is not the case for a senior individual. What is comfortable for you may not be comfortable or even safe enough for them to enjoy a day in the sun.
So here are some key features to consider in the best beach chairs for an elderly person;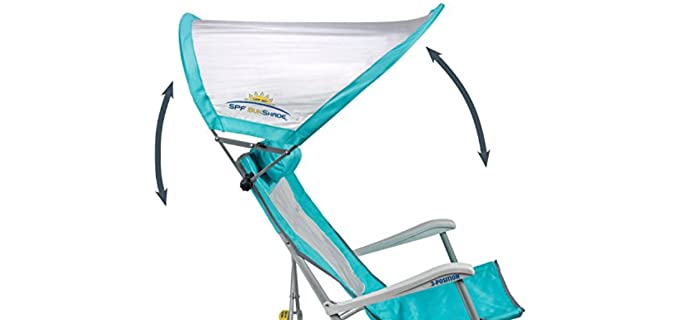 Height, Width, and Depth – Most beach chairs will be between twelve and eight inches from the ground up. A lower design beach chair is much closer to the ground, stretching out on the sand. However, they are nearly impossible for seniors to sit down and get back up again, so a higher beach chair is always advised. Higher beach chairs at around thirteen inches and higher from the ground are your best options for an elderly person, and they are much easier to sit down on and get back up from. The Width and depth of the chair should also not be overlooked. Most beach chairs are twenty-four to forty inches in the seat back and twenty-five inches in seat width. Larger-sized beach chairs will be a bit more expensive, and they can also hold much more weight. Find a size and width beach chair that will suit the elderly person specifically.
Materials and Construction – The beach chair's materials and construction will determine how durable and long-lasting the chair will be. Keeping in mind weather elements such as the sun and wetness. Wood is a common frame material, but it's not waterproof and quite heavy. Aluminum is lightweight, rustproof, weather-resistant, and quite durable. The plastic for the frame is also quite durable and weather resistant. The Materials used for the cover may be nylon, polyester, and other weather-resistant and quick-drying materials.
Extra Features – Beach chairs come in many designs. Some can stretch out, some are foldable, and others are foldable for easy transport. They also come with extras such as side storage pockets and cup holders, most of which will have armrests. You also get some designs with a canopy or umbrella to protect against the sun. If you do not use an umbrella or gazebo, this is a good idea for an elderly loved one. Many beach chairs are carry-friendly and come with a handy carry bag that you can carry over your shoulder.
---
Reviews: The Best Beach Chairs for the Elderly
Here are our top choices in beach chairs that are perfect for an elderly person;
We hope you love the products we recommend!
So that you know, We may collect a share of sales or other compensation from the links on this page.
---
1
---
2
colors
The Oniva Picnic chair is a sturdy sports-designed chair with a handy side table.
The seat is wide and it is foldable.
It has a durable and comfortable polyester canvas and an insulated beverage punch and side table as extras.
It folds up and also comes with an easy-carry storage bag.
---
3
We have a Padded Zero gravity beach chair from Amazon basics for seniors.
The chair offers zero gravity recline positions and full-back and leg support.
It is padded for comfort and has a safe and sturdy construction.
There are also more color options available to you.
---
4
Another addition from the Rio beach chair range.
This is a convenient and adjustable beach chair with a backpack with a padded strap for carrying.
The chair is sturdy and robust, with a wide seat and comfortable height.
It folds and stores easily.
---
5
The GCI Outdoor Chairs are ideal for elderly persons.
It comes with an additional and adjustable sunshade.
The chair is sturdy and high for elderly people struggling with lower chairs.
There is an added pocket pillow for head support, and it comes with a large carry bag.
---
6
Here is another Zero Gravity design from Amazon basics.
It offers infinite recline positions and full back, head, and leg support.
The design is very sturdy and easy to use by seniors.
It has a 200pound weight capacity and a padded headrest.
---
7
Here we have an easy folding beach chair from Phiroop for seniors.
It is an oversized, lightweight design with a sturdy steel frame.
The folding system is easy one-step making the chair easily portable.
The chair has a wide seat that is ideal and comfortable.
---
8
From Rio Brands, we have the Hi-Boy beach chair for seniors.
The chair is designed to be higher and thus easier for an elderly person to sit down and get up.
It is foldable and has four customizable positions.
Very durable with a sturdy frame and portable.
---
9
The Ever Advanced beach chair is also perfect for seniors.
Because it is a higher chair, it is easier to get up from and sit down.
The chair comes with a handy carry bag for portability.
It also has a footrest for your comfort.
---
10
Tommy Bahama is a popular beach chair brand for seniors.
This is the seven-position beach chair that is also a HI-Boy design.
It has higher seating which is ideal for seniors.
The chair is sturdy yet easily foldable and portable for beach and other uses.
---
Index Table: Top Rated Beach Chairs for the Elderly
---
---