The rocker recliner for seniors has a surprising amount of benefits overall, besides being a comfortable rocking chair that is soothing and relaxing for them, it can also provide them with a light form of exercise.
In this article, we want to help you choose the best rocker recliner for seniors that has many comfort features, and that is good quality.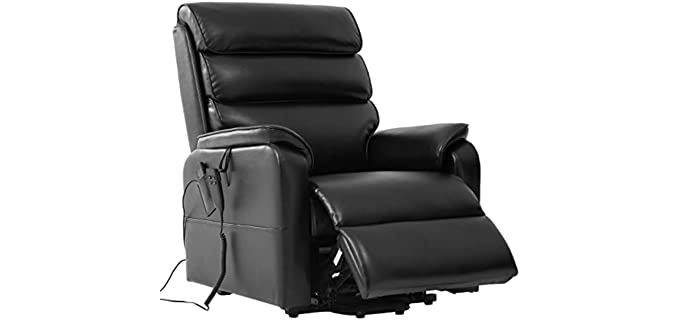 ---
Rocker Recliners Functions
Though the rocker recliner has two basic functions, it can come with many other features for seniors.
A rocker recliner performs the two main functions that its name suggests, it rocks and reclines. When the chair is not in a reclining position, it operates as a relaxing rocker with a smooth, and graceful motion. The chair provides total body and lumbar support at all times.
It is important to emphasize that the rocker recliner can not rock while it is in a reclining position. The rocking and reclining motions operate independently.
Rocks or Glides – You get a rocker recliner or a glider recliner, which both have the same motion, though the one glance on a single track, while the rocker rocks backward and forward. The rocker recliner has a slightly more, robust movement whereas the glider moves much smoother. But for the purpose of this article, we are specifically looking at rocker recliners for seniors.
Reclines – The Rocker Recliner has two basic functions, that is, firstly, to recline in different reclining positions and to rock back and forth. It can be reclined into different positions where you can lay at an angle, or you can even lay down flat, and they usually come with a retractable footrest in which you can elevate your legs on the rock. The rocker recliner is a basic recliner that rocks backward and forward. However, it can only do this in a seated position and not a reclaimed position.
Electric Rocking Recliners – Then you also get an electric rocking recliner. Now you have the choice between a normal manual recliner or an electric recliner. Electric recliners sometimes also come with a lifting function, with massage and heat functions, which can be ideal for seniors. The lifting function is ideal because it allows a senior to easily get in and out of the reclining chair and is especially suitable for those who struggle with mobility.
---
Benefits of a Rocking Chair for Seniors
The rocking chair for seniors on its own can have many benefits that you might not know about.
Emotional wee-Being – The relaxation that the rocking function gives causes the brain to release endorphins that can improve your mood and reduce stress. The rocking motion can also produce a feeling of calmness and nostalgia for a senior.
Insomnia Relief – Similar to rocking a baby before you put it down to sleep. The back and forward rocking motion of the rocking chair can help to induce a feeling of sleepiness in a senior. It can help seniors to feel more drowsy and to wind down easily, and in this way, help to prevent insomnia.
Light Exercise – It can be quite difficult for seniors to get exercise, especially if they have issues such as inflammation in their joints or arthritis, or any other form of pain. The rocking chair helps to strengthen your muscles and to loosen stiff joints without you needing to exert yourself too much.
Better Balance – Did you know that the act of rocking on a rocking cheap stimulates the balance mechanism in your inner ear? This occurs because your body naturally works to balance itself as you rock the chair back and forth. Improved balance in seniors can help to prevent false, and can also help to make Parkinson's symptoms more stable.
Relieves Pain – The rocking chair can also help to prevent and reduce pain. Your brain sends motor impulses down your spinal cord to make your legs rock the chair. Then the pain impulses on your back, are basically blocked, preventing them from reaching the brain and allowing the muscles in your lower back to relax. Thus, the rocking motion is ideal for back pain.
Better Blood Circulation – The rocking motion of the rocking chair helps to increase blood circulation, which in turn sends more oxygen to your joints which helps to reduce pain and inflammation. Improved circulation is also ideal for your heart and can help you to combat cardiovascular diseases and other circulatory ailments.
---
Features of a Good Rocker Recliner for Seniors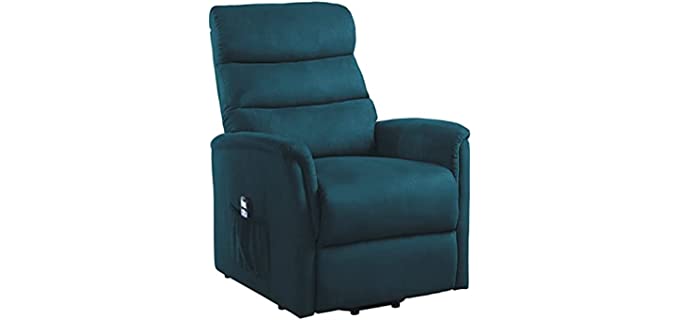 Upholstery – Your Rocking Recliner chair may have either fabric or leather upholstery. Leather may be genuine or synthetic, and fabric will be microfiber, polyester, or Chenille.
Functions – The Rocker Recliner will have a Rocking function, and recline functions, with a retractable footrest.
Type – You get both manual or electrically operated Rocking recliners.
Features – The Recliner May have some additional features such as a cup holder, USB charging Ports, Massage, Vibration, or a Lifting function.
---
Reviews: The Best Rocker Recliners for Seniors
These are some of our favorite Rocker recliners that are perfect for seniors;
---
1
From Ashley, we have a Power rocker recliner for seniors.
It has a Tufted back design and luxury fabric upholstery.
The recliner is oversized and overstuffed for your comfort.
It has a full rocking function, and recline function.
---
2
The Mcombo Rocker Recliner offers a smoother Gliding motion for seniors.
It is a manual recliner that is easy to operate.
There are two USB ports and two cup holders additionally.
The recliner is plush with fabric upholstery.
---
3
The Obolly recliner swivels and rocks for your comfort and convenience.
It is a leather recliner that is easy to clean and maintain.
The recliner has an additional lumbar pillow for back support.
It has an ergonomic shape, with side storage pockets and cup holders for your convenience.
---
4
The Relaxen is an electric recliner that has a rocking function.
It also features additional massage and heat functions.
There are 8 powerful massage motors to target different areas of your body.
The recliner has a USB port and easy reach remote.
---
5
From Inzoy we also have an electric rocker recliner.
It offers all the features, such as heat and massage, with a rocking function.
The recliner has soft suede-like upholstery and is available in more colors.
It has thick padding and plush cushioning.
---
6
The Ashley Aleyna is a manual Rocker recliner for seniors.
It has a casual design and comfortable high-back seating.
The upholstery is an ultra-soft microfiber and the recliner is oversized.
It is easy to recline and has a retractable footrest.
---
Index Table: Top Rated Rocker Recliners for Seniors
---
---