The recliner is a must-have in every household, but when you get older, it might become a bit more challenging to get in and out of your old recliner.
Besides this, there might also be some more comfort and support features that you require in a recliner when in your golden years.
So here we have researched and found some superb recliner brands and models that have everything that an older person may require.

---
Why Choose a Recliner for Seniors Specifically
Unfortunately, age has many limitations, as well as other related issues that come along for the ride.
This sadi comfort and relaxation features in your Recliner may need to be stepped up a bit;
Mobility – Some older individuals may struggle with mobility, so getting in and out of a recliner could be much more challenging than it used to be before. Thus why a Lifting recliner is such a sought after item by seniors. The Lifting Chair or recliner has all the features of a regular recliner, but it also has a lifting function which helps you in and out of your reclining chair.
Size – Many older individuals are small and frail and do not require or are not comfortable in an oversized recliner. Some live in small apartments or old age homes and therefore require a recliner that is space-saving and smaller in size.
Comfort Features – A few extra comfort features can be a plus for seniors and functionality features, which are easier at hand. Features such as heating and massage can provide warmth and relaxation for older individuals who many times suffer from aches and pains, and may get cold easily. Other features such as cup holder and storage pockets also come in hand as this eliminates the need for getting out of your seat constantly or having to lean over to reach items.
Ease Of Use – Ease of use is another issue. Older persons may not be able to operate intricate remote controls, or have the strength to push back and kick out manual recliners.
---
What to Look for in Good Recliner for Seniors
Lift or Rise Functions – The lift or rise function of a recliner is almost vital in a recliner for elderly persons, particularly those who struggle with mobility. Lifting functions should be smooth, easy, and noiseless.
Size and Depth – The size and depth of the recliner should be suitable for the size and weight of the individual that will be using the recliner. Keeping in mind that if there is no lifting function, the person needs to get in and out of the chair easily.
Support Positions – Recline and support positions should be comfortable and adjustable with ease. Some models come with additional massage and heating functions, which are also ideal for senior persons.
Materails – A durable wood or steel frame, with plush cushioning and durable and easy to clean upholstery, is ideal. I would recommend faux or genuine leathers as they are easy to wipe down and maintain.
Cushioning – Ample cushioning for frail bodies, particularly in the seat and back are ideal for older individuals.
Extras – Extras such storage pockets and cup holders can come in handy for an older individual who needs certain items close at hand.
---
Features of a Good Recliner for Seniors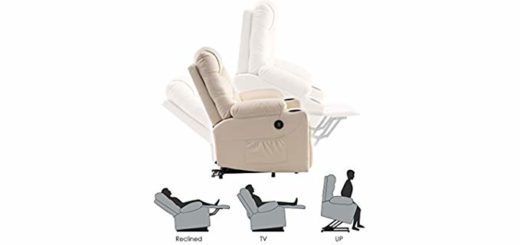 Durable steel or wood frame that can hold up to 250 or 330 lbs in weight.
Smooth and noiseless recline and lifting functions.
Massaging and heating functions.
Easy to clean and durable leather or fabric upholstery.
Plush foam padding.
Ergonomical design or Zero gravity Option.
Extendable leg rest.
Side storage pockets and cup holders in some models.
---
Reviews: The Best Recliners for Seniors
Here are some superb choices in recliners with features aimed at supporting and providing the ultimate in comfort for older persons;
---
1
A comfortable and highly functional supportive Power Lifting Recliner which is the perfect recliner type for seniors.
The Recliner comes in a few color selections to choose from to suit any décor.
The fabric is soft and very easy to clean and maintain.
A quiet and highly efficient powerlifting motor.
The Power Lift function makes it easier for older people and those who struggle with mobility to get in and out of their chairs.
There is also a pocket on the right side for easy at-hand storage.
Further, this chair functions as a normal recliner with a comfortable footrest.
---
2
The Renu leather Power Lift recliner is a more luxury design option in Power Lifting Chairs from Domesis.
A durable laminated hardwood and steel frame for heavy-duty use with a weight limit of 300lbs.
It is upholstered with a highly durable and breathable leather blend fabric called Renu Leather that is also very easy to clean.
Cushioned and padded with a soft and plush high-density foam.
There is a simple two-button remote that is convenient and easy to use, to operate the chair and lift function.
It offers full ergonomic support and comfort for better alignment and posture in older persons.
---
3
From Giantex, we have another superb remote-controlled Powerlifting Recliner chair that has luxury soft cushioning and durable upholstery.
A Power Lift function that is quiet and easy to operate.
Soft cushioned comfort and high quality and easy to clean fabric upholstery in a luxurious chocolate brown color option.
High weight-bearing capacity at a 330lbs maximum.
There is an additional storage pocket on the side.
This chair is fully remote control operated.
---
4
The Human Touch range is top of the class Zero Gravity chairs, which are ideal for older persons suffering from aches and pains. This model also has a massaging function for full-body comfort and relaxation.
Available in three color options in soft and durable leather upholstery.
BodyMap pro feature for targeted pain relief and full body or targeted massage options.
there are five selectable programs for auto massage and comfort.
Circulation technology to optimize blood circulation and enhance vitality.
Zero Gravity positioning with other infinite recline position options.
The FlexGlide solution technology ensures a seamless therapeutic massage without pinching or friction, which is ideal for fragile skin.
---
5
The Esright is another excellent massage and ergonomic support chair that also offers a 360-degree swivel function, which is ideal for elderly persons.

This chair Rocks, Swivels up to 360 degrees, vibrates, massages and heats.
Fully remote controllable that is easy to use.
Different control and intensity options for massage.
It comes with an additional two cup holders, four storage bags, and precise assembly instructions.
Furthermore, the Esright Recliner is upholstered in a durable and easy to maintain the leather, with plush foam padding, and a frame that can hold the weight of up to 300lbs.
---
6
A comfortable and all-inclusive luxury, Power Lifting Recliner from a top brand, Mcombo.
Easy to operate remote-controlled Power Lifting Function and Massage and heating functions.
There are 9 Vibration modes fir massage and 5 intensity levels, with 8 vibrating points.
Heating around the waist area.
Easy to clean upholstery that can just be wiped down with a wet cloth.
Easy push back reclines and comfortable footrest.
Plush and ergonomic comfort padding.
[/super_list
---
7
A comfortable and plush massaging recliner with an extended leg rest from BestMassage.
Choose from 5 massage modes that are remotely operated.
Easy to recline and extended legrest.
Ideal for taller and larger individuals with a weight capacity of up to 250lbs.
It is upholstered in durable and easy to clean Faux Leather with soft and plush padding.
There is a flat surface when fully reclined so you can sleep more comfortably. [/super_list
---
Index Table: Top Rated Recliners for Seniors
---
---