A Shower Chair or bench can provide extra stability for older adults who struggle with balance, can no longer stand on their own, or may get tired quickly from standing in a shower.
There are, however, a few requirements s for the best shower chair for the elderly, which we will look at today.

---
Why Seniors Need a Shower Chair
As we get older, we may lose much of our strength and mobility n general. While most elderly persons would still like to keep some form of independence, I believe taking a relaxing shower is a vital part of that independence and their hygiene regimes.
Showers are generally much easier to get in and out of than a bathtub for a senior person. However, they are also slippery and a prime area for slips and falls.
Fall can cause severe injuries in seniors and thus should be prevented at all costs.
Seniors in wheelchairs may not be able to stand in a shower on their own and struggle to get in and out of a bathtub, in which regard a shower chair can be a great advantage.
Shower chairs prevent the risk of falling, and they are comfortable and ideal for enjoying a shower without having to stand up. A shower chair may just fit all your needs and is designed to keep you safer in the shower.
---
The Pros and Cons of a Shower Chair for Seniors
A Shower Chair is a water-resistant chair with drainage holes placed inside the shower so you can sit and shower.
Most shower chairs have suction feet and a texturized seat to keep them in place to avoid slipperiness. Some may even have a back and arms rest for more comfort and stability getting in and out of the shower.
However, there are some pros and cons to shower chairs for the elderly;
Pros – A shower chair offers you full-body support in the shower. Some even have a back and armrest for better support and stability. Some models are compact enough to fit in any shower or bathtub. Shower Chairs also allow caretakers to easily access an older adult needing some help.
Cons – The shower chair offers almost no assistance to an older adult entering or exiting the shower, and additional measures may have to be taken in this regard. The shower chair is also an additional item in your shower that may need to be cleaned regularly.
---
Features of a Good Shower Chair for Elderly Persons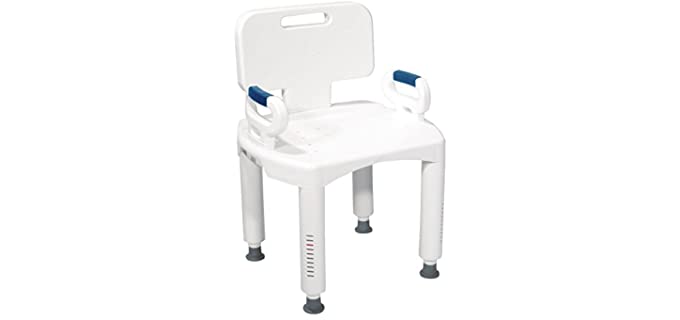 Weight Capacity – Most bath and shower seats can hold weight from 250lbs up to around 400 lbs.
Size – The shower chair height may be adjustable; however, you need to ensure that it is a comfortable height and width, as well as depth for the older adult.
Comfortable Seat – the seat needs to be a comfortable material and be slip-resistant. Padding can provide comfort, and most seats have drainage holes for water. Also, check that the seat is a good width.
Legs – The legs usually consist of plastic or a rust-proof metal like coated steel. Please ensure they are sturdy and have a slip-resistant tip on the legs.
Armrests and Back Support – For better stability and support, it is ideal for getting a senior person a shower chair with back support and armrests if possible.
---
Reviews: The Best Shower Chairs for Elderly Individuals
Here are our top choices in shower chairs for elderly persons;
We hope you love the products we recommend!
So that you know, We may collect a share of sales or other compensation from the links on this page.
---
1
---
2
The Carex Bath and shower seat is designed specifically for elderly and disabled persons.
The shower chair comes fully equipped with a comfortable back.
It can handle a weight of up to 400lbs.
It is durable and has adjustable legs for height.
The innovative design has a very comfortable chair seat.
---
3
From Essential Medical Supply, we have a safe and secure shower and bath bench for seniors.
You can choose this shower chair with or without a back, according to your needs.
The chair is a sturdy design and has an adjustable height.
The rams are padded and removable, and the seat is comfortable with drainage holes.
The frame is lightweight and durable aluminum.
---
4
The Healthline Shower chair has a non-slip seat design and suction handlebars for your safety.
A lightweight bath and shower bench for elderly persons.
The shower chair is made of quality medical-grade materials and is dependable.
The seat is large and molded with a slip-resistant surface,
The legs have suction tips for secure placing.
---
5
The Vaunn shower and bath chair for elderly persons has a removable back and a comfortable design.
A medical shower chair that requires no tools or effort for assembly.
It has a durable and secure design with a heavy-duty anodized aluminum frame.
The weight capacity is 250lbs.
The seat is a contoured design of high-density polyethylene with small drainage holes.
It is lightweight in easily portable.
---
6
The Nova Medical Bath and Shower chairs are safe and hygienic for seniors.
A medical-grade bath and shower chair for seniors.
The shower chair has comfortable padded arms and a back.
It assembles in minutes and is very lightweight and durable.
The design is very hygienic, with medical-grade materials and proper seat drainage holes.
---
7
The Drive Medical Premium Series Shower Chair is perfect for elderly people needing extra help in the shower.
A premium medical shower chair for seniors.
It has an adjustable height design and visible height indicators.
The assembly is tool-free and very easy.
The seat is large, deep, and very comfortable.
The maximum weight recommendation is 350 lbs.
---
8
From OasisSpace, we have a heavy-duty shower chair for seniors.
It is sturdy and secure with very durable materials.
The shower chair has a padded and easy-to-clean stool.
It is the ideal size for a smaller shower.
---
9
From Dr. Maya, we have a bath and shower design seat.
It is adjustable with back and grabs assist bars.
The chair also has an anti-slip textured design.
It will fit most types of tubs and showers.
---
10
The Medokare is the perfect shower chair for seniors.
It is lightweight and will fit most tubs and showers.
There are handles for firm grip, and it has an included tote bag to store shower items.
Very easy to assemble and secure.
---
Index Table: Top Rated Shower Chairs for Elderly Persons
---
---