Growing old is something that not one of us can escape, and with age comes many challenges.
One of these challenges is finding a comfortable sleeping and even sitting position when in bed.
Luckily the best positioning pillows for the elderly can provide comfort and relief for a good night's rest or even just for sitting up in bed to read a book or watch television.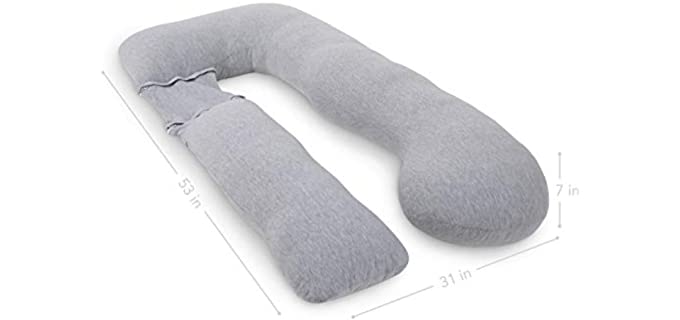 ---
Why Seniors Need Positioning Pillows
Why do seniors need a good positioning pillow?
Seniors may suffer from many body aches and pains that can easily be relieved by using a comfortable pillow.
A knee pillow between the legs can provide relief from knees that press against each other or improper alignment of the hips. A comfortable neck pillow, on the other hand, can reduce tension in the neck and shoulders while properly aligning the spine.
Then again, a full body pillow can provide relief in many positions and also something that feels safe and secure to hold on to, especially when an elderly person has lost their spouse.
---
Types of Positioning Pillows for Seniors
There are a few types of positioning pillows to be considered that all provide relief for different areas of the body;
Knee Pillows – The Knee Pillow is a small wedge design pillow that you place between your legs to reduce pressure on the knees and properly align your hips. The knee pillow is ideal for side sleeping mostly.
Wedge Pillows – A Wedge Pillow is placed behind your back and can be sued for a seated position or for sleeping. The wedge pillow slightly elevates your head, neck, and shoulders and is ideal for reducing acid reflux and relieving head, neck, and shoulder pain in some cases. You also get wedge pillow designs that you can use to elevate your legs for post-surgery or injury use or other needs.
Full Body Pillows – A full body pillow or pregnancy pillow could also be ideal for a senior person. It comes in two designs, the full U-Shape or a straight length. This pillow provides comfort in multiple ways ad can be sued for multiple seated or sleeping positions.
Lumbar Support Pillows – Lumbar support pillows such as the half-moon bolster is placed in the lower back area when seated or lying down to help prevent back pain and provide better spinal alignment.
Neck Rolls and Bolster Pillows – A Neck Roll or full Bolster pillow is used for neck and shoulder support and is also ideal for elevating your head.
Cervical Pillows – this is a sleeping pillow that provides optimal head, neck, and shoulder support and proper spinal alignment.
---
Features of a Good Positioning Pillow for the Elderly
The Only Buyer's Guide you need: How to pick your positioning pillow?
We have you covered in this guide if you don't know what type of pillow you need and how to pick the best one. Read on to learn more about how to pick the best product.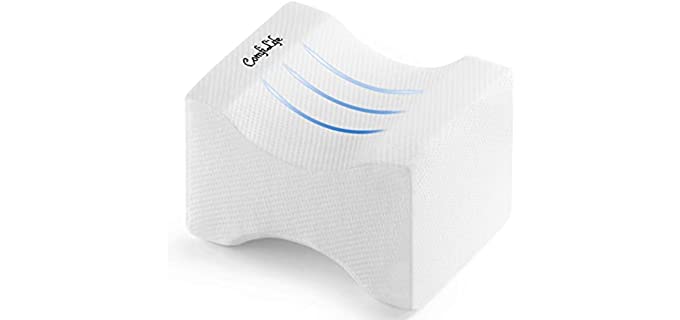 Fill – For the fill of the positioning pillow, memory foam or latex foam are most likely your best choices for firmer support that will contour to the shape of your body. Other fills such as microfiber and polyester or polystyrene beads may also be used as softer and more pliable.
Maintenance – Easy maintenance of the positioning pillow is essential. Look for a pillow with a removable pillowcase that you can wash when needed.
Comfort – If you will be sleeping on or with the pillow, make sure that it is comfortable and not too firm or soft to cause pain and pressure.
Cooling Technology – many positioning pillows come with cooling technology such as gel infused into the fill. Memory foam tends to accumulate body heat and overheat, making it a good idea to get a pillow with cooling gel or at least a cooling cover such as bamboo.
Waterproofing – A waterproof pillow cover is ideal to protect your pillow from spills and soiling.
Breathability – A pillow or pillowcase must be breathable and ventilated, especially for sleeping. The fill also needs to offer some ventilation as well as the pillowcase.
Materials – Materials for the fill can include memory foam, latex, gel, polystyrene polyester. Cotton and bamboo are ideal for the cover, along with some polyester technology covers.
Feel – You need to consider the pillow's feel, whether it needs to be plush and soft or have firmer support. Memory foam and latex pillows are firmer, whereas polyester and feather fills are very soft and plush.
Loft – The pillow's height is important, if it is a sleeping pillow or a knee pillow. A higher pillow is recommended for side and back sleeping, whereas a lower and slimmer pillow is recommended for stomach sleeping.
---
Reviews: The Best Positioning Pillows for the Elderly
These are our top favorite positioning pillows that are perfect for seniors and elderly persons;
We hope you love the products we recommend!
So that you know, We may collect a share of sales or other compensation from the links on this page.
---
1
We have a contoured design pillow from the Bedsore Rescue with multiple uses.
The pillow helps to prevent pressure injuries and is a wedge design.
It has high-efficiency layered foam as a fill and an intelligently contoured design to help take pressure off your spine.
The cover is moisture-proof and cooling and can be wiped clean with a disinfecting towelette.
---
2
The Cushy Form Wedge Pillow is designed for sleeping, reading, and sitting in bed.
It is an ideal design to prevent acid reflux and improve health.
The fill is memory foam in a high density that contours to your head, neck and shoulders,
There is a breathable and washable cover.
The pillow offers firmer support and will not collapse under the body.
---
3
The InteVision positioning pillow is an Ortho Bed Wedge and leg rest design.
You place the pillow underneath your legs to elevate them.
It is ideal post-surgery or injury and relieves the symptoms of certain ailments.
They fill us with firmer memory foam and a 400-thread count Egyptian cotton cover.
---
4
From ComfiLife, we have an Orthopedic knee pillow for placing in between your legs.
The knee pillow design is ideal for side sleeping to take the pressure off your knees and properly align your hips and spine.
The wedge has a full memory foam fill and offers firmer support.
The cover is breathable and has a zip closure for easy removal when it needs to be washed.
---
5
The PharMeDoc Pregnancy Pillow is also ideal as a full-body support and comfort pillow for an elderly person.
The pillow has a U shape that you can use for sleeping, sitting up, and maneuvering for the support you need.
It has a foam fill and a jersey-knit cotton cover.
Furthermore, there are quite a few color options available on the cover.
---
6
The Healthex Cervical Neck Roll pillow supports your neck but can also be used under the knees for light lifting.
The pillow has an ergonomic support design and can likewise be used as a reclining pillow for watching television or reading.
It has a memory foam fill and a durable bamboo cover that is removable for washing.
---
Index Table: Top Rated Positioning Pillows for the Elderly
---
---