This article looks at an essential aid for elderly persons that you may not have thought about much or in-depth.
For elderly persons who need assistance getting in and out of bed or where there is a danger of falling out of a bed, a regular bed rail is usually the first thing that comes to mind.
But on the other hand, for some elderly persons, a bed rail may pose many dangers and discomforts.
This is why you may need to consider the best alternative to bed rails for the elderly.

---
---
Bedrails can be Dangerous for Seniors
Bed rails for seniors are a convenient safety device used to prevent accidents in the bedroom and assist elderly persons with getting in and out of bed.
Bed rails are considered a safety device; however, some accidents and incidents occur using a safety bed rail.
Large spaces between the rails can pose a hazard for a smaller elderly individual. For elderly persons who flare their arms and legs during sleeping, bed rails may also cause entrapment rather than safety.
Some potential risks of bed rails include but are not limited to;
A feeling of isolation and restriction.
Prevent persons who can get in and out of bed from performing routine activities.
It can cause much agitation and a feeling of helplessness when you use bed rails as a form of restraint.
It can cause bruises, cuts, scrapes on the skin, and injuries.
When a person tries to climb over the rails, it can cause severe injury.
When someone gets caught between large rails, it may cause suffocation, strangling, serious injuries, or even death.
---
Bedrail Comfort Options
Besides bed rails or even alternatives to bed rails, there are also other comfort and support options that you can consider for an older person;
Mesh Slide Rails – They are still rails without the dangers of hard mechanical poles or the feeling of entrapment that these poles give. The rails have soft mesh covers.
Soft Rails – Traditional bed rails use heavy-duty hard metals like aluminum or plastic. Soft bed rails are softer foam materials that are much more comfortable and less dangerous.
Positioning Pillows – You can use a wedge or bolster pillows, body pillows, and other types of pillows, even regular pillows, as a softer alternative to a bed rail that is comfortable, less retraining, and still provides a protective barrier.
Caddy Rails – The Caddy rail is still a hard bd rail, but it eliminates the need for an elderly person to get in consistently and out of bed. The Caddy is attached to the rail to store small items they may need during the night for easy access.
---
Features of a Good Alternative to Bed Rail for the Elderly
These are the Features of Alternatives that you can use for Bed rails;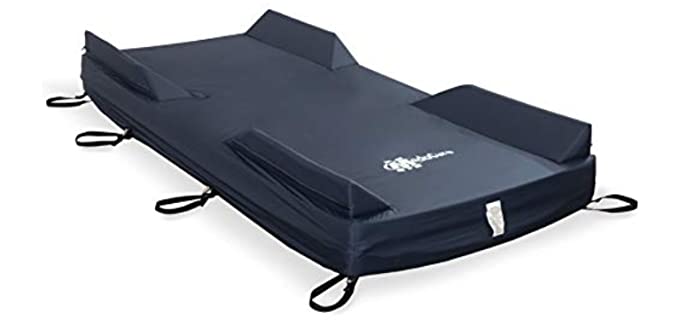 Adjustable Height Beds – I have just added this as an option as it's not quite a bed rail alternative but a more versatile bed. The adjustable bed is ideal for seniors who struggle to get up and need assistance as it helps lift, and sometimes the height can be adjusted for easily getting in and out of bed.
Bed Wedges, Bumpers, and Bolster Pillows – You can use a variety of bed wedges, bolsters, bumpers, and other types of pillows to support an elderly person that tends to fall out of bed.
Concave Mattress or Mattress Pad – The Concave mattress or mattress pad is a mattress or pad that has concave or wedge sides that protect an elderly person from falling out of bed.
Crash Mats – For an elderly person not at the greatest risk of falling out of bed or slipping, a slip-resistant cushioned mat next to their bed or a crash pad can be used methodically in case of an accident.
Vertical Bed Poles – In the case where an elderly person needs assistance getting in and out of bed, a vertical bed pole is a better choice than a bed rail, as it still allows them independence and is not restricting or dangerous, but rather just a helpful device.
Bed Trapeze – You have probably seen these in hospitals. This is a long bar with a handle hanging down that helps patients in hospitals with mobility issues to support them. This can also be an ideal device for seniors to help them get up or sit in bed without being restricted by bed rails.
Bed Alarm – Bed alarms alert a caretaker or family member of a senior's movement in bed as it detects weight on the pad so that they can quickly tend to them for assistance when they get in and out of bed.
---
Reviews: The Best Alternatives to Bed Rails for the Elderly
Our list has some superb alternatives to bed rails for senior individuals.
We hope you love the products we recommend!
We may collect a share of sales or other compensation from the links on this page.
---
1
---
2
These are bedrail foam wedges for seniors.
They are very safe and easy to use by an elderly person.
The foam wedges create a safe and comfortable barrier and properly support your lumbar, back, and spine area.
They are the ideal alternative to bed rails.
---
3
From Invacare, we have a Trapeze var as an alternative to a bed rail.
The Trapeze bar is ideal for seniors who need help getting in and out of bed or lifting themselves from lying down.
This device is also perfect for seniors with mobility issues or post-op and after-injury recovery.
The Trapeze Bar is easy to use and has a three-sided handle.
---
4
From Vaunn, we have a bed assist rail.
This is a fully adjustable plastic and steel bed rail with a powder coating and a weight capacity of 300 lbs.
The rail is a stand-up short rail solely for a grab bar to assist an elderly person in getting in and out of bed.
It is not restricting and is just a more helpful device for a bed rail.
---
5
From Roscoe, e have a medical floor mat.
The crash pad or mat is ideal for elderly persons prone to fall, but not very likely, and you want that extra safety feature without restricting them to a bed rail.
This one is designed as a fall mat for seniors and placed next to the bed.
It has a slip-resistant surface and cushioning to break a fall.
---
6
Here we have a full bariatric foam mattress cover under the concave mattress category.
This pad goes over the mattress of an elderly person.
It has side wedge pillows that prevent falling out of bed yet are soft and comfortable.
The design is also more friendly and less restricting.
---
7
The One Soft Foam Bedrail Alternative is ideal for the elderly.
It is a soft bed bumper that you can use for adults or children.
Comfortable and non-restricting.
It is also durable and easy to clean.
---
8
From Dream On Me, we have a mesh security Rail for Seniors.
It allows for good ventilation, and the elderly can still see through it.
The bed Rail is safe and durable.
It also comes in more color options.
---
9
Another foam bolster design from Aossa.
There are two bolsters that you can use as alternatives for bed rails.
They are ideal for seniors and toddlers for safety.
Comfortable and soft, as well as very easy to clean.
---
10
Another option from Aossa is their padded cushions for bed rails.
They are safe and offer a comfortable cushioning alternative to a hard bedrail.
The design is sturdy and durable and very easy to clean.
It comes in a set of two.
---
Index Table: Top Rated Alternatives to Bed Rails for the Elderly
---
---