The Flannel Nightgown is an old-fashioned favorite that many of us still wear.
The best Flannel Nightgowns for the elderly can be a comfortable and more lightweight option for them for sleeping in or just for extra coverage over pyjamas.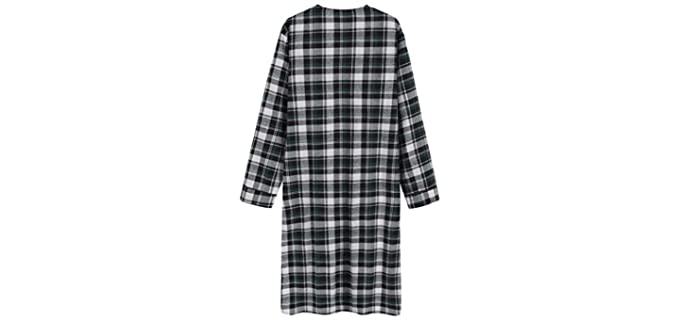 ---
Why Choose Flannel for a Night Gown
So what exactly is flannel?
Flannel is essentially a medium-weight cotton fabric that has a soft, napped or fuzzy feel on one or both sides.
It is characterized by the very loosely spun weave and its very soft and cozy feel to keep you warm and comfortable,
Flannel has been a favorite since the 17th century and consisted of wool initially, and later on, the only cotton was used, mixed with silk and other materials.
Today most flannel items are 100% cotton or a cotton and polyester blend, which is much softer and easier to come by.
Flannel is an excellent choice for bed linen, pajamas, or even for a nightgown for all ages. Because it is so soft and warm, it is ideally a more cold weather-suited fabric.
Maintaining flannel is also relatively easy as you can machine wash, tumble dry and iron flannel. Another great thing about flannel is that it actually becomes softer the more you wash it.
---
Benefits of a Flannel Nightgown for Seniors
Ideal for all Seasons – Flannel can be used for most seasons. A flannel nightgown offers excellent coverage during summer, spring, and fall, as well as for colder winters. It is ideally suited for colder weather, so I would not recommend it for very hot weather conditions.
Easy to Clean – As we have mentioned before, you can easily wash a flannel item in your washing machine. Most flannel items are allowed to be tumble dried, and flannel actually becomes more soft and comfortable with washing.
Soft Against the Skin – Flannel has a very soft and warm feeling against the skin that is absolutely perfect for elderly persons. It is smooth and soft, and in turn, will not chafe or irritate fragile and older skin.
Durable – Flannel is a very durable fabric, and because it mostly consists of cotton, it will last very long.
Many Colors and Options – Flannel can be dyed and printed easily. Thus it is available in a large variety of colors and prints from which you can choose.
Extra Coverage – A Flannel Gown can offer light extra coverage or a comfortable ad soft design for sleeping in elderly persons.
---
Features of a Good Flannel Nightgown for Seniors
Materials – Flannel is a very soft woven fabric type that can consist of a variety of materials. When it first came into being, it consisted of carded wool or worsted yarn, which was not as soft and comfortable as the methods we have today. Today you still get wool flannel, but also cotton and synthetic polyester flannel types. Flannel is generally not stretchy and has a soft, warm feel to it.
Design – The Flannel nightgown will come in different length options as well as button-down or tie designs and occasionally zip designs. It may or may not have a collar and pockets. Flannel Nightgowns can either be used as pyjamas on their own or for additional coverage over pyjamas. You get to pull on designs, as well as robes that usually close within a rope tie. Then there are the back closing flannel nightgowns designed especially for use when going to a hospital or for elderly persons with health and mobility issues causing them to be in bed mostly. The open-back design is easy to use by caretakers and hospital workers and also much more comfortable for the wearer.
Closure – As mentioned closure types may include a tie around the waist belt, button-up or zip closure. Although zip closure on nightgowns is not all then common. Then you also get the open back design Nightgowns that actually have a snap or tie closure at the back for easy access and use.
Options – Options available will depend on the brand and are usually colors, prints, and sizes, which may be standard or plus-size options.
---
Reviews: The Best Flannel Nightgowns for the Elderly
These are a few of our top favorite Flannel Nightgowns that are ideal for seniors.
We hope you love the products we recommend!
So that you know, We may collect a share of sales or other compensation from the links on this page.
---
1
For the ladies, we have a Nightgown from Latuza.
The nightgown can be used as pyjamas or a pull-on for extra coverage.
The nightgown is plaid with three-quarter sleeves.
Ideal for summer and warmer weather.
It is fully machine washable and can be tumble-dried on low heat.
---
2
Similarly, we have a nightshirt or nightgown for men from Latuza.
It can also be used as pajamas or for additional coverage.
It is 100% cotton, and there are a few color options available.
The nightgown has long sleeves and one chest pocket.
The length of the flannel nightgown is just below the knee.
---
3
The leveret Flannel Robe and Nightgown is used for added cover over your pyjamas.
It is a full flannel gown in 100% cotton with a checked print design.
There are also quite a few color options available.
The Gown can be machine washed and has an easy design to wear with a tie belt.
---
4
From Alexander Del Rossa, we have a lightweight Flannel Robe and nightgown for men.
This is a robe design for wearing over your pajamas.
The Flannel Nightgown robe is machine washable and has a toe closure.
It is also available in many more color selections from which you can choose.
---
5
Here we have a 100% cotton flannel nightgown.
There are a few more plaid color options available.
It is breathable and very comfortable.
The design offers a loos fit.
---
6
The PajamaGram Flannel nightgown is soft cotton flannel.
The nightgown has a lovely plaid color and is available in more options.
It offers ample warm coverage and comfort.
---
7
The Kingsize Flannel Nightgown is designed for men that are taller and larger in stature.
It comes in a few color options.
The Nightgown is a soft flannel with button closure.
The fit is very relaxed and comfortable.
---
8
Here we have a short sleeve Henley nightgown in flannel.
It is also available in more color options.
Consisting of soft polyester, it is comfortable and durable.
The nightgown has a loose pullover design.
---
Index Table: Top Rated Flannel Nightgowns for the Elderly
---
---