Bedside fall mats are safety features that could provide excellent injury prevention and protection for an elderly person.
A bedside mat is placed next to the person's bed to help provide a cushioning surface should they stumble and fall, getting in and out of bed.
This article will examine some of the seniors' best available bedside fall mats.

---
Why use a Fall Safety Mat for Seniors
A fall safety mat will provide much peace of mind for a family member or caregiver, knowing that a senior person is safe and has less risk of injury from a fall.
Fall mats come in various shapes and sizes from which you can choose and offer full coverage for the length and width of the area next to a bed.
The mat consists of thick padding that protects an elderly person from the impact should they fall. The mat usually has a textured slip-resistant surface for protection against slips and a rubberized or grippy bottom to keep the mat in place.
Furthermore, most fall safety mats for seniors are easy to clean, and you can easily wipe them down, so overall, they also protect the carpet or floor area around the bed.
Generally, you get three different types of fall safety mats for seniors;

Solid Bevelled Edge – The beveled edge fall safety mat is the most common type and is designed to accommodate wheelchairs and other mobile devices. The beveled edges of the mat allow a wheelchair or mobile device to get on the mat, acting as a ramp easily.
Folding Mats – Then you get folding fall mats for seniors. This design is useful if you need something more temporary to fold up and store away after use. A folding fall mat usually has two or three sections to fold up for easy storage.
High Shock Absorbing Mats – High Shock Absorbency fall mats are created with extra cushioning and fall protection for elderly persons who are more likely to suffer a fall and are more fragile and sensitive to falls and impact.
Each of these bedside fall mats is made with the patient's specific needs in mind, and you can choose whichever style suits you best.
---
Benefits of a Bed Side Fall Mat for Seniors
Bedside fall mats for seniors come with quite a few benefits you may not have considered. Here are just a few;
You can fold many bedside Fall mats for easy storage if you only need to use them while the elderly person uses the bed.
The Bedside Fall Mat is also slip-resistant and can protect elderly persons from slipping when they get in and out of bed.
Most Fall ats also have a grippy bottom so that the mat will stay perfectly in place.
The Bedside Fall Mat is well cushioned to absorb plenty of impact protection and fragile elderly persons.
You get different thickness levels in a bedside fall mat, and they are usually tested by having an egg dropped on them from a 5 to 6-foot distance.
---
Features of a Good Bedside Fall Mat for the Elderly
There are so many types and brands of fall mats on the market for seniors that it could be quite difficult to make a good choice. However, by following a few basic tips, you should easily e able o find the right one to suit your specific needs and requirement.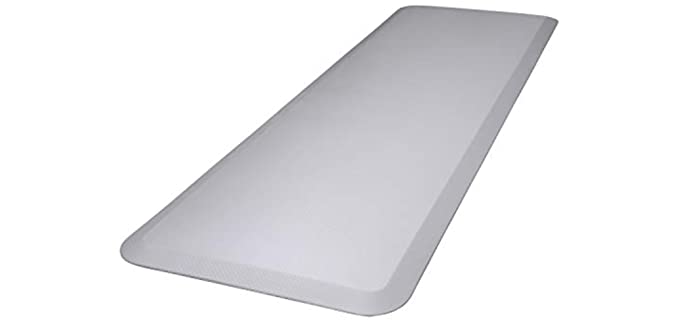 Impact Absorbency – The mat should have good cushioning to absorb impact when a person falls on it.
Stability – When an elderly person stands on the mat, it still needs to be quite stable to keep their balance.
Slip Resistance – the surface of the fall mat needs to be textured and a slip-resistant material that will not cause unnecessary friction.
Cushioning – The Overall thickness of the mat will provide underfoot cushioning and a soft area should there be a slip and a fall.
Weight – The matt weight is not very important except if it needs to be moved around, you should settle for something lightweight. However, a heavier mat usually has firmer cushioning and is sturdy overall.
Size – The mat's length and width should be adequate to fill the space next to the bed where an elderly person may be most unstable. It should be large enough to provide full-spectrum protection.
---
Reviews: The Best Bedside Fall Mats for the Elderly
These are some of the best available Bedside Fall mats for the elderly;
We hope you love the safety mats we recommend!
So that you know, We may collect a share of sales or other compensation from the links on this page.
---
1
---
2
The Medicare Bedside fall Mat is also ideal for seniors.
It offers complete bedside coverage with large and high-impact absorbing capabilities with dense and thick foam.
The foam is soft and very high density offering optimal fall protection.
There are beveled edges for easier access to wheelchairs and other mobile devices.
The mat is fully slip-resistant and has a slip-resistant rubber backing to stay in place.
---
3
Here we have a gym and Tumbling fall mat, which also works well for seniors.
It is foldable for easy storage.
The mat is thickly padded for your safety.
It also comes in more colors.
---
4
The Nyortho beside fall mat comes in a few size options and foldable options from which you can choose as needed.
The fall mat offers complete bedside coverage with a long and wide shape.
It has a high-impact absorbing molded foam base and a waterproof rubber for slip resistance.
The Bi-Fold model can easily be folded and stored as needed.
The edges are also beveled for easier access to mobile devices and wheelchairs.
---
5
The Secure SBSM Bedside Floor safety mat helps prevent fall injuries in seniors.
It has a 68-inch by 38-inch size and two-inch thickness.
The slip-resistant fall mat has an easy-to-clean wipe-down, EZ-clean surface.
The mat is slip-resistant with a textured surface and slip-resistant grippy bottom.
---
6
From Secure, we have a foam bedside mat for seniors.
The mat helps to reduce the risk of injuries during a fall in seniors.
It has an easy-to-clean vinyl cover and two-inch density high compression polyurethane foam.
The mat is flame-retardant, and there are also folded sections for easy storage.
---
7
The Fall guardian is the perfect design fall mat for the elderly.
A fall mat with an alarm monitor will alert you if an elderly loved one falls.
The mat is durable and cushioned.
The sensor is accurate and reliable.
---
8
The Omecal fall mat is thick and safe for seniors.
It reduces bedside fall risks and prevents injury.
The fall mat has an easy-to-clean surface.
It is durable and has thick cushioning.
---
9
From FallGuard, we have their economy fall mat.
The fall mat is perfect for seniors and prevents falls.
The surface has a grippy and easy-to-clean surface.
The fall mat is well padded.
---
Index Table: Top Rated Bedside Fall Mats for the Elderly
---
---