A lap blanket can be a comfortable way to provide warmth when seated and also weight if needed to feel more secure.
A lap blanket for the elderly is small comfort that can bring much warmth and relaxation that elderly persons usually need.
In this article, we will look at some models of lap blankets with the perfect design for this purpose.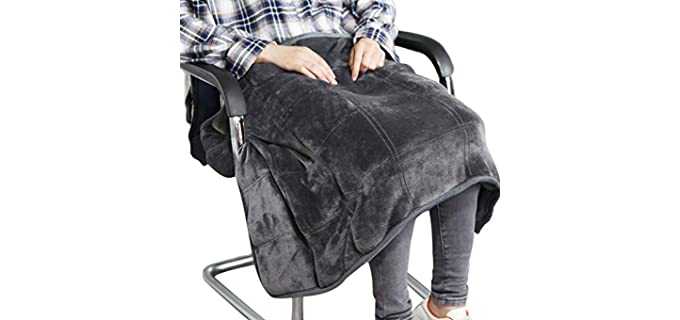 ---
What Exactly is a Lap Blanket
A lap blanket is just a much smaller-sized blanket that you use to cover your legs when in a seated position or your feet and legs when laying down. It is especially ideal for people with feet and legs that tend to get cold quickly and cramp.
You get different types and designs of lap blankets, such as the lap quilt, lap wool blanket, cotton lap blankets, and weighted lap blankets, which are especially ideal for seniors.
It is easy for a senior person in a seated position or even a wheelchair most of the day to put on a jacket or shawl. However, their feet and legs may get cold, which is where a lap blanket can come in handy.
The lap blanket sometimes also provides warmth and comfort for their hands, and weighted lap blankets help to provide a sense of comfort and security as needed.
---
Weighted or Non-Weighted Lap Blankets
The two main types of lap Blankets that you get for elderly persons are weighted lap blankets and regular lap blankets;
Regular Lap Blankets – A regular lap blanket is designed to provide warmth and comfort over the lap or the feet and legs of an elderly person. These small blankets come in different designs, from more lightweight and cool blankets to thicker and warmer blankets. They can contain various materials such as cotton, polyester, fleece, wool, acrylic, or even faux fur. The main aim of this type of lap blanket is to provide warmth.
Weighted Lap Blankets – The weighted lap blanket, on the other hand, also comes in similar material types and also provides warmth, with the addition of being heavier in weight. Weighted lap blankets are designed to promote calmness in elderly persons with Alzheimer's, nervous tension, or Detia, and they are often also used on children with similar issues. The weight of the blanket calms the nerves and reduces anxiety, creating a feeling of safety and security. The heaviness provides something we call deep pressure therapy. When the body feels light pressure, we produce the hormone serotonin, which improves your mood and calms you down.
---
Features of a Good Lap Blanket for the Elderly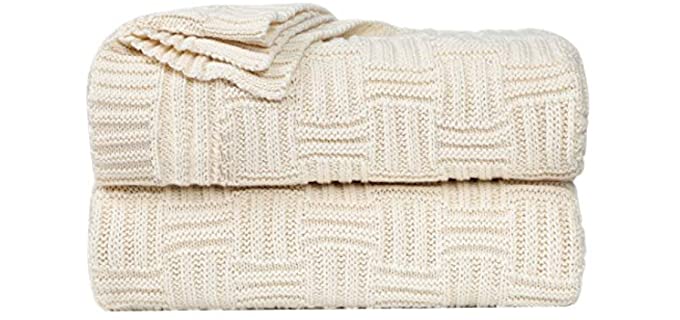 Materials – Lap blankets can consist of a variety of materials. Lighter-weight fleece, cotton, or polyester blankets provide lightweight warmth for cool weather. Then you get heavier and plusher fleece designs, faux fur, wool, and thicker woven cotton blankets designed for colder weather conditions.
Weighted or Non-Weighted – the regular lap blankets are designed for heating purposes solely. In contrast, weighted lap blankets help seniors with conditions such as Alzheimer's, Dementia, or tension. Weighted blankets are mainly for calming purposes but also provide warmth.
Size – Most lap blankets are just big enough to cover your lap and legs fully. They will cover half the body when lying down and the full lap in a seated position. However, you may get different sizes of lap blankets or even opt for a light throw design as a lap blanket.
Colors and Options – Depending on the model and brand, there should be plenty of color options, even printed options of lap blankets from which you can choose.
Quality – For a regular lap blanket for an elderly person, I would always opt for something that is good quality and has proper construction with more durable materials.
Washing and Maintenance – As seniors tend to have spills and accidents look for a lap blanket that can be machine washed and hung to dry or tumble dried to make the process easier. I also advise investing in more than one lap blanket for an elderly person.
---
Reviews: The Best Lap Blankets for the Elderly
Below we have included weighted and non-weighted lap blankets that are ideal for seniors;
We hope you love the products we recommend!
So that you know, We may collect a share of sales or other compensation from the links on this page.
---
1
The Uxcell Lap Blanket is a warm and breathable blanket for elderly persons.
It is knitted with 100% cotton fabric and is quite stretchable.
The knit and cotton fabric makes it very breathable and durable.
The size is convenient as a lap blanket and to carry around.
There are more size and color options available to you.
---
2
The Maxted Blanket is a weighted lap blanket for seniors.
Weighted blankets create a sense of calmness and stability in seniors that are tenser or have Dementia and similar conditions.
The weighted lap blanket has a soft velveteen texture and is a small size.
It is a lighter-weighted blanket ideal for seniors.
The color is a light grey option.
---
3
The Health Comfort lap blanket is ideal for colder weather conditions.
The warm Sherpa blanket is the ideal size and has a textured material.
It is machine washable and quick-drying with durable materials.
Ideal for a quick nap, using on your lap or throwing over your shoulders.
There are, however, only two color options available.
---
4
The degrees of comfort lap blankets for the elderly are good-looking and functional.
It is a two-in-one fluffy sherpa blanket with a velvet side.
Ideal for cold weather, and it is also weighted.
The blanket will not shrink or pill when washed and is machine washable.
It is soft and comfortable and available in more color options.
---
5
the SLPR Cotswold lap blanket is a quilted design for seniors.
This gorgeous patchwork quilted blanket is lightweight and ideal for cool weather but not cold weather.
It adds a slight bit of warmth and comfort with a stunning design.
The quilted lap blanket consists of pure breathable, and durable cotton.
---
6
This is a lightweight and warm fleece lap blanket for seniors.
The World's Best Cozy blanket is small, lightweight, easily portable, and comes in many more colors.
It consists of soft polyester fleece materials.
It is also fully machine washable and very quick to dry.
---
Index Table: Top Rated Lap Blankets for Seniors
---
---