The Bed jacket is a lightweight jacket worn over your pajamas or nightgown.
Women mostly wear it to be comfortable when sitting in bed, getting ready for the day, or in bed.
The bed jacket is designed for comfort and warmth when in and out of bed. The bed jackets for the elderly are designed to be more lightweight and much easier to put on and take off an elderly person.
---
How and When to Use a Bed Jacket for Seniors
As you have probably seen from earlier days, the bed jacket became quite a fashion statement among many movies, and you see them doing their make-up or getting ready for bed in a light and fluffy bed jacket.
Well, the bed jacket is not just for bed. There are fashionable styled bed jackets that can be worn as clothing. The bed jacket is a lingerie-style clothing that emerged in the early years.
It is a lightweight jacket traditionally worn by women over their nightgowns or pajamas in the hospital, nursing home, or around the house.
The bed jacket is versatile and comfortable, much more lightweight and comfortable than a large bulky robe for many ladies.
You can cook, clean, and do a few quick chores in it before getting dressed in the morning or go about your nightly chores in your bed jacket before heading to bed.
The Bed Jacket is not a new invention. Here are some gorgeous pictures of the design in the old days;
---
Benefits of a Bed Jacket for an Elderly Person
There are quite a few benefits to having a bedjacket for an elderly person;
Warmth – You get different types of bed jackets that are warm or light. The fleece and knitted options can provide warmth and comfort on cooler days. The more lightweight options are ideal for an extra cover layer when the weather is warmer.
Fashionable – The bed jacket is a very fashionable item of clothing that passes as both sleepwear and daily wear. It is available in many colors and designs that look great and comfortable.
Bed Jacket VS Bathrobe – I have found a bathrobe can be bulky and restricting for an elderly person, not to mention that some of the very long robes can be a tripping hazard. A Bedjacket allows an elderly person to be more mobile and not restrict movement or feel bulky.
Extra Cover – The Bed jacket provides extra coverage when you are in your pajamas, around the house, in a hospital, or nursing home. It is also ideal for wearing when you suddenly receive visitors and are not dressed yet.
---
Features of a Good Bed Jacket for the Elderly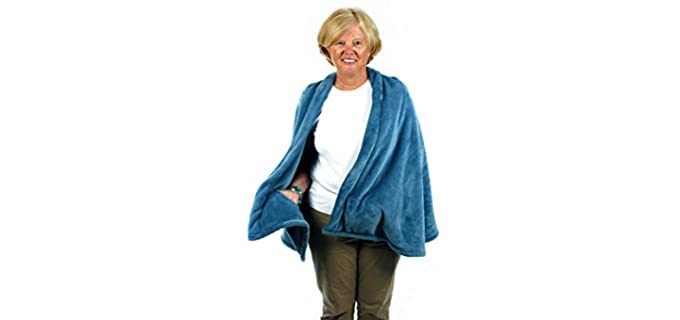 Materials – Most warmer bed jackets contain polyester-based fleece material. You also get cotton, fleece, silk, and satin bed jackets that are more lightweight. They are available in all types of materials and weaves.
Length – The Bed Jacket is generally only hip length. However, some brands and models have longer-length bed jackets, but they will never be more than knee-length.
Closure – Bed Jackets have a variety of closure types, making them easier for elderly persons to use. Some have an easy tie design, some have a zip, hook, or button closure, and some have a Velcro or snap closure. It depends on what the elderly person may be able to use the easiest.
Options – Options available to you in a bed jacket will be mostly different colors and size choices.
---
Reviews: The Best Bed Jackets for the Elderly
Here are our top favorites in bed jackets that are the ideal designs for elderly individuals;
We hope you love the products we recommend!
So that you know, We may collect a share of sales or other compensation from the links on this page.
---
1
---
2
The La Cer Bed jacket is a 100% polyester bed jacket with a comfortable fit.
The jacket consists of a Honeycomb woven 100% pure polyester that is durable and machine washable.
It has a comfortable fit and an easy closure design for seniors.
There are likewise some more colors and sizes available to you.
---
3
From TowelSelections, we have a fleece cardigan and bed jacket in one.
The design is perfect for all occasions and very fashionable for seniors.
It consists of 100% pure and soft polyester fleece.
You can form a few available colors, which are fully machine washable.
The robe design is easy to use and toe by elderly persons.
---
4
This is a button-down design bed jacket that is comfortable and fashionable.
It consists of soft fleece materials and has easy-to-use front buttons.
The stylish design has a collar and patch pockets for your convenience.
There are likewise a few more pastel colors available and more sizes.
You can also machine wash this bed jacket.
---
5
The PJ Harlow Shelby Lounge is the perfect bed jacket for seniors.
It is cotton and spandex.
Ideal for cool to warmer weather conditions ad machine washable.
The bed jacket has an open front and draped design.
---
6
From Silverts, we have a specialized bed jacket designed for disabled, elderly persons, or those with limited mobility.
The design is straightforward to put on and take off, which helps seniors with mobility issues.
It consists of a soft and warm polar fleece for colder weather conditions, ideal for elderly individuals who get cold easily.
The jacket is fully machine washable and can be worn for all occasions.
---
7
We have a warm and comfortable bed jacket from Cozy Fleece for seniors.
The bed jacket consists of fleece material that is full polyester.
It has large front pockets and button closures.
There are also more color options available.
---
8
The AmeriMark bed jacket for seniors comes in quite a few colors.
It is a warm waist-length bed jacket.
The bed jacket has an easy-to-care-for design and is machine washable.
It is a soft and comfortable jersey knit fabric.
---
9
The La Cera is a Plus Size bed jacket for Seniors.
It is available in larger size options and with more colors.
The Bed Jacket is 100% cotton and machine washable.
It has a comfortable design and button closure
---
Index Table: Top Rated Bed Jackets for the Elderly
---
---