Choosing the best adjustable beds for seniors is unlike any standard bed type.
There are many more things to consider besides size and mattress type.
Adjustable beds come in sizes, split options, different adjustability settings, and other luxury and advanced features.
---
Functions of the Best Adjustable Beds for Seniors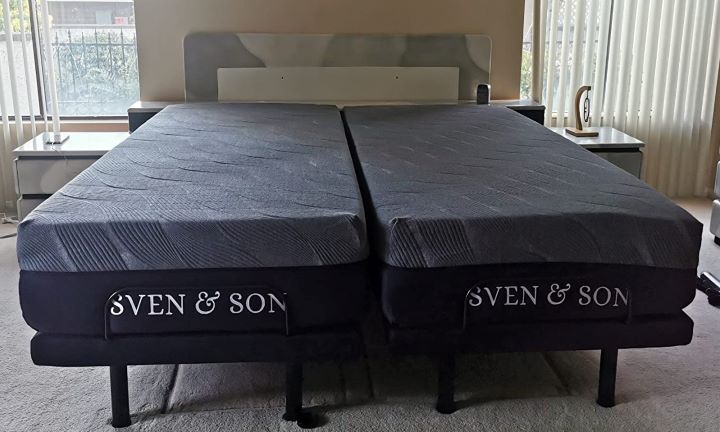 The Adjustable bed is not just a comfortable bed that you sleep on but has various functions, mainly adjusting to different positions that you can rely on.
Here are a few functions that you may find in most adjustable bed brands and models;
Head Tilt – Some adjustable beds can slightly tilt the top head part, greatly improving breathing when you sleep and eliminating snoring and acid reflux.
Sitting Position – Most adjustable beds adjust into a sitting position that can again be lowered when you want to sleep.
Zero Gravity – Some Adjustable bed models can adjust into almost any position imaginable and even into A Zero Gravity position, improving blood circulation and relieving pain.
Massaging – Some adjustable bed models have massaging or vibration settings for a comfortable and soothing massage.
LED Light – There are also some models and brands of adjustable beds with an Led or another type of light underneath the bed that you can use to illuminate your room.
USB Ports – Most adjustable beds come with a handy USB port that you can use to charge your electronic and mobile devices.
---
Tips for Choosing the Best Adjustable Beds for Seniors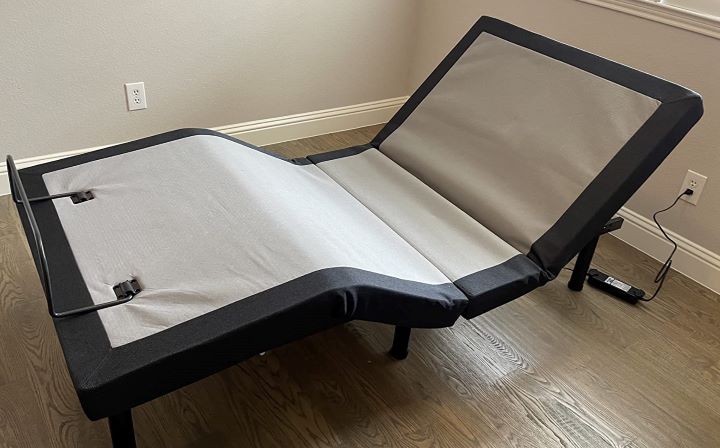 Luxury adjustable beds are fast becoming a trendy option for individuals who want to improve their sleeping experience, especially for elderly individuals who struggle with mobility.
Here are some excellent characteristics that you should look for when choosing an adjustable bed;
Motor – Your adjustable bed's motor is the most important as this runs and operates the adjustability and other functions. Always look for a good quality motor that will be durable and run smoothly without noise.
Operation – Most adjustable beds are operated with a remote control. As a senior, ensure you understand and easily use the remote or operating device without hassle.
Mattress – The mattress is what you will be sleeping on and should provide most of the comfort and support you need. I highly recommend a Gel-infused memory foam or regular memory foam mattress, as this is the most durable, comfortable, and easiest mattress type to use with an adjustable bed.
Waranties and Services – Ensure that you understand the warranty given with your bed and if it covers all the parts and ensures that you can easily get a hold of spare parts without breaking the bank.
---
Features of a Good Adjustable Bed for Seniors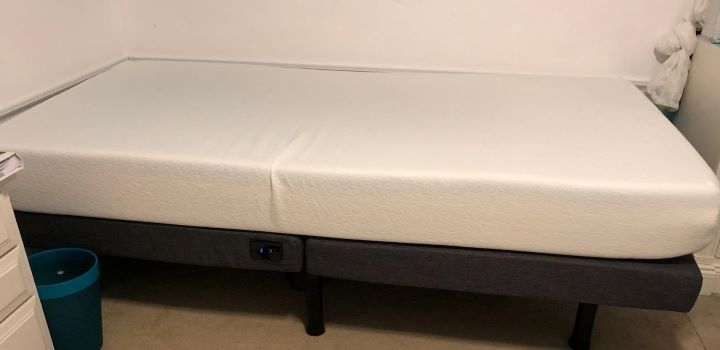 Settings – Different Adjustability settings from Sitting to Lying Flat. Zero Gravity Positions. Head Tilt position to eliminate snoring.
Options – Frame only or mattress included. Different size options as well as a Split size option.
Comfort Features – Comfortable Memory Foam and Cooling Gel Mattress.
Frame – Sturdy and Durable Frame.
Remote Control – Easy remote Controlled Operation.
Operation – Built-In USB charging ports. LED under Bed Lighting.
---
Reviews: The Best Adjustable Beds for Seniors
These are the top brands and models of adjustable beds that are perfect for use by senior individuals;
We hope you love the products we recommend!
So that you know, We may collect a share of sales or other compensation from the links on this page.
---
1
---
2
A voice-controlled adjustable bed from Glideaway.

It comes in different bed size options and a king-sized split option.
Control the bed with the sound of your voice as it uses Alexa and Bluetooth modules to function.
Full range of positions and inclines as well as a standby mode.
A wall-hugging and space-saving design for smaller spaces.
Anti-snore sleep enhancement technology and four-wave modes to choose from.
Available with an optional elevation kit that allows you to tilt the entire bed.
---
3
The Ananda adjustable bed has a cooling gel memory foam mattress.
Regular sizes, as well as split sizes, are available in this bed.
The bed is fully adjustable and has multi-layered construction.
The mattress is medium-firm and offers excellent pressure relief.
The cover of the mattress can be removed and washed.
---
4
These adjustable pillows offer a much more affordable and portable option for an adjustable sleeping position in any bed using a few simple pillows.
A four-piece pillow system adjusts how you sleep or sit in bed easily, offering therapeutic support.
Includes a back scoop, cradle, headrest, and knee rest pillow for optimal support.
The pillows consist of soft and durable foam with a washable bamboo cover.
These pillows are also portable and much more affordable than an adjustable bed.
---
5
You can use an adjustable bed base with the adjustable mattress of your choice for seniors.
It is available in different bed size options, with or without a mattress, headboard, or headboard brackets.
Ergonomic design with programmable elevation levels and head and foot massage options.
IT Offers TV, PC, zero-gravity positions, and a 65-degree head elevation setting.
Convenient and easy to use with a wireless remote.
It comes with a USB port for you to charge your mobile devices.
---
6
A programmable adjustable bed for seniors can be purchased with an under-bed light and massage option.
Choose between various sizes and the option of massage, under-bed light, or both.
Different adjustable positions as well as Zero Gravity positions.
Alleviates pressure and reduces pain in elderly persons.
The anti-Snore design raises the head slightly, so airways are more open.
Intuitive and straightforward backlit button controls and preset and programmable options.
Universal modern design and style to suit any home décor.
Take note this is the base only.
---
7
We have this luxury adjustable memory foam bed with comfort cooling gel and a massage function from Leggett and Platt.
Available in different sizes and split-size options.
An adjustable bed with head tilting and wall-hugging technology.
Heavy-duty steel frame and a comfortable and cooling Gel Memory foam mattress.
It has an 18-button wireless remote, a built-in USB port for charging devices, and under-bed LED lighting.
---
8
From Lucid, we have a fully adjustable bed base and mattress for seniors.
Here you have the options of choosing sizes and a base only or base and mattress option.
The base is fully adjustable.
The mattress is designed to accommodate the adjustable base.
The bed has a dual USB charging station on both sides.
---
9
The Linenspa motorized bed for seniors is fully adjustable and comfortable.
The bed is fully adjustable.
It has a durable metal frame and a sturdy base.
It comes with a wired remote and ultra-quiet motor.
You can also choose between bed sizes.
---
10
The iDealBed i3 is much more advanced and has zero gravity positioning.
The bed has full head and feet articulation.
It has a zero-gravity position and is fully adjustable.
The drive technology used is smooth and silent.
Convenient to use, and almost no assembly is required.
---
Index Table: Top Rated Adjustable Beds for Seniors
---
---