As we age, we learn to live with the little aches and pains that life throws at us, and the same perspective may be applied to our quality of sleep.
This should never be true as you still need a happy and pleasant 7-8 hours of sleep every night, no matter your age group.
A Key ingredient o a healthy sleep recipe is to find the right bed and mattress.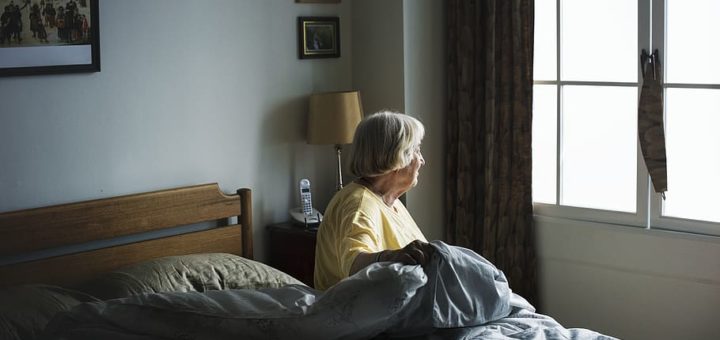 ---
Why Seniors Need a Good Bed
Most elderly persons without any major medical or Psychiatric conditions in the way generally enjoy a good night's rest. However, sleep patterns do change when you get older, and there may be some sleep disturbances and persistent fatigue.
Poor sleep quality can in itself lead to conditions such as attention and memory issues as well as daytime fatigue and depression,
Often pain discomfort in the body can be why seniors may struggle to sleep at night.
A good bed and mattress provide optimal spinal support and a soft-top layer that reduces pressure on the elbows, shoulders, and hips.
An adjustable type bed can also provide the perfect position for optimal sleep.
---
Bed Types for Seniors
There are a few aspects to consider in the actual function and shape of a bed for seniors;
Adjustable – One of the best bed types for a senior person is an adjustable bed, as this bed allows them to sleep in any position comfortable for them and sit up and tilt their heads comfortably. The adjustable bed is also ideal for senior persons who struggle to get up and in and out of bed.
Hand and Side Rails – A bed with hand and side rails protect an older adult from slipping out of bed, which can be very dangerous, as well as provides a place to hold on to when getting in and out of bed.
Massaging – The massaging function on a bed is a luxury function that can provide soothing comfort and relief to sore and aching muscles.
Durability – A bed for a senior person needs to be durable and able to have the correct weight capacity to last long and function well.
Mattress – The most important part of the bed is, of course, the mattress, which in the case of the adjustable bed should be able to accommodate bending and flexing. A good mattress needs to provide firm support and soft comfort to reduce pressure points.
---
Features of a Good Bed for Seniors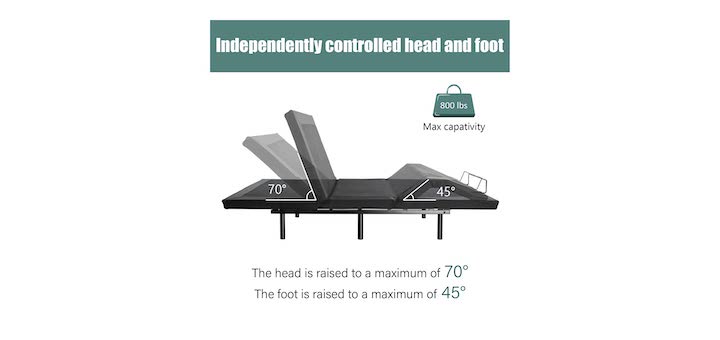 Strong and Durable Frame – The bed's frame should be very strong and durable and able to handle the required amount of weight. Steel frames are usually used and in some models a composite or wood head frame and foot frame. Railing can be placed on some bed models for individuals who struggle with mobility.
Adjustability – Adjustability in the bed usually allows for head tilting and lumbar lifting so that the person can sit up and lay down in the bed at the touch of a button. This also helps when individuals struggle to get up. Some bed models allow for Zero Gravity positions for comfort and support in any required position.
Massage – A few bed models add a massaging function, which can be vibration or full body massage function with different setting options.
With or Without a Mattress – You can choose to purchase a bed with or without its matching mattress. Latex and Memory Foam mattresses are usually the best option with an adjustable bed frame.
Size Options – The bed size is from a standard, Queen, or King, to Split King size or Split Californian King size options, which you may choose from for your requirements.
Extras – Additional extras usually include a USB charging port where you can charge your electronic from, a Flashlight bra, or under lighting under the bed. Most adjustable beds come with a remote control that has many functions, such as an emergency stop, and some beds come with a backup battery in case of a power outage.
---
Reviews: The Best Beds for Seniors
These are the best beds that you will find that are highly functional and have many features which are ideal for seniors;
We hope you love the beds we recommend!
So that you know, We may collect a share of sales or other compensation from the links on this page.
---
1
The Sven & Son are top adjustable beds and a luxury split King-sized bed ideal for elderly couples.
This base comes with two luxury latex mattresses that offer firm comfort and support and are ideal for using your adjustable bed.
This bed adjusts and tilts in the head area as well as has an adjustable lumbar area,
There is also a wireless backlit programable remote that you can use to operate the bed easily.
---
2
The Secret Garden from Sleepwell is another top favorite bed for seniors with a Split King size and design option.
The Base is durable and ideal for memory foam and latex mattresses.
This is a heavyweight lifting adjustable bed with proper foot and head articulation.
It has a head and foot incline design.
---
3
The Zinus Jared comes in Different size options and is fully adjustable.
The bed has a solid metal frame and mattress foundation. However, the mattress is not included.
It is remote-controlled and has a head and foot inline system.
Easy and Tool-free to assemble.
---
4
The Blissfull Nights is a Lightweight, luxury Zero-Gravity bed available in different size options and a Plsit King-Size option from which you may choose.
The bed has a German engineered sturdy and durable well-functioning motor and a quiet motor.
There is an elevating lift function and a Zero GGravity position function in this bed.
You can also enjoy a full-body enhancement massage.
You can likewise enjoy the peace of mind of a 20-year warranty.
---
5
This is a comfortable luxury massaging adjustable bed from Giantex.
The bed has an adjustable frame and vibration massagers at the head and foot area.
The massage function includes wave, pulse, and constant vibration modes you can choose.
There is also an emergency battery backup function for unexpected power outages on this bed.
The bed raises and lowers individually or synchronously and can reach Zero gravity positions.
Additionally included are USB ports and a Flashlight and Mattress bar.
---
6
From FC Bed, we have their industry-leading Hospital Bed Frame; I have chosen this bed for senior individuals who are no longer mobile and require at-home medical care daily.
This bed is designed to offer optimal adjustability for sitting, tilting your head, and laying down comfortably, as well as having protective rails that you can also use to hold on to when getting in and out of bed.
The bed frame is solid and durable and designed to accommodate medical devices.
There is a strong composite headboard and footboard for protection.
---
7
this is the Lucid Bed Base 5 for seniors.
It is the base only, so you will need a mattress of your choice.
The bed is adjustable with folding hinges.
It has a wireless remote for operation and a flashlight program.
The bed also has dual USB charging stations.
---
8
From best Choices Products, we have a Fully adjustable bed for seniors.
The bed has a Zero Gravity Base and foot and head incline positions.
It has a wireless remote control for operation as well as massage functions.
There are an under-bed nightlight and USB ports.
Compatible with most mattresses.
---
9
The Irvine Home Collection bed is a Queen Sized adjustable bed.
It is perfect for seniors with Zero gravity positions.
The bed has USB ports and programmable memory.
There is also an easy-to-use remote.
---
Index Table: Top Rated Beds for Seniors
---
---