For elderly persons who tend to have accidents during the night or those with incontinence, the waterproof bed pad for the elderly can be a very necessary device to protect your mattress and other bedding from soiling.
For whatever reason, a waterproof bed pad will provide protection and peace of mind from any accident or spill that may cause wetness and deterioration to the bed and mattress.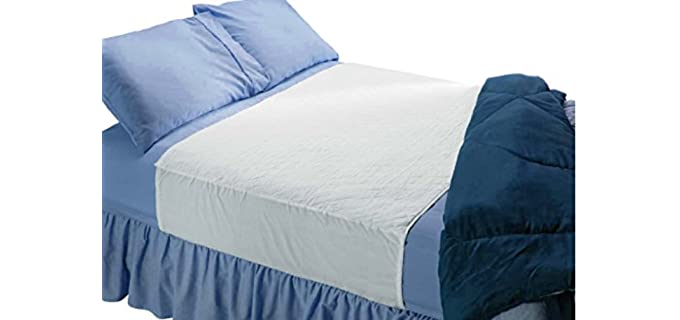 ---
Why Do Seniors Need a Waterproof Bed Pad
I want to outline a few scenarios and areas where a waterproof bed pad could be ideal for an elderly person, besides just for the usual nightly accidents;
Eating and Drinking in Bed – Many seniors and even young adults enjoy watching a movie or reading a book with a cup of their favorite warm drink, a soda, or even just having a glass of water at the bedside. A spill can easily happen, especially with more fragile elderly hands, and the liquid will sink straight through your bedding into the mattress.
Reflux and Vomiting – Many seniors may suffer from reflux, even if they get ill from time to time. Vomiting caused by reflux r any other conditions will surely leave its mark on an unprotected mattress.
Accidents – The most popular reason for using a waterproof bed pad for elderly persons is because they are more likely to have accidents and wet the bed. This could be for reasons such as sleeping too soundly, not being able to get up from the bed fast enough, or forgetting, among many others.
Incontinence – Seniors who struggle with forms of incontinence and poor bladder or bowel functioning may need to wear an adult diaper in some cases or need assistance to the bathroom regularly. Any senior, adult, or child in this group can benefit from a waterproof bed pad, as accidents here will be more likely.
Excessive Sweating – One reason you may not think of is sweating. Excessive sweating from a senior or adult, maybe because of heat, hormones, or hyperhidrosis, can lead to excessive sweat being absorbed into your bedding and mattress. It's easy to change a sheet or blanket, but a mattress will absorb sweat, which sinks into the fibers, leading to bacterial growth and odors.
The general idea here is to fully protect your mattress from liquids that could become moldy, cause odors, or generally deteriorate your mattress.
---
Using and Choosing a Waterproof Bed Pad
Though you might be having the best-fitted sheets that stay tight and is waterproof, a bed pad will still be advantageous as it is easier to remove from the bed and also much smaller.
It will not have fitted edges but will only cover a certain area on the bed where you can easily place and remove it.
Most waterproof bed pads are also much thicker and heavier than waterproof sheets or covers.
You get two options in a waterproof bed pad: a regular bed pad consisting of materials such as vinyl, plastic, or PVC, or a mattress topper with soft cushioning materials and a waterproof lining.
On the other hand, if you do not want something reusable, you get disposable bed pads that absorb liquids.
If you only need a waterproof bed pad, then opt for something durable and high quality with full waterproof materials. On the other hand, you can also opt for comfort and support with a waterproof mattress topper.
One important consideration is to look at the size of the bed pad in comparison to the bed that it will be used on.
You will need something that matches your bed's size or provides ample coverage to prevent spills from seeping into your mattress.
---
Features of a Good Waterproof Bed Pad for the Elderly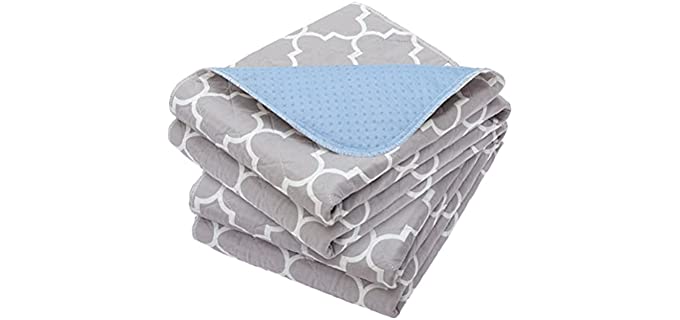 Design – As mentioned, a bed pad is a smaller and heavier design than a waterproof sheet or cover. You get Mattress topper waterproof bed pads that also provide comfort and support in reducing pressure points while being waterproof. Then there are basic waterproof bed pads that protect liquids. Then you also get disposable bed pad options.
Materials – Bed pads are waterproof materials that will not absorb water, such as plastic, PVC, or vinyl. The waterproof pad may have a padded or foam inside with a waterproof cover. Some mattress Toppers may consist of polyester or cotton that will absorb the liquids, but there will be a protective shield or waterproof membrane to prevent it from seeping further into your bed.
Sizes – Waterproof bed pads will be smaller than your bed. You get small enough sizes to place underneath a person for coverage of the bottom half only. Then you get sizes according to the bed size. This is also true for waterproof mattress toppers, which mostly come in actual bed size.
---
Reviews: The Best Waterproof Bed Pads for the Elderly
In the list below, I have included some of the best available waterproof bed pads and waterproof Mattress Topper pads for senior individuals;
We hope you love the products we recommend!
So that you know, We may collect a share of sales or other compensation from the links on this page.
---
1
This is a Premium bed topper and waterproof bed pad for seniors.
It is an innovative design that is both comfortable and fully waterproof.
The waterproof bed pad offers four layers of protection with an absorbent inner layer and a non-slip latex waterproof barrier.
It absorbs quickly and locks in all moisture.
The bed pad is likewise fully machine washable.
---
2
The Outcreatpr waterproof bed pad is a reusable absorbent pad designed specifically for seniors with accidents and incontinence.
The bed pad is breathable but fully waterproof to protect your mattress.
It has a non-slip backing so that it will stay in place.
The bed pad has four layers of waterproof and absorbent materials for your convenience.
Ideal for seniors and children.
---
3
I love this design because it has tuckable sides, so it will not slip off or around on your bed.
This waterproof bed pad is washable and dryer friendly for up to 300 washes.
It is very absorbent and has a softcore filling for comfort with a waterproof lining, and the triple-layered design keeps fluids far away from your skin.
---
4
here we have a fully washable mattress topper.
This is for seniors that are less likely to have a spill or accident but still want to stay on the safe side.
It is a two-in-one design that provides excellent cushioning, pressure relief, and waterproofing.
The bed topper is durable and easy to clean, mostly cotton.
It also has cooling technology for seniors who have overheated or night sweats.
---
5
the Niagara Sleep bed topper is also a waterproof design for seniors.
This is a comfortable cushioned bed topper and waterproof pad all in one design.
It is quilted and has a non-noise waterproofing design.
The materials are breathable and provide some soft cushioning on your mattress.
Ideal for seniors to relieve pressure and provide waterproof protection.
---
6
The Medpride waterproof bed pad offers more advanced bed protection for seniors that need better protection in this area.
It is a multi-purpose design that is very absorbent and ideal for the elderly and children.
The pads are not reusable but rather disposable for your convenience.
You can choose from packs of 25 or 50 absorbent waterproof bed pads.
They are easy to use and very effective.
---
Index Table: Top Rated Waterproof Bed Pads for the Elderly
---
---