A weighted blanket can be an excellent investment for seniors under stress who need more comfort and security.
However, more fragile seniors may need a very lightweight weighted blanket.
So, in our article, we will look at the best-weighted blankets for the elderly that accommodate all needs and conditions.

---
Why Should Seniors Have a Weighted Blanket
Weighted blankets are ideal for a few conditions that may affect elderly persons;
Depression and Anxiety – Weighted blankets are an excellent choice to combat depression and anxiety, and this is what they are mostly used for. They offer a sense of comfort and confinements that aid with the symptoms of depression and anxiety.
Restless Leg Syndrome – Weighted blankets are also good for restless leg syndrome and help ease these symptoms.
Parkinson's Disease – This nervous system disorder can cause reduced movement, balance problems, and body stiffness. A weighted blanket can help with these symptoms.
Arthritis – A weighted blanket will help to improve sleep patterns in elderly persons with arthritis.
Dementia and Alzheimer's – Weighted blankets are among the best choices to reduce the symptoms of Dementia and Alzheimer's in elderly persons.
---
Weighted Blankets for Seniors
As mentioned, weighted blankets are the best ways to care for seniors with anxiety, dementia, and depression. The heaviness of the blanket provides deep pressure therapy and improves serotonin production in the body to promote calmness and relaxation.
Weighted blankets are ideal for elderly persons and can improve their sleep greatly. However, fragile elderly persons with breathing issues and painful conditions may not stand the extra weight, so always consult a physician first in these cases.
The weight of the weighted blanket will largely depend on the adult's weight and physical condition. A regular weighted blanket is around 15 to 30 pounds; however, a lighter weight is recommended for children or fragile seniors.
---
Features of a Good Weighted Blanket for the Elderly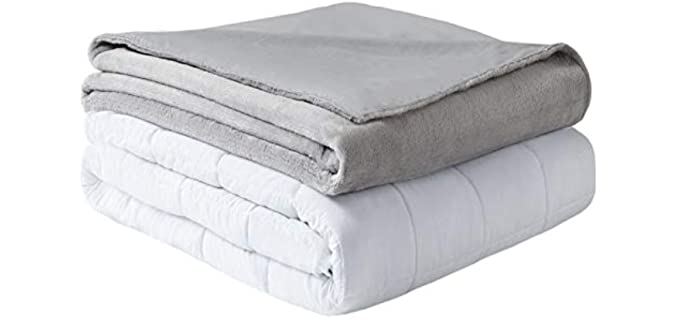 The Weight of the Weighted Blanket – First and foremost, you need to consider the weight of the weighted blanket according to the needs of the older adult and their health. The best option is to choose a weighted blanket around 10% of your body weight, maybe lighter for more fragile seniors. Weighted blankets are available in 10, 15, 20, and 25-pound options for adults and 5 to 10-pound options. For fragile elderly persons, I would recommend a children's weighted, weighted blanket rather.
Size of the Weighted Blanket – The Weighted blanket needs to cover the person fully, and there should be plenty left on the size of the blanket, so I would generally recommend a double, or twin-sized option in an adult-sized weighted blanket for an older person.
Removable Cover – A removable cover on the weighted blanket is a good choice, a waterproof cover even better so. You want a cover that can be washed as needed and replaced with a blanket.
---
Reviews: The Best Weighted Blankets for the Elderly
In our review section, we have some superb weighted blankets that will work perfectly for elderly persons;
We hope you love the products we recommend!
So that you know, We may collect a share of sales or other compensation from the links on this page.
---
1
---
2
Weighted Idea has a versatile and cooling fabric weighted blanket that is crease-resistant and helps prevent overheating.
Premium-weighted blankets for seniors.
The blankets offer subtle softness and are weighted at 15 lb, ideal for seniors.
They offer you multiple choices and are available in more color and size options.
Ideal as a gift for a senior person.
---
3
The Hypnoser weighted blanket is ideal for adults, seniors, and children. It is safe and soft.
The weighted blanket has a no-leak design and is an ultra-luxury premium material.
The fabric is soft and breathable with natural fibers.
The weighted blanket is an ideal 15 lb weight for seniors.
Easy to care for and can be machine washed.
---
4
The Relax Eden Weighted blanket is ideal for hot and cold sleeping seniors.
Here we have a weighted cotton blanket that is soft and comfortable.
It has seven layers of cotton and polyester and is hypoallergenic.
The weighted blanket comes in different sizes, weights, and color options.
Enjoy year-round comfort with the temperature-regulating design blanket.
---
5
For those cold winters, the Sherpa fleece weighted blanket provides warmth for elderly persons and a soft weighted comfort blanket.
This is a flannel and Sherpa-lined weighted blanket for those cold winter times.
It consists of Microfiber polyester that is soft and durable.
It is filled with non-toxic and environmentally friendly ceramic beads.
Several sizes, colors, and weight options are available from which you can choose.
---
6
The Zonli weighted blanket is a cooling blanket for seniors that tend to overheat.
You must use a duvet cover to protect your blanket and keep it comfortable with this weighted blanket.
It comes in many colors, sizes, and weight options for your specific requirements.
The weighted blanket consists of two layers of fabric that help to regulate temperatures.
Make sure to choose a weighted blanket of around six to ten percent of your body weight.
---
7
The MP2 Glacier weighted blanket has nano ceramic beads and a reversible design for cooling and warming.
The weighted blanket consists of 100% microfiber fabric with nano-ceramic bead technology.
The warm and cool fabric cover helps regulate temperatures, making it the perfect all-season blanket for seniors.
You will need to choose the size and weight according to your requirements, as quite a few are available.
There are also more color options available, from which you can choose according to your preference.
---
8
The Sunbeam weighted blanket is a soft velvet polyester.
The blanket is plush and warm.
There are hand slits and arm openings to keep your hands open and free.
It is available in more colors.
---
9
From Amazon basics, we have a quilted Minky weighted blanket for seniors.
The blanket has a lovely Minky quilted design in more sizes and colors.
It is secure and machine washable.
The weight adds comfort and security.
---
10
From Comfort Spaces, we have another weighted blanket perfect for seniors.
It is 100% velvet or Berber.
You can choose from more sizes and colors.
It is a premium and durable design.
---
11
The SensorPEDIC weighted blanket is top in its class.
It is perfect for seniors with a 15lb weight.
The blanket is soft and warm, as well as machine washable.
It is available in more colors.
---
Index Table: Top Rated Weighted Blankets for Seniors
---
---