The Bedrail has two main functions: to prevent you from falling out of your bed and provide support when you get in and out of bed.
Whichever one you choose, here are some excellent reviews and tips on choosing the best bed rail for the elderly.
---
Who Should Use Bed Rails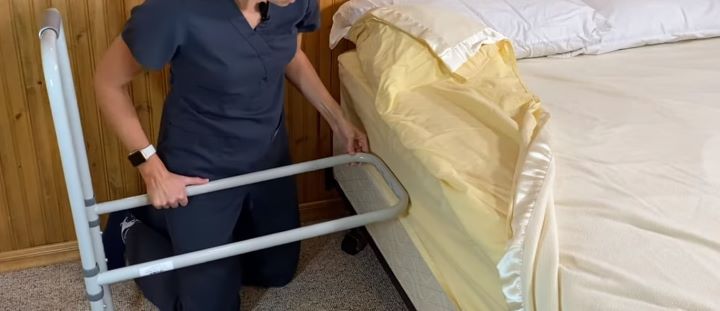 A bed rail for elderly persons is an excellent idea to help them get in and out of bed and prevent them from falling out of bed, which can be extremely severe.
Although a senior person may initially be hesitant about a bed rail, they will soon come to love the additional support and protection, especially with some of the latest models and brands available today.
On the contrary, besides seniors, I highly recommend a bed rail for any person with poor strength, decreased flexibility, poor balance or endurance, or mobility difficulty.
There are some superb advantages to having a bed rail for senior persons;
You are safer in bed and will not fall out.
It is easier to move while you are in bed.
You can easily sit up from lying down with a bed rail.
You can easily change from a seated to a laying down position.
There is a handhold when you stand up out of bed or get in.
The bed rail promotes independence in older people.
---
Choosing a Bed Rail for the Elderly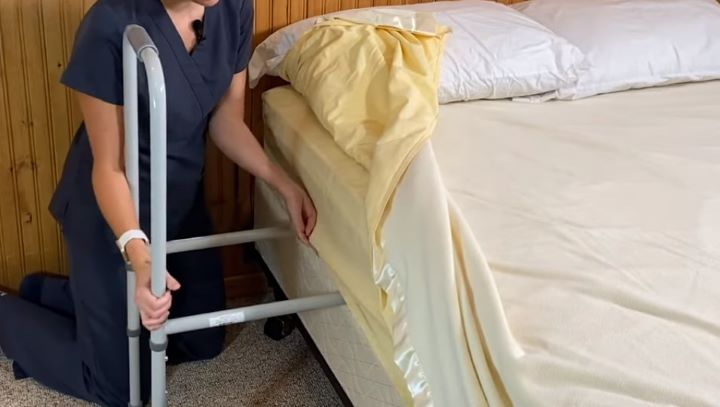 Choosing the best bed rail for seniors mainly depend on their limitations and support requirements;
Sturdy – A good bed rail needs to be sturdy and hold at least around 200-350 lbs. Aluminum and steel are two excellent metals that provide durable and sturdy support.
Comfort – Look for a comfortable design or something with padding for the person to hold on to when getting in and out of bed. Also, remember that grip is important to look at the design in this regard.
Easy To Clean – Accidents and messes happen, so you also want a quick, easy-to-clean design that does not require extensive maintenance.
Additional Extras – Extras such as padding, and storage pcokets always comes in handy for seniors.
Secure Fit – Ensure that the rail system offers a stable and secure fit to the bed that will not buckle or slips off.
---
Features of a Good Bed Rail for Seniors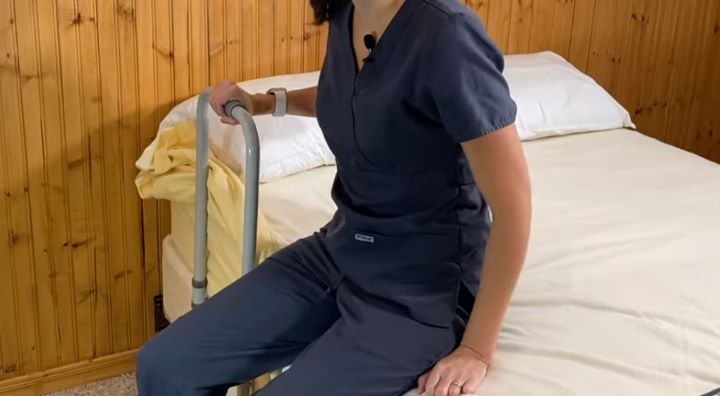 Desing – Strong Steel or aluminum frame. Fits most bed types. It easily slides under your mattress.
Safety – Securing straps for a safe fit.
Weight Capacity – Weight capacity of 200-350lbs.
Comfort Features – Cushioned or padded for comfort. Comfortable high grip handle.
Assembly and Portability – It easily folds up in some models for portability and storage.
Easy tool-free assembly.
---
Reviews: The Best Bed Rails for Seniors
These are some of the top selections in protective and safety bed rails ideal for Seniors;
We hope you love the products we recommend!
So that you know, We may collect a share of sales or other compensation from the links on this page.
---
1
---
2
A durable and adjustable hand grab bar and safety rail for seniors from Vaunn.
Ideal for fall prevention and mobility independence in older persons and individuals who struggle with mobility.
A heavy-duty powder-coated steel frame is strong and sturdy, with a weight capacity of up to 250lbs.
Slip-resistant foam pads in the handle and horizontal stabilizer bars.
Modern universal design that will fit most bed types easily.
Easy tool-free assembly and easy-to-clean design.
---
3
A supportive safety rail from Stander that is portable for use when traveling.
The full-sized cushioned handle allows easy transfer in and out of your bed.
Made with Aircraft Grade hardened and anodized aluminum weighs less than 2lbs but can hold up to 3300 lbs.
Collapsible and portable taking up very little space.
It comes with a four-pocket organizer for storage and a No-Slip Grips safety strap to secure the rail between the mattress and the bed frame.
---
4
An adjustable, padded, and slip-resistant state rail for elderly persons from Medical King.
Safe and comfortable bed support from Slip-resistant materials with a removable and padded handle for a more comfortable grip.
Durable and portable design for easy traveling made from heavy-duty steel that can collapse flat.
It offers a universal fit for all bed types.
Very easy to clean and assemble.
---
5
The Medline Bed Assist is an adjustable, easy-to-operate, assembled bed rail that slides under your mattress.
An easy-to-use steel rail that slides under your mattress allows for safe assistance getting in and out of bed.
The strap allows for a secure and sturdy fit.
You can place the safety bar on either side of the bed.
Very quick and easy tool-free assembly and easy to clean.
The Height is fully adjustable as well as the legs and grip bar.
Designed to resist slips and offer better grip and stability.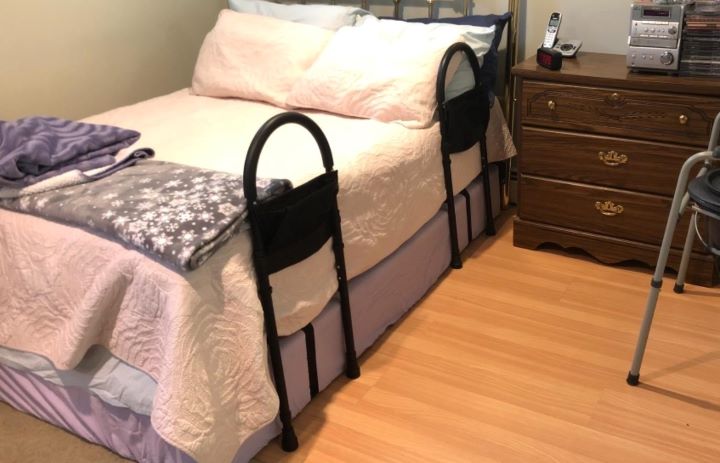 ---
6
Invacare has a new reduced gap full bed rail system.
A full-length cross brace bed rail with less spacing between the crossbars.
It is made from chrome-plated welded steel.
The self-adjusting spring braces in the crossbars snap easily, so no tools are needed for assembly.
Reduces the space between the bed and the rail for a safer sleeping position.
Sturdy and durable design for optimal support.
---
7
The Drive Medical Adjustable bed Rail is sturdy and durable for seniors of all sizes and weights.
A very simple-to-use design with a handle and assist that you slide underneath your mattress.
It comes in three easy-to-assemble pieces, and no tools are necessary.
There is no slip foam on the baseboard for increased stability and security.
The Bedrail also folds flat for easy storage.
---
8
The Regalo Swing Down is a double-sided bed rail and guards seniors with a reinforced anchor safety system.
The Regalo is a Swing Down Double-Sided bed rail and guard in one.
It assists in getting in and out of bed and prevents you from rolling out.
It is swift and easy to set up with no tools required.
The design is lightweight yet very sturdy and durable.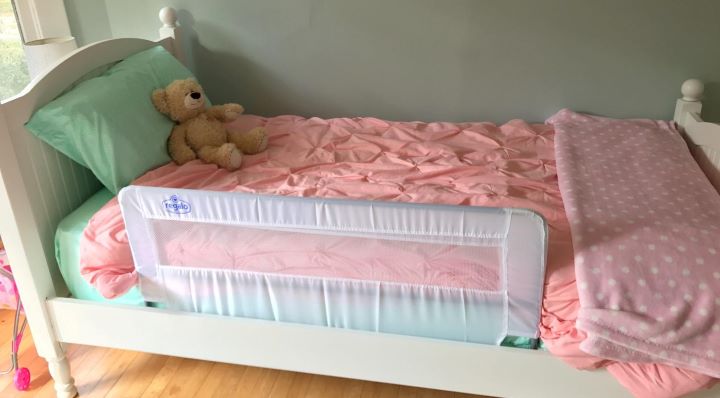 ---
9
The Vive Bed Rail has an easy-grip handle to help you get in and out of bed daily.
The LumaRail Bedrail is adjustable for fall prevention and has a long handle.
It is lightweight and durable, with a stabilizing bar for assistance.
No tools are required for assembly, and it is quick and easy to set up.
The handles have a comfortable non-slip design that is padded with soft non-slip foam.
There are also Luminous lights for visibility at night.
---
10
Dream On Me brings you their mesh security rail for children and adults.
The rail will offer assistance in getting in and out of bed and preventing rolling off the bed.
The Mesh is breathable and sees through.
The Bedrail also comes in quite a few color options you can choose from.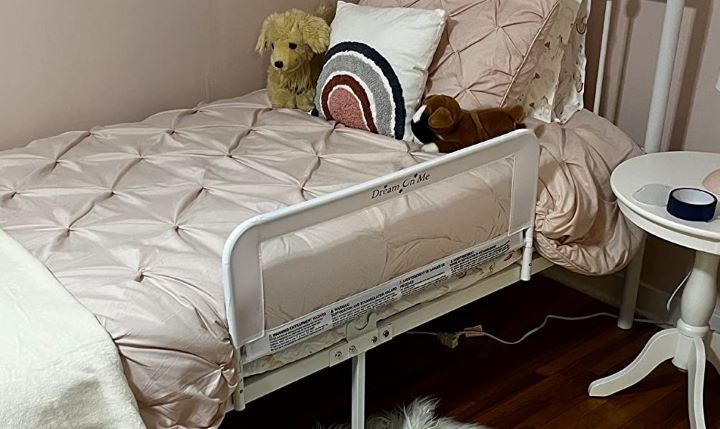 ---
Index Table: Top Rated Bed Rails for Seniors
---
---