The Overbed table is a medical device for hospital patients to serve food. However, it can be extremely useful for an elderly person who spends most of their time in bed or a disabled person on an overbed table.
Overbed tables can serve many purposes besides serving bedridden seniors food.
The best Overbed table will have a fully adjustable design to fit your bed, with a large enough table surface, an easy-to-clean surface material, and no sharp corners or unstable parts.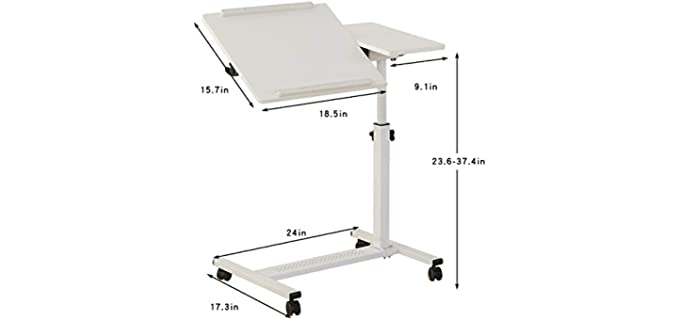 ---
---
The Overbed Table
An Overbed table is exactly as the word describes. It is a table you place over a bed so that a person can have the functions of a table in the comfort of their bed.
The table is usually rectangular for hospital beds, mostly for patients, or in homes for seniors with limited mobility and confined to their beds.
However, you also get Overbed tables that you can use at home for a patient recovering, an elderly, or a disabled person limited to their beds.
The Overbed Table is fully portable, with adjustable height and a large supportive surface where you can place food, books, and other items for activities for a person in bed.
The Overbed Table will usually be a size that spans over the width of the bed, fitted with a crank or similar type of technology so that you can adjust the table height to the height of the bed and for the senior or patient's comfort. And reach.
---
Uses for and Overbed Table
The Overbed Table is the perfect design for a senior who is disabled or unable to leave their bed anymore. It is also ideal for persons or seniors recovering from an illness or injury.
Similarly, an overbed table can be used for disabled individuals or seniors, or on the other hand, just for comfort while a senior enjoys watching television in bed or having breakfast in bed;
The Overbed Table has more purposes than just serving meals for a disabled or bedridden person;
Snacking – You can use the Overbed Table to keep snacks at hand when you need something quick to eat or drink. The Overhead table can easily be moved towards and away from your bed.
Activities – For a person who is ill or confined to their bed, the Overbed table can be used for other activities such as playing a board game with someone or alone, reading, writing, drawing, or even building a puzzle.
Using Technology – You can place a laptop or mobile device such as a tablet on the Overbed table to play games on, connect with loved ones, or watch a movie or series.
Eating and Drinking – Mostly, Overbed tables serve meals to patients and seniors confined to a bed or ill or injured in bed.
Watching Television – The Overbed Table is ideal for placing some snacks on, and the television remote is for comfortably watching television.
Healing Time – When you are ill or injured, an overbed table can provide all the above activities and comforts while on the mend.
---
Features of a Good Overbed Table for The Elderly
The goal of an Overbed table is to give you comfort and independence while in bed.
With that said, you need to look for an Overbed table for seniors that is good quality, reliable, and stable enough.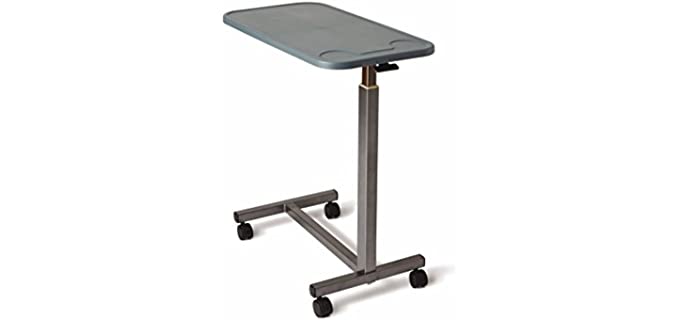 Tabletop – Most Overbed Tabletops come in a U or C shape, and some just a square shape. It would be best to choose a shape that suits your needs best. Most C and U shapes are easier to use for individuals who are in wheelchairs. The Tabletop should have a flat, hard surface for placing items on, which is easy to clean. Some even swivel or lift for even more convenience.
Size – There are Pros and Cons to small and large Overbed tables. Where a larger industrial-sized hospital overbed will have a large surface area, better adjustability, and stability, it may take up much space. On the other hand, a smaller Overbed table may not have the capacity of all the adjustability features of a large one and may also have a smaller surface, yet it is more space efficient.
Adjustability – The Overbed needs at least adjustability in height. However, adjusting the angle makes it even better and easier to use. Seniors need to have a wider range of mobility, which is why height and angle adjustability are important in an Overbed.
Portability – An Overbed table needs to be easy to move around when you need to get in and out of bed or need it out of the way. It is not a fixed structure but is only there for temporary comfort. Thus, it needs to be easy to move around. Look for a design with wheels that slide easily and can lock in place when needed so as not to become a fall hazard for seniors.
Extra Features – There may be extra extras such as cups or utensil holders and spill guards to prevent liquids from spilling off the table and onto your bed. Then, some tables have a slide-out tray, shelve, or a built-in outlet for charging a phone or mobile device.
---
Reviews: The Best Overbed Tables for The Elderly
In our list, we have gone over some of the best available Overbed table models and designs that are available today;
---
1
The Carex Overbed Table is a large hospital design Overbed table for seniors.
You can easily use it as a table for eating, drinking, and other activities.
The table is fully adjustable and has wheels, so it can easily be pushed away or pulled back.
It has a wide base and will need some space for standing, though.
---
2
The Invacare Overbed Table for seniors has automatic functions and is easy to use by seniors.
It has an Auto-Touch Adjustable Height.
The wheeled design is lightweight and easy to move around.
There is a stylish Walnut wood-grain laminate on the Tabletop's surface that is easy to clean.
---
3
The Vaunn Tilt top overbed table for seniors is ideal for hospital or home use.
It is height adjustable and has a flexible position with a tilt top and dual-tilt.
The finish of the Tabletop is a brown color and easy to clean.
The Steel construction of the stand is durable and coated with a powder finish.
---
4
The Roscoe Medical bed tray and Overbed for seniors is the perfect size and design.
It has easy-gliding roller wheels.
There is a Hydraulic assist for easily raising the height of the table with a light touch.
The Overbed Table has a resilient walnut wood-grain surface table top.
It is ideal for eating and placing a laptop.
---
5
The Medline Adjustable Overbed Bedside Table is perfect for home and hospital use.
It has a comfortable and easy-to-use design for seniors.
The Overbed table is fully adjustable and has wheels.
It has a very durable Hammertoen H-Base for stability.
---
6
The TigerDad Rolling Laptop desk is the perfect smaller Overbed table for seniors with little home space.
The design is fully adjustable in height and has a rolling function.
It can only be used for eating, drinking, and placing a laptop.
---
Index Table: Top Rated Overbed Table for The Elderly
---
---