Velcro Pajamas for the elderly is an easy option to put on and take off and are also ideal for hospital use and seniors who need to rely on a caretaker or loved one for getting dressed.
This article will look at some of the best Velcro closure pajama styles and designs for seniors that are comfortable and ideal.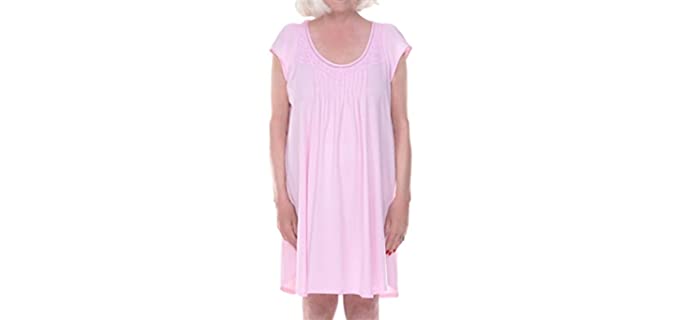 ---
---
Why Seniors May Need Velcro Pajamas
Velcro Pajamas are designed to be much easier to put on and take off. Some have an adaptive design to make going to the bathroom and other basic tasks much easier for seniors or caretakers.
However, a few scenarios exist where Velcro-style pajamas can be ideal for an elderly person.

Can No Longer Dress Themselves – For an elderly person that can no longer dress because of weakness, disease, or other conditions, Velcro pajamas are an excellent option. For a caretaker or loved one that needs to dress a senior individual, it can be very difficult to pull on pants or get clothing over the person's head, especially if they are bedbound or in a wheelchair. Most Velcro and adaptive pajamas are designed to make this task much easier for caretakers and a loved one having to dress an elderly person.
Struggle with Mobility – Even for seniors to keep their independence, dressing may be something they want to do, but that cannot be easy. This can be because of weakness in their hands or body, struggling to bend, or other physical conditions. Similarly, using pajamas with a Velcro closure is much easier in this case.
Post Operation or Injury – Using adaptive pajamas with Velcro closures may be necessary after an injury or surgery. You get pajamas that cater to specific operations or inabilities that may open in front, the back, or at the sleeves.
Hospital Use – For use in the hospital, Velcro pajamas are much easier for the individual themselves or a nurse to use. Many adaptive-style Velcro pajamas are likewise ideal for hospital use.
---
Velcro VS Zip and Snap Pajamas
As you will see, many adaptive pajama options designed for seniors also come with zipping or snap closures.
Though these are also fine, I prefer Velcro as pulling open and pushing closed is much easier, allowing more adjustability.
With snap closures, they can be small and tricky, and you require some strength to close them, whereas a senior individual with weaker and less agile hands may find them difficult to close. Snap closures may likewise feel scratchy and uncomfortable on your skin.
In the case of zips, there is the chance that they may get stuck or cause an injury to an elderly person if used wrong. Zips are also quite hard and can dig into a person's skin if they sit or lie down on the zip.
Thus, as you can deduce, Velcro is the safest closure method and easier for a senior individual or a caretaker.
---
Features of a Good Velcro Pajamas for the Elderly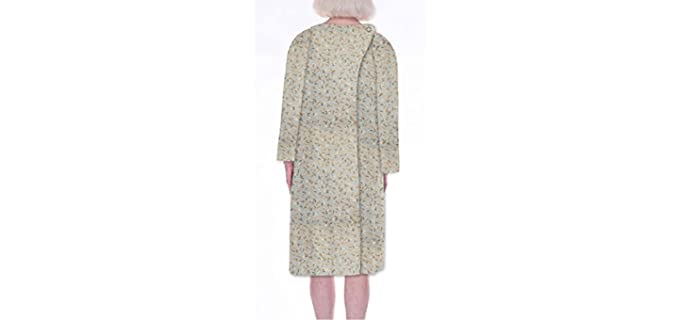 Materials – For comfortable Velcro pajamas, always opt for a tagless and seamless soft material to reduce friction. Cotton and Bamboo are ideal natural materials, whereas polyester and polyester blends are ideal synthetic materials.
Closure – The Velcro closures can be at the back, the sleeves, or the front area of the pajamas, depending on the design.
Type of Pajamas – I have included a few nightgown designs and pajama tops and bottoms with Velcro closures.
Fit – You will still need to get the correct size pajamas for a comfortable fit.
Options – Some pajama models we have chosen offer more color options and plenty of sizes in standard and size selections.
---
Reviews: The Best Velcro Pajamas for the Elderly
Here we have some of the best options in adaptive Velcro closure pajamas that are ideal for seniors;
We hope you love the products we recommend!
We may collect a share of sales or other compensation from the links on this page.
---
1
From Dignity Pajamas, we have easy on-and-off adaptive pajamas for ladies with a lovely floral print.
The pajamas are 100% cotton and have a very soft knit.
They have Velcro closures and an open-back design for caretakers and hospital use.
The pajamas are long sleeve, so they are ideally suited for colder weather conditions.
---
2
From Gownies, we have a designed hospital patient gown which is likewise ideal to use by seniors as pajamas.
It is 100% cotton and comes in plenty of colors and patterns you can choose from.
The pajamas have front snap-down panels with Velcro closures and are designed to be more accommodating.
They are comfortable and come in many size options.
Ideal for post-surgery or as hospital wear.
---
3
The Dignity Pajamas are for ladies.
The pajama dress has lovely feminine cap sleeves and comes in light pink.
The sizes available are small, medium, large, and extra-large.
They have front Velcro closures and are adaptive o accommodate all your needs.
The Pajamas for Ladies is a luxury 100% soft cotton knit and breathable.
Ideal for summer and warmer weather conditions.
---
4
Silvert's Pajamas are fleece pajama bottoms for men.
The Pajama bottoms are long and soft fleece material for winter.
They have an elasticated comfortable waist and are fully machine washable.
The pajama bottoms are easy on and off design with Velcro closures and a front fold-down panel for added convenience.
You can also choose from a few more available colors in this range.
---
5
The Ovidis Velcro closure pajamas are ideal for men.
These pajama pants have an adaptive design and easy Velcro closure.
They consist of polyester and cotton with an elasticated waistband.
The pajama bottoms are soft and wrinkle-free and fully machine washable.
---
Index Table: Top Rated Velcro Pajamas for Seniors
---
---