Knee injuries and chronic knee pain become quite common as we age.
Knee pain, weakness, and other issues can develop and disrupt your daily life.
Having the right Knee Support brace for seniors can help stabilize and protect the knees from impact, abnormal motion, and pressure to haven't healed injuries and provide some pain and symptom relief.

---
---
How will a Knee Brace or Sleeve Help
Generally, knee braces come in different designs, such as wraps, sleeves, and hinged braces, which we will discuss further.
Because your knee has a fairly large range of motion and is required to carry many weights, when they sustain a blow such as an injury or congenital condition that affects them, it can easily become dislocated or damaged.
Here is where knee support can easily come in. The knee brace or support is structured to provide compression and stability that reduces pressure on the knee and encourages circulation.
---
Types of Knee Support Braces
As mentioned, you do get different types of knee braces for seniors that all have specific purposes;
Functional Knee Braces – Functional Knee braces are usually a wrap design that helps you get back on your feet after an injury or provide daily stability.
Rehabilitative Knee Braces – Your doctor usually prescribes a functional or rehabilitative knee brace to support the knee after an injury or surgery.
Unloader Knee Brace – The Unloader knee brace is designed to reduce and evenly distribute the weight load on your knees. It is ideal for seniors with knee osteoarthritis and issues with knee alignment.
Sleeves – The most common sleeve is thin, stretchable, and more suited to relieve chronic knee pain. The sleeve provides compression and warmth to the knee.
---
Related Articles on Exercise for Seniors
---
Features of a Good Knee Support Brace for Seniors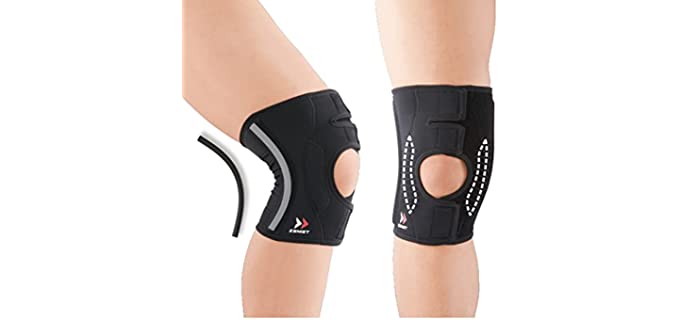 Materials – Make sure the brace materials are comfortable, breathable, and moisture-wicking, with sturdy nylons, neoprene, lycra for stretch, and mesh for ventilation.
Brace Style – Knee braces come in many styles, including hinged braces, compression sleeves, wraparound braces, and straps or bands.
Weight – Make sure the knee brace you get is the right weight for the support you need.
Mobility – Knee Braces are designed with materials such as wires, wraps, and compression to reduce mobility in the knee to prevent pressure and side-to-side movement of the patellar.
Medicare Covered – Medicare covers most Knee braces for seniors; however, you will need to check the requirements for this allowance.
Special features – Some knee braces may have additional features such as cooling gel, heating, or vibration for pain relief.
---
Reviews: The Best Knee Support Braces for Seniors
These are some excellent choices in a variety of knee braces and sleeves for all your needs;
---
1
---
2
The Neenca Professional Knee brace is perfect for senior men and women, with a fully adjustable fit.
The knee brace has patella gel pads and double-sided metal spring stabilizers to stabilize your knee joints.
The soft knit fabric is stretchable with a wraparound design and a breathable, moisture-wicking knit.
The knee brace is comfortable and has a medical-grade knee sleeve.
---
3
The UFlex knee brace and compression sleeve are ideal for painful and swollen knees seniors.
The Knee brace is ideal if you still want to enjoy walking and doing some sports or exercises as a senior individual.
The knee brace for seniors has a comfortable and secure fit that stays up and will not bunch.
It has a solid hook, loop Velcro straps, and an adjustable and secure fit.
They have ultra-durable and moisture-wicking fabric for your comfort.
A sizing chart is included to get the perfect all-around fit.
---
4
The OTC Knee stabilizer is a stabilizing knee wrap brace for seniors.
It is an Orthotex black color in a 3XL size, but there are more size options.
The Polycentric, aluminum-hinged bars, flexion, and extension stops provide better side-to-side stability and control motion.
Upper and lower hook-and-loop encircling straps help maintain the stabilizer correctly.
The design is open flat for easy applications and an adjustable fit.
The Orthotex material is a latex-free neoprene alternative and a sheer mesh that breathes well.
---
5
The Cho-Pat knee brace for seniors us a dual-action design that allows full mobility and good pain relief.
The knee brace for seniors has improved performance and all-around knee support with light compression.
It is ideal for reducing the symptoms of Patellar tendonitis, helps with distance running, walking, and hiking, protects your knees after unilateral knee replacement, from torn PCL, osteoarthritis, Osgood Schlatter disease, and provides comfort from pain above and below the knee, and other activities with repetitive knee movement.
The design is easy and comfortable to wear by seniors.
---
6
The Shock Doctor 87 is a comfortable, durable knee brace for seniors.
The knee brace for seniors provides stability and patella stability and helps with Meniscus injuries and minor ligament sprains in men and women.
It has a comfortable four-way lycra stretch construction with mesh at the back of the knee for breathability.
The sleeve has a pre-curved anatomical design and integrated adjustable suede stabilizers with light compression.
The design is moisture-wicking and cools against your skin.
---
7
The Zamst EK-3 Knee brace for seniors offers moderate and comfortable knee support.
Exo-Tech dual technology provides both medial (MCL) and lateral (LCL) stabilization.
It incorporates Flyweight fabrication with an i-Fit technology system for individualized compression.
Velcro fasteners wrap around your knee for a custom fit and adjustable compression.
V-Tech ventilation material is at the back to enhance cooling while you are in motion.
---
8
The Komzer OA Unloader Knee brace for seniors is ideal for stabilizing after surgery or osteoarthritis.
The knee brace helps to treat rheumatoid and osteoarthritis that are more severe.
It is a low-profile knee brace with multiple points of leverage to reduce all pressure on the knee joints.
The knee brace for seniors is very lightweight and has an adjustable and universal fit for long-term use.
---
Index Table: Top Rated Knee Support Braces for Seniors
---
---