Gardening is something that stimulates the body, mind, and soul, and what no better way to keep an elderly person young and healthy than having them tend to their own garden.
However, using gardening tools and gardening in itself can be a difficult task for some seniors as they may not be as mobile and storing as they used to be.
This is why we want to take a look at the most ergonomic gardening tools, especially for seniors.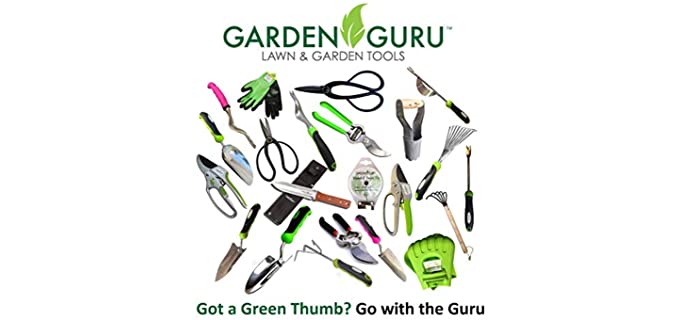 ---
Types of Gardening Tools for Seniors
Firstly I want to go through a few types of gardening tools that do have more ergonomic options for seniors and are quite critical;

Hand Weeder – Weeding is a huge part of gardening, and this is where the hand weeder with its ergonomic handle and serrated edges is useful. It easily cuts through the roots of weeds and gets them out effectively.
Sun Hat – Seniors need good protection against the sun's harmful rays which can cause damage and sunburn. Thus a sun hat is also at the top of my list. Something that has a wider brim or closed neck flap will provide full protection.
Garden Apron – Another very handy accessory is a gardening apron which can help to keep you dry, and clean, and also serve as a storage for small garden tools and other needed items that you can carry on.
Garden Cart – A garden Cart or trolley eliminates the need for you to carry heavy items, tools plants or rubble, and debris around the garden and makes it easy to just wheel around.
Kneeling Pads – Older knees become more painful and have less natural padding. This is why comfortable knee pads are ideal, as they provide cushioning when you need to kneel and work.
Garden Stool – A garden stool comes in a Rocker, stationary, or a rolling option which is all quite ideal. Thus you can sit and relax while performing gardening tasks and do not have to kneel or bend down.
Raised Garden Beds – Raised or elevated garden beds are naturally easier to work with as they eliminate the need for excessive bending and should be something a senior needs to consider for their comfort.
Weed Grabber – Another great weeding tool is the weed grabber that is a long handle with a small device at the end that grabs and pulls weeds out. It is ideal as it eliminates the need for bending or kneeling to pull to weeds.
Bear Paws – Gardeners that have arthritis in their hands, especially enjoy the Bear paws. They make turning up the soil and pulling weeds much easier. Also ideal to puncture soil for feeding holes and to pick out rocks and debris.
Garden Hose – good garden hose with an easy-to-use nozzle is ideal for seniors to keep the garden well watered. There are some designs that work better than others for this purpose.
Pruner – Especially in seniors with weak or arthritic hands a good pruner is necessary. You get pruners that have a much more comfortable grip and shock absorber, as well as a three-stage mechanism making it easier to cut thicker branches.
---
Do Ergonomic Garden Tools Make a Difference
Yes, they will definitely make a difference.
There are certain designs of garden tools out there to make their use much easier with less effort.
The right garden tools can have an impact on the health and safety of and elderly persons and also provide comfort to enhance their gardening experience.
Specialized adaptive garden tools can help seniors overcome their limitations and enjoy gardening as they used to before.
---
Features of a Good Ergonomic Gardening Tool for Seniors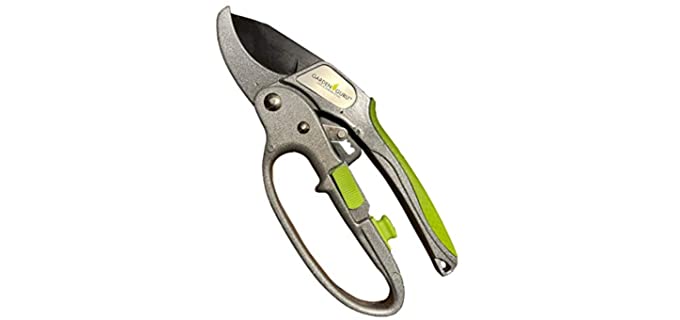 Ergonomic Design – Look for an ergonomic design that is easy to use and that eliminates the need for excessive strength, grip, bending, or kneeling. The use of the tool should reduce pain and discomfort and be easy to use by a senior person.
Materials – Generally opt for hand tools that are more lightweight for use and carrying around. Aluminum, Fiberglass, and Carbon steel are among the best quality lightweight materials.
Automation – Automation in certain garden tool can also help quite a bit. Things like a roll-up hose, wheeled garden stool, garden cart, and even electrical tools can make gardening much easier for seniors.
---
Reviews: The Best Ergonomic Gardening Tools for Seniors
These are some excellent ideas for Ergonomic gardening Tools for seniors;
---
1
The Abco tech garden kneeler is a gardening stool and Kneeler all in one that is perfect for seniors who still enjoy gardening.
It has a very sturdy frame that is metal and durable.
The Kneeler and stool come with a free tool punch where you can keep tools and other small items in.
It is very easy to fold up, carry and store for later use and has a convenient design.
The design doubles as a comfortable seat or can be used to kneel on without dirt or strain on your knees.
---
2
The Viking High-Pressure Garden Hoze Nozzle is ideal for seniors to use.
It has adjustable spray patterns for gardening, and even washing your car.
The hose nozzle fits easily on a regular garden hose and has eight spray patterns from which you can select.
It has an ergonomic rubberized handle and an easy trigger for spraying and setting the spray adjustments.
---
3
Form Worth garden we have a stand-up weeder that allows a senior person to pull out weeds from an easy standing position.
It has a pointed five claw front that is suitable for a variety of soil types and the pointed claw makes it very easy to remove weeds.
The Long handle has an ergonomic design and a padded foam grip for your comfort.
It is a very durable device that will last you quite a long in turn.
It also comes with a three-year risk-free warranty.
---
4
The Vertex Garden Rocker is a seat where a senior can comfortably sit while tending to a lower garden bed.
Because it rocks it is easier to lean forward and backward while you are still on the seat, which reduces stretching and having to reach.
The rocking stool is comfortable and moves naturally with your body.
It is a durable and multi-purpose device to help provide stability.
---
5
The Radius Garden 102 is an ergonomic Aluminium Hand weeder for seniors.
The weeder has a sharp and serrated aluminum blade that easily cuts through soil and the roots of weeds.
It is very lightweight and also quite durable.
The handle has an ergonomic curved design and a comfortable rubber grip.
---
6
The Garden Guru is a ratchet Pruning shear that is much easier to use by an elderly individual.
The pruner uses a ratchet anvil cutting method and is of excellent quality, as well as heavy-duty In design.
It makes tough cuts much easier especially for weakened hands and reduces wrist and hand fatigue.
The garden Guru ratchet Shears have an ergonomic handle for easy and comfortable grip.
---
Index Table: Top Rated Ergonomic Gardening Tools for Seniors
---
---