Whether it is for exercise and comfort for working or home use to improve Balance and strength, a good balance board holds many benefits for seniors.
This article will examine which Balance Boards for seniors are the safest and best options.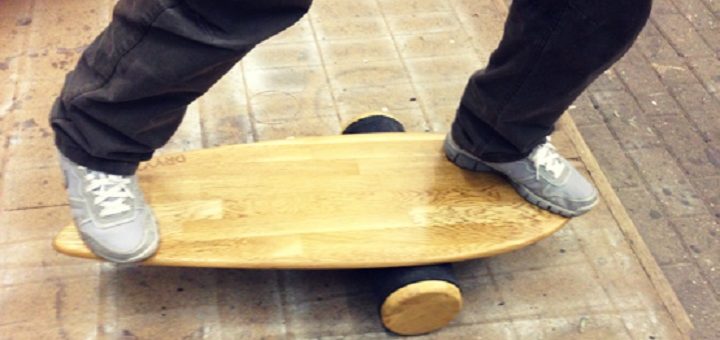 ---
---
What is a Balance Board and How Does it Work
A balance board, also known s a wobble board, is a tool you use while standing behind a desk or tabletop that allows you to tip back and forth and tilt the board because of its dome-shaped base.
Athletes, arthritis, and persons recovering from injuries or with balance issues benefit greatly from a balance board.
Balance boards also include boards and wobble boards, which are great fitness tools that provide strength and balance exercises.
Some benefits of balance Boards Include;

It helps to improve your Balance and coordination.
The Balance Board increases the strength in your legs and your peroneal muscles.
It helps to improve motor skills.
The board prevents injuries in the ankles by strengthening them.
It Can also help with injury rehabilitation.
The balance board greatly improves your posture.
---
Benefits of a Balance Board for Seniors
Besides the few benefits stated above, here are some ways in which the Balance Board can help seniors;
Balance Improvement – A balance board does exactly what it says; it helps to prove proper Balance, which can be ideal for seniors. It gives you a better posture and helps you easily hold your Balance and improve it safely and comfortably.
Better Core Engagement – When standing on a balance board, you constantly engage your core muscles and stabilize yourself. This, in turn, strengthens muscles and helps to reduce back pain while giving you a more defined midsection.
An Opportunity to Exercise – A balance board is also an easy and safe opportunity for a senior individual to get much-needed exercise. The balance board allows you to release energy in a very productive way.
Increased Alertness – A balance broad helps to keep your blood flowing and improves circulation and energy levels. This is ideal for seniors who still work or need to stand for long periods.
---
Features of a Good Balance Board for Seniors
If you are interested in trying out a new balance board, here are a few tips on choosing what features to look for;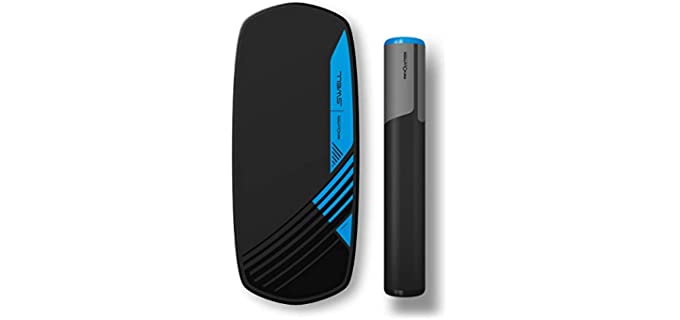 Size – The deck of the balance board, which is the area you stand on, must suit your height, meaning the higher you are, the longer and wider it will need to be. Shorter people, however, will benefit much more from a narrower deck type.
Easy to Store – You must remember that you will want to store the balance board after use. Especially if you have limited space available. Make sure that the design is lightweight, easy to carry, and can be easily stored.
Low Impact Design – For a senior individual I would recommend a more low impact type board. The idea behind a balance board is to move around a bit while standing and improve your posture; You need to easily stabilize yourself without trying too hard.
Height – The Height of the Balance Board must match the height of your desk or the area where you will be standing. You need to easily be able to reach the desk or tabletop while you are standing on the balance board.
Budget – You will not need the most expensive balance board you can find, but you should also not opt for the cheapest. Rather find something that is good quality and still suits your budget.
Low Noise Levels – Take noise into account, many balance boards are noisy and squeaky, so you may want to consider this when investing in a new balance board.
---
Reviews: The Best Balance Boards for Seniors
Below you will see some of our top choices in balance boards that are ideal for seniors;
We hope you love the products we recommend!
So that you know, We may collect a share of sales or other compensation from the links on this page.
---
1
The Rebalance Fit is a seniors' three-in-one exercise and Balance Board training system.
It is a functional sports and cross-training device and a balance board.
You get the FitBoardm, a Grip Roller 360 Air Cushion, High-density Rocker, and an exercise guide to help you use the system.
The design is safe and ideal to use by seniors.
---
2
The Gaiam Evolve Balance Board is ideal for standing by a desk and for seniors.
It has a durable rocket balance design and offers subtle motion movements.
The Balance Board promotes proper position and engages core muscles with micro-movements.
It is also ideal for alleviating stress and reducing fatigue.
---
3
The StrongTek professional is a manual wood Balance Board for seniors.
It is ideal for under-desk storage and uses, with an anti-slip design roller and wobble board.
The surface has a slip-resistant design, and the base is high-quality hardwood plywood for stability,
It is compact and very easy to store.
---
4
The 60uP Balance board is a full training system for seniors that also comes with n instructional DVD.
It is a patented training program that helps seniors' mobility and Balance.
The balance board is safe and secure for over 1000Lbs.
It comes with dual balance flex poles for grip and an anti-slip mat.
The complete training system includes a DVD for full instructions and training programs.
---
5
The Wii Fit Game and Balance Board is another favorite, perfect for seniors.
The Wii Fit will require a WII console for it to operate.
It combines fitness and fun all in one system.
Perfect for families with an elderly loved one, you can just balance board and game.
---
6
The RevBalance Swell 2.0 is the perfect balance board for seniors in two color options.
It is designed for surfers to prepare them for use on the water.
This balance board is a bit more advanced for more capable seniors.
It has high-end construction and is of excellent quality,
There is an extended roller to make the workout more challenging.
---
Index Table: Top Rated Balance Boards for Seniors
---
---