Regardless of age, staying active becomes increasingly important to help fight off health conditions such as heart disease, certain cancers, diabetes, and even depression.
Even for seniors' regular exercise is important for them to keep their strength and stamina throughout.
Staying physically active will also help seniors to stay independent and more mobile for longer.
Therefore, we want to help you get the best easy exercise equipment for seniors to stay active and fit even when they get older.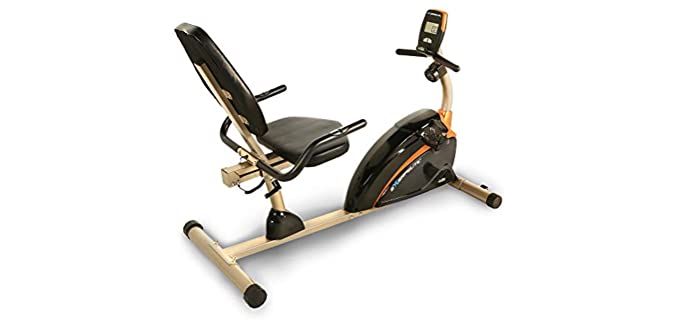 ---
---
Benefits of Staying Active As You Age
Exercise will help to keep your mind and your body in their best shape as you get older, which in turn helps you to maintain independence with a healthy mind and still a very mobile body.
You get plenty of home exercise equipment for seniors that work extremely well for you to do safe exercises at your own pace in the comfort of your home.
You can easily watch television while you exercise or listen to the radio. There are no dangers from outdoor risks and no need for expensive gym contracts and subscriptions.
There are, however, different types of exercises and equipment that offer different results. As a senior, you will need some cardio exercise to keep fit and your heart healthy. Stretching and strengthening exercises help to keep you mobile and stronger for longer, while balance exercises will improve your balance and posture.
We have included different types of equipment that are easy to use and that target all of these exercise groups for seniors.
---
Gym Equipment for Seniors
Here are a few options that you can look at in easy exercise equipment for seniors that can be used for strength, balance, and cardio exercise;
Exercise Bike – Biking is an exceptional form of cardio exercise you can do in the comfort and safety of your own home. Bikes are a substantial piece of equipment. However, they will require some space. Biking builds lower body strength and keeps your heart rate up, which is ideal for seniors. You get straight, upright bikes, which may be slightly difficult for seniors to get up on and off of, then you get Recumbent Bikes that are much larger but easier to access and much more stable for seniors.
Treadmills – Instead of walking or running outdoors, which can be great but also dangerous, depending on where you live, a treadmill will give you a similar experience. The Treadmill that is suited for seniors gives you a safe indoor cardio exercise at your own pace and strength levels.
Elliptical Machines – You can use an elliptical machine to get a great cardio workout that is low impact and easy on the joints. With an elliptical machine, you stand on the pedals and use more of a gliding motion to move back and forth. Most have moving handles so that you get a full-body workout. Elliptical machines are safe for seniors and ideal if you suffer from knee or joint pain.
Strength Training Equipment – Strength training exercises are ideal for seniors to keep their muscle mass and bone density, which are parts of the body that quickly deteriorate as we age. There are many forms of strength training, some that can be done with equipment and others that you can do without. For strength training, weights such as Dumbbells and elastic resistance bands work quite well and are very safe.
Balance and Mobility Equipment – Balance and staying mobile become almost vital as you age because they will help keep you on your feet and reduce the risk of falls. Balance equipment such as balance boards and certain home exercises without equipment that improves balance will greatly benefit you as a senior adult.
---
Features of Good Easy Exercise Equipment for Seniors
When looking at home exercise equipment for seniors, there are a few factors to consider, which also include your fitness goals;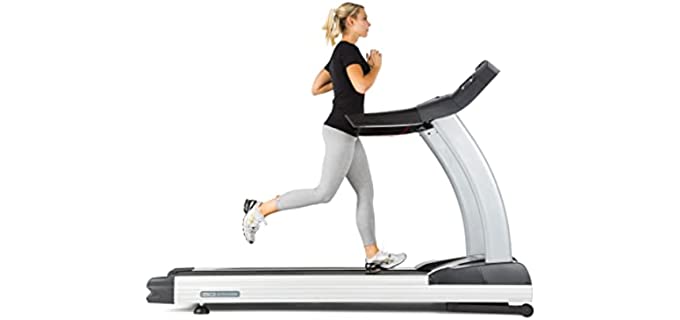 Type of Equipment – In our review list, we include different types of home exercise equipment for different fitness goals. Fitness bikes and treadmills are more suited for cardio exercise, whereas weights and resistance bands are suitable for strength training and balance equipment for posture and balance.
Space – You must ensure enough space, especially for larger equipment such as treadmills and exercise bikes. Smaller equipment can be easily stored. A foam or yoga mat may also be required for floor exercises and stretches.
Budget – Good quality easy exercise equipment for seniors may be quite an investment, especially for larger equipment. However, with resistance bands, you can still get a good, more affordable workout.
---
Reviews: The Best Easy Exercise Equipment for Seniors
In our list, we have a variety of exercise equipment that is safe and easy to use by seniors;
---
1
From Jeekee, we have a more comfortable Recumbent Bike for seniors.
It is much easier to access than an upright bike and has a fully adjustable seat.
The design is easy to move around and very sturdy.
It has a comfortable and ergonomic design for seniors.
---
2
Here we have the 3G elite Treadmill for seniors with a large Ortho Flex suspension system and sturdy design.
It has comfortable handles for balance and safety and a non-slip deck.
The Treadmill is ideal for cardio exercise with different programs and fitness tracking.
It likewise has a 400 lb weight capacity for heavier users.
---
3
The Whatafit resistance band set is ideal for strength and mobility training.
It is an affordable option that comes with a handy carry bag.
Different resistance bands offer different levels of resistance and are color-coded.
They are ideal for physical therapy and home workouts for seniors.
---
4
The Bowflex SelectTech adjustable dumbbells offer an all-in-one solution.
They are ideal for strength training, and you can easily adjust the weight.
You get a single or pair option in the dumbbells.
They offer a safe and comfortable grip for seniors.
---
5
The Bosu Balance trainer is the perfect design for balance and stability training,
It helps with muscular strength, cardio, and flexibility, offering a challenging workout for seniors.
It comes with a hand pump and manual to help you with exercises.
The Bosu Balance Trainer is of good quality and very durable.
---
6
From Sunny Health, we have another favorite treadmill.
Ideal for fitness, cardio, and lower body strength.
The Treadmill is safe, with Multi-Grip handrails for balance and a safe grip deck.
It has a 295 lb weight capacity and sturdy design.
The deck offers excellent shock absorption to protect your joints.
---
Index Table: Top Rated Easy Exercise Equipment for Seniors
---
---