Roller Skating has, the ad still is, a beloved past tie for many years, with people of all ages and skill levels enjoying this recreational activity.
Roller Skating may not be the safest activity, but many elderly individuals may still be up to it, and that is why we want to equip them with the best Roller skates for seniors;

---
---
Roller Skating for Seniors
Roller skating can be an excellent form of cardio exercise for seniors.
It is an activity you can enjoy outdoors or indoors in a rink, depending on the type of roller skates you have.
For seniors who are familiar with roller skating, they can still enjoy their hobby right into their golden years.
For seniors interested in this hobby, I recommend starting with a safer indoor rink and opting for safe roller skates for beginners.
---
The Basic Anatomy of a Roller Skate
But before we can get the best Roller skates for seniors, we first need to consider the anatomy of the roller skate;
The Boot – The Boot is where you place your foot and the upper part of the skate. They are usually leather, PU leather, or Vinyl with a secure lace-up system and comfort features such as a padded tongue and collar. The boot can come in many fun colors and styles, which is what it is all about.
Wheels – Wheels have a durometer rating for hardness and come in different thickness options. The wheel's width will determine how much skating surface they will have contact with. The wider the wheel, the more stable you will be. The Wheel Diameter or height will determine how fast you can go and for how long.
Plates – The Plate is the plastic or metal plate that attaches your boot to the roller skates. There will be trucks and axles on the back and the front of the metal plate where the bearings and the wheels will go. There are cheaper, more lightweight Nylon plates or more durable, expensive, and sturdier metal plates.
Bearings – Bearings must be cleaned and well-lubed to ensure a smoother ride. One of the things you should look for is proper bearings, such as the ABEC-5 or ABEC-7 bearings on your skates.
---
Features of a Good Set of Roller Skates for Seniors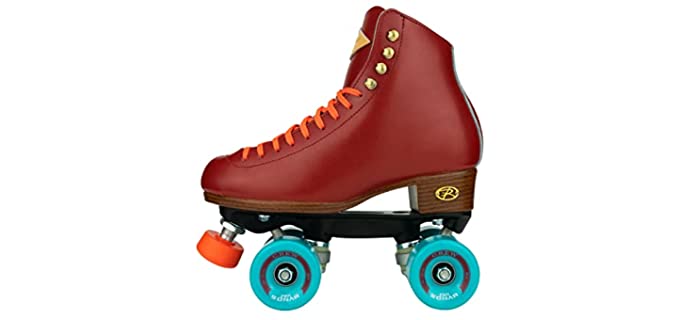 Boot – The Boot of the skate should offer a snug and comfortable fit with no hard parts digging into your skin. It is usually soft leather with a textile lining and lace-up closure for a more secure fit.
Wheels – The Wheels may have a durometer rating of about 70A to 100A, which indicates their strength. Softer wheels are more suited for outdoor skating, while harder wheels are ideal for indoor and quad skating.
Plates – The Plate is attached to the bottom of the skate boot and can be metal or nylon. Metal is much more durable. However, nylon is a more lightweight option.
Toe Stop – You can choose from an adjustable or non-adjustable toe stop. The adjustable toe stop allows you to adjust the height of the toe stop to the height you require.
---
Reviews: The Best Roller Skates for Seniors
Here we have some fashionable, safe, and comfortable roller skates that are perfect for seniors to use;
---
1
---
2
The Moxi roller Skates for seniors are fashionable roller skates for ladies.
They are top quality, with dyed vinyl and strong metal trucks for support.
The fit is very comfortable, with an easy lace-up system and padded tongue.
The roller skates have ABEC-5 steel ball bearings and 58mm 78A harness wheels for durability.
---
3
The Impala Quad Skates for seniors are durable and fashionable.
They are PVC skates with Polyvinyl Chloride uppers and a comfortable padded collar and tongue.
There is a secure lace-up system and premium ankle support.
The skate boots are fully waterproof and have premium components.
They are vegan leather boots and have 58mm hardness and 82A wheels.
---
4
The Sure-Grip White Fame Roller skates are perfect for seniors.
They are a Fame boot with a nylon ROCK plate.
There are ABEC-5 bearings and a Carrera toe stop for quick stopping.
The skates have medium width and are available in more sizes.
They are ideal for indoor use only, however.
---
5
The Riedell Roller Skates for Seniors are outdoor and Quad roller skates.
They come in fun, contrasting colors and many designs.
The roller skates, with a PowerDyne Thrust nylon plate and durable urethane Sonar Zen 62mm outdoor wheels, are ideal for outdoor use.
They have ABEC-5 steel bearings and offer you the smoothest ride.
The laces are comfortable and quick to lace up.
---
6
Another addition from SureGrip is their stardust glitter range,
The range features lovely glittery boots available in a few color options.
They have ABEC-5 bearings and a matching Carrera toe stop.
The roller skates for seniors have specialized stardust wheels for both indoor and outdoor use,
They are available in full sizes and colors.
---
7
The Chaya Melrose Roller skates are ideal for senior ladies.
They are high-performance roller skates with stunning styles and colors.
The roller skates have a lifestyle outsole and high cut, a cast truck, and a classic design toe stop.
There are ABEC-7 carbon steel bearings and durable 62mm 38A / 78A outdoor cruising Comfort wheels.
---
8
The SureGrip Rebel Roller skates for seniors have an easy lace-up and Velcro closure system.
They are available in neutral black colors.
The roller skates are made of durable leather with ABEC-7 ball bearings.
They have Fugitive-style durable wheels and a Carrera toe stop.
There is a Probe Nylon plate and metal trucks.
The roller skates are available in whole sizes, mostly for men.
---
Index Table: Top Rated Roller Skates for Seniors
---
---