As we age, our bodies require more maintenance. One of the most important ways to take care of ourselves is to stay active and healthy with a regular exercise routine. But having the best stationary bike for seniors can be an excellent option to stay in shape in old age.
Read on for tips and information about the best stationary bikes for seniors!
---
The Benefits of a Stationary Bike for Seniors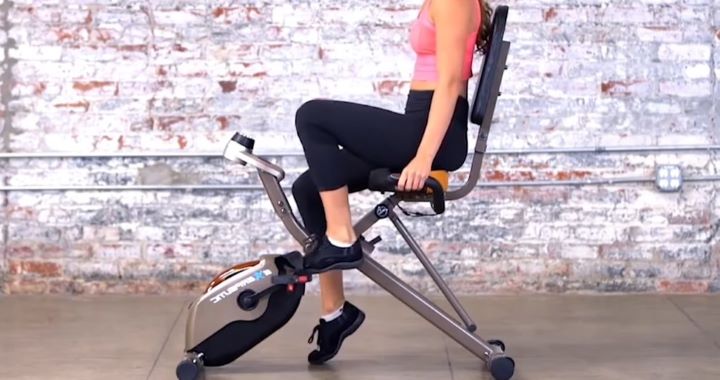 There are many benefits to having Exercise Bikes for Seniors, here are only a few;
Safer Than Road Cycling – For older persons who struggle with balance, a stationary indoor bike is safer than an outdoor bicycle. Many hazards such as moving vehicles, slippery and wet surfaces, and cold and wet weather conditions for outdoor cycling make an indoor bike so much safer.
Interval Training – With a stationary bike, there are varied resistance levels and different programs that you can choose from for high or low-intensity workouts.
Low Impact Workout – Because it is such a low-impact workout, there is less strain on weak muscles and joints in elderly persons. Yet you will still get an effective and challenging workout altogether.
Weight Loss – The cardiovascular benefits of riding a stationary bike also help burn fat and calories, making it the ideal exercise for elderly persons who have weight issues.
Stronger Legs and Limbs – Riding a stationary bike strengthens the legs and the lower body, making mobility easier for seniors. It also works the muscles in your core, lower back, and glutes.
Boosts Cardio Fitness – Riding a stationary bike boost your cardiovascular fitness and strengthens your heart.. This, in turn, improves blood pressure, strengthens the immune system, gives your energy, and improves mood by reducing stress and improving sleep patterns.
---
Types of Stationary Bikes Available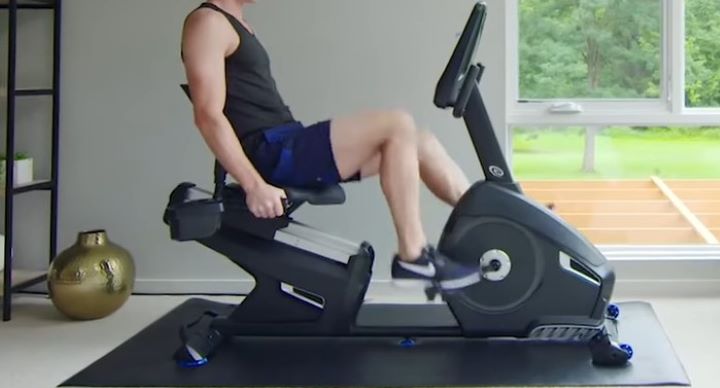 There are generally three different types of stationary bikes that you can consider;
The Dual Action Bike – The dual action bike is similar to a regular bicycle with handlebars that move back and forth. This Bike gives you a full-body workout.
Recumbent Bike – The Recumbent Bike allows you to sit in a reclined position on a larger seat. This type of Bike places less strain on your upper body and joints, and the workout is less intense. Thus this is usually the favored stationary bike type for seniors.
Upright Bike – The Upright Bike is similar to a regular bicycle with the pedals positioned underneath your body. This stationary Bike provides an excellent cardiovascular workout and strengthens your lower and upper body. However, the upright position may strain your hands and wrists excessively.
---
Features of the Best Stationary Bike for Seniors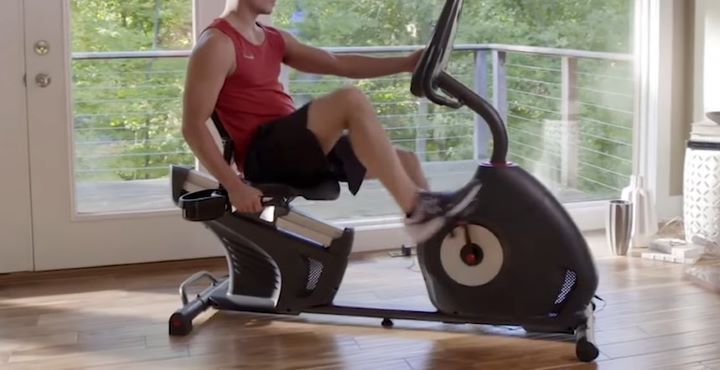 Design – The entire design should be sturdy with a durable and strong frame. Powder coating is used to cover the frame for a better appeal.
Handles – handles and grip should be ergonomic and comfortable with rubber, plastic, or metal. There are Pulse monitors in some handlebars models to track your heart rate.
Display – An LCD screen or Digital display is used that can show some or all of these; calories Burned;Dsitance;Program;Resistance;Heart rate;progress.
Pedals – The Pedals need a comfortable design and large space with a slip-resistant surface.
Seat – An adjustable and comfortable cushioned or padded seat is ideal.
Settings – You should be able to select from a few customizable and set programs and set the pace and tension.
---
Reviews: The Best Exercise Bike for Seniors
Some of our top favorite Recumbent or Stationary Exercise Bikes are safe and convenient for seniors.
We hope you love the products we recommend!
So that you know, We may collect a share of sales or other compensation from the links on this page.
---
1
---
2
From Schwinn, we have their 230 Recumbent Bike for seniors.
A dual track two LCD window system monitors up to 13 different display feedbacks.
The 22 programs and two user settings allow for a more personalized experience.
The 20 resistance levels aligned with a high speed, high inertia perimeter weighted flywheel make your routines quiet and smooth.
There is also a Charging USB port for data exchange and use with your mobile device.
---
3
The Nautilus Recumbent bike for seniors comes in three options to select from.
The Bike has enhanced Bluetooth connectivity options to monitor and track its progress.
There is a DaulTrack backlit LCD console for easy viewing.
The seat is padded and ventilated for cooling comfort and adjustable for the perfect fit.
The Bike also has 300lbs maximum user weight.
---
4
The Exerpeutic 400XL is a folding recumbent Bike for seniors who do not have much space to spare.
The Foldable Bike is easy t store after use to save on space.
There is an easy-to-read LCD screen that also monitors your heart rate.
You can easily use this Bike as a desk bike because its height and semi-recumbent design are adjustable.
The Bike also supports up to 300lbs in weight.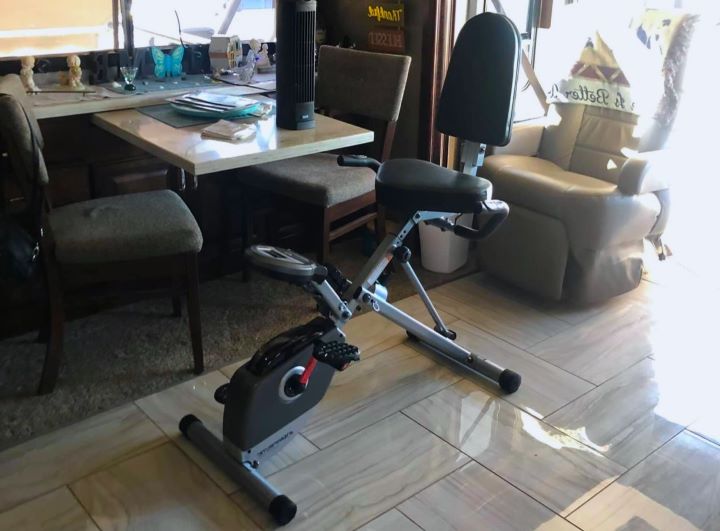 ---
5
The Marcy Step-through Design Stationary Bike is comfortable and safe to use for seniors.
The Step-Through Design has heavy-duty construction and a powder-coated finish for appeal.
Eight resistance levels using magnetic resistance.
The easy-to-read computer screen shows progress and levels selected.
The seat is fully padded for comfort, and the counterbalance pedals provide optimal foot support.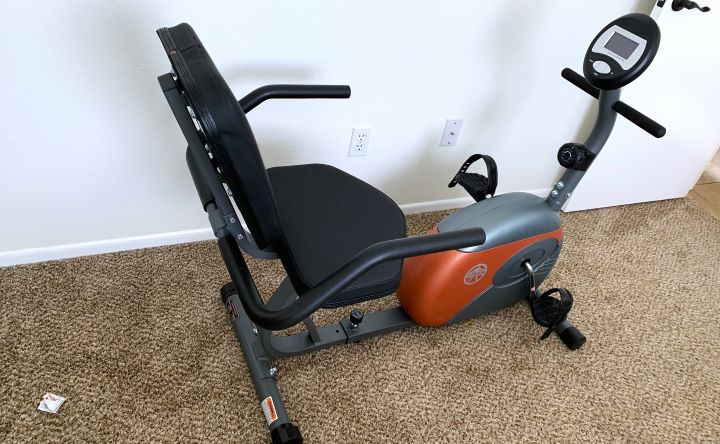 ---
6
Here's an electric under-desk machine that is blissfully for the elderly with limited mobility to exercise.
This imported exercise bike is made from quality ABS material and can work manually and automatically (when plugged in).
Exercising on this foot pedal bike helps in reducing pain in the legs and feet area.
Besides, it is easy to use and has four preset and five levels. So you can exercise at the intensity that is suitable for you.
Lastly, its compact size makes it easy to store in any nook in your home.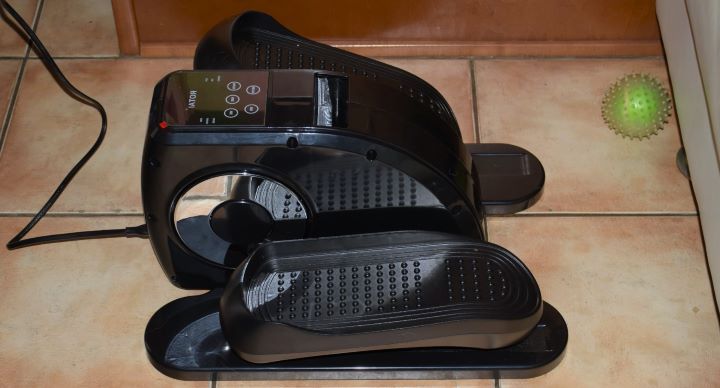 ---
7
The Yasuda is a comfortable Exercise Bike for Seniors.
A solid stationary exercise bike for seniors.
The Bike has a 35lbs flywheel and heavy-duty steel frame.
It is personalized in fit and adjustable.
There is a clear Cd monitor screen for seniors.
Safe and easy to use.
---
8
The Sovnia Exercise Bikes for Seniors is quiet and has a large LCD screen.
The exercise bike has a stationary design for your home.
It is sturdy and durable with a solid frame.
There are an iPad holder and an LCD screen.
The design is tranquil and runs smoothly.
---
9
From Xterra, we have a comfortable and large seated stationary bike for seniors.
A solid X Frame design for durability.
The Bike has a large anatomical seat for comfort,
There is a clear LCD screen.
Easy to assemble and use by seniors.
---
10
Strong and durable Exercise Bikes for Seniors from Dmasun.
An indoor cycling machine for seniors.
Easy to use and quick to assemble.
It has an LCD screen and multi-grip handle bras.
There is a cushioned seat for your comfort.
---
Index Table: Top Rated Stationary Bike for Seniors
---
---