For elderly persons requiring mental and physical stimulation or with restless hands and other conditions, it may be ideal for getting the best fidget blanket for the elderly.
This article will look at a few types of fidget blankets for the elderly and why they work so well.

---
Why Choose a Fidget Blanket or Busy Blanket for the Elderly
A fidget blanket is a lap-sized quilt that provides some sensory as well as tactile stimulation for someone with restless hands, Dementia, ADD, Alzheimer's, Autism, or other similar disabilities,
A fidget blanket is ideal for seniors and small children, as well as anyone who gets a more settled feeling when their hands are busy.
Fidget blankest are usually a soft material that an elderly person can throw over their lap to keep warm, with colorful embellishments and creations such as zippers, toes, ribbons, buttons, different textured materials, braids, and pom-poms.
Now the question is, do fidget blankets essentially work?
There is still some research on how fidget blankets truly help the elderly.
However, research has well found that for symptoms of Dementia, Alzheimer's, stress, anxiety, and even just boredom, a fidget blanket is quite effective.
Repetitive fidgeting behaviors provide comfort for seniors that are under stress or have anxiety. In some cases, it can even alleviate pain for some seniors.
Sensory stimulation is also believed to be a great means of keeping seniors busy and preventing their thoughts from escalating to negative emotions.
So yes, essentially, fidget blankets do work and help quite a bit!
---
Fidget Blankets for Dementia and Alzheimer's
As we have discussed, fidget blankets are ideal for seniors with Dementia and Alzheimer's.
It keeps them busy and entertained to prevent negative feelings and thoughts from agitating them and also helps relieve stress and boredom.
Fidget Blanket Types – Fidget Blankets come in actual blankets or quilts, throws, and even smaller blankets that can be placed on a table. You also get fidget pillows and other items.
Activities – Fidget Blankets should include at least five activities that the elderly person can easily perform. Zips, ties, pockets, and braids are ideal. Different textures and materials should be used for them to feel.
Colors – Fidget blankets need to be very colorful and entertaining for mental stimulation in turn and to keep the interest of an elderly person.
---
Features of a Good Fidget Blanket for Seniors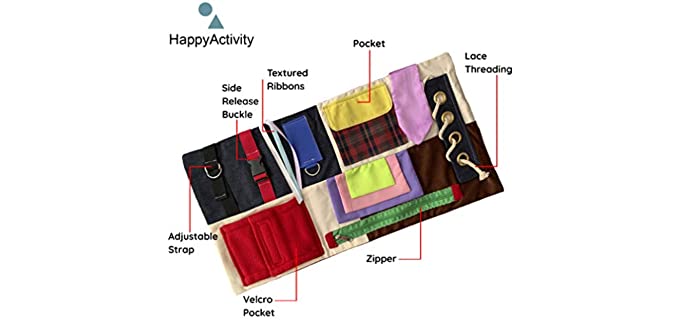 Size – Fidget blankets come in various sizes, and you need to select a size that is easy to use by the senior individual. Also, consider the storage and packability of the Blanket for when you may need to travel with it or store it.
Material – For the Blanket, you need to choose a durable material that will last long, such as cotton or polyester. A soft fleece is also comfortable to be thrown over the lap of an elderly person. Also, remember something that can be washed regularly and dries easily. For the embellishments, more varieties in textures ad colors of materials should be used for stimulation.
Embellishments – This is where the tricky part comes in. It would help to consider what the elderly person enjoys fidgeting with. If they like pulling on a zip jacket constantly, you could get a blanket with zips, for example. However, if you are unsure, try to get something with many embellishments that can be used for small tasks and activities to keep them busy.
Colors – Keep it colorful, especially for seniors with poor eyesight; the colors are enticing and stimulate them mentally.
---
Reviews: The Best Fidget Blankets for the Elderly
These are some of the best available Fidget and busy blankets that you will find that are ideal for seniors and elderly persons;
We hope you love the products we recommend!
So that you know, We may collect a share of sales or other compensation from the links on this page.
---
1
---
2
From GeriGuard, we have a Fidget quit for elderly persons.
The Blanket is ideal for persons with memory loss, Alzheimer's, dementia, and other similar conditions.
The Blanket is 12 inches by 21 inches in size.
It can be rolled up easily for storage and has a Velcro closure tab.
The fidget blanket is colorful and has multiple benefits for memory and exercising your hands.
---
3
The TrendSelect fidget blanket and sensory pad are ideal for seniors and toddlers ad aid with therapy in Autism as well as Dementia and Alzheimer's in seniors.
It contains four different fabric textures with a non-skid bottom layer.
It has many textures and sensory elements like fasteners, buckles, zips, and buttons to keep your hands busy.
Easy to care for, it comes with full instructions for care and cleaning.
---
4
The Espijo Memory Loss Fidget blanket has Dementia activities perfect for seniors and adults.
It is also ideal for Alzheimer's therapy and anxiety relief in elderly persons.
The fidget blanket has a comfortable throw design to throw over your lap.
It has many attachments and embellishments for activity and plenty of stimulating colors and textures.
---
5
From HappyActivity, we also have the perfect activity pad and fidget Blanket all in one for seniors.
The activity pad and fidget Blanket are great for seniors with Dementia, Alzheimer's, memory loss, and suffering from stress and anxiety.
It contains many sensory activities to keep an elderly person busy and is quite colorful.
There are no buttons or items that could cause a choking hazard.
---
6
This is another superb model Fidget Blanket design from ODOXIA.
It is aimed at helping elderly persons who have memory loss and dementia.
The fidget blanket keeps their hands bhands, and their minds stimulated so that they get negative feelings or agitated.
The fidget blanket features lacing, buckling zippers, and many other colorful activities and designs.
---
7
The Fidget blanket is ideal for seniors with Dementia, Alzheimer's, and other mental conditions.
The Blanket is small, easy to use, and handle.
There are plenty of colorful activities and embellishments.
The design is safe and comfortable for seniors.
---
8
This is a full fidget quilt for seniors.
Excellent quality and craftsmanship.
There are many colors and activities of interest.
It is large and helpful for maintaining fine motor skills.
---
9
Here we have a Fidget pillowcase that goes with your fidget blanket.
It is available in three different options.
The size is ideal for a standard throw pillow.
Perfect for seniors with Dementia and Alzheimer's.
---
Index Table: Top Rated Fidget Blankets for the Elderly
---
---