One thing that you may not have thought about much is the need for a portable toilet for an elderly person. As you see them struggle to get to a bathroom in time, or when they become frail and confined to their beds, it may be a good choice to invest in a portable toilet for an elderly person.
In this article, we look at some of the best available portable toilets for the elderly that are comfortable to use, easy to clean and maintain, and very safe and sturdy for use by an elderly person.

---
What is a Portable Toilet and How do You Use It
A portable toilet for elderly persons is a bit different from those you use on construction sites or camping, as you have noticed, most likely.
For elderly persons, the portable toilet is also, well, portable, but it is much more than that.
A portable toilet for seniors is designed specifically for persons who have become slightly immobile, have bladder control issues, or are mostly confined to a bed. The toilet can be placed next to their bed for faster and easier access without the help of a caretaker.
The toilet is portable and makes it easier should the elderly person need to travel or be in the hospital for a while.
The portable toilet for seniors is called a bedside commode, typically a stand with handles and a toilet seat with a container attached to the bottom.
The design is sturdy, comfortable, and easy for seniors to use wherever they are. Some models have a bag or disposable container and can be folded for traveling.
In the video, you will see exactly how to use a Bedside Commode, which is one of the recommended Portable Toilet designs for elderly persons;
---
Benefits of Using a Portable Toilet for Elderly Persons
So now that I have you thinking, maybe you have a relative, or in fact, are an elderly person that may benefit from a portable toilet or a bedside commode;
Quick Access – The Portable potty or bedside commode can be placed anywhere you need it, so no more long trips to the bathroom or unnecessary accidents that need cleaning up. You will have a toilet ready to go at your bedside or wherever you are.
Support – Most portable toilets for seniors have plenty of support and comfort features because they are designed specifically for elderly persons or individuals who struggle with mobility. The toilet will have handlebars and a sturdy frame that you can rest on, the seat is comfortable and spacious, and the frame can take quite a bit of weight when standing and sitting down.
No Water – The Portable toilet for seniors does not need any water for flushing, only to be rinsed and washed daily.
Independence – I find that a portable toilet is much less degrading than a bedpan, which many older adults resort to. It saves you your last bit of independence and dignity on this very personal matter.
Safe – Going to the bathroom may be risky for some older persons, as they may slip and fall. Having a portable toilet near at hand eliminates this risk.
---
Features of a Good Portable Toilet for the Elderly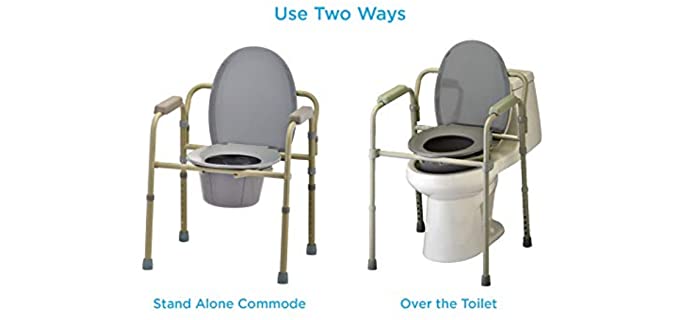 The Right Style – You will need to find a portable toilet design that will work well for you. A less exaggerated design is needed for older persons who still have significant mobility. You will need to look for a design with proper handlebars, armrests, and a more supportive frame for those with limited mobility. You do get fixed arm and drop arm designs and armless designs.
Features – Look for features such as an adjustable height setting for the seat and the frame. As we have mentioned for drop armrests. Some have a removable back and wheels for portability. You also get foldable models and those with disposable containers or bags.
Weight Capacity – Vital is the actual weight capacity that the portable toilet can hold. It will not help to get a lightweight and flimsy design for an elderly person on the heavier side. You will need to check the specific weight the portable toilet model can hold. Bariatric Commodes are designed specifically for seniors who are heavier in weight. The regular portable toilet usually holds between 220 and 300lbs in weight.
---
Reviews: The Best Portable Toilets for the Elderly
These are some of the best available toilets designs that are portable and comfortable to use by seniors;
---
1
---
2
Drive Medical is a top brand that also makes some excellent portable toilets for the elderly.
This specific toilet model is a heavy-duty Bariatric design for heavier-weight seniors.
The frame is extremely sturdy, and the seat and lid are durable plastic.
The lid has an easy snap design.
It can easily fold and open for storage and for traveling.
The seat can hold up to 650 lbs in weight.
---
3
From Medline Elements, we have a durable bedside commode.
The materials are infused with an antibacterial agent for your safety.
The elongated seat opens, and an adjustable contoured backrest for comfort.
The lid has a flat seal design and will discreetly cover the commode when not used.
It is also a heavy-duty frame that can hole up to 400lbs in weight.
---
4
Another excellent addition from Drive Medical.
This model has an elastic cord that allows the legs to be folded up and reduces smaller storage.
It is fully portable and durable, with a snap-on seat and lid that require no installation or buttons.
The frame is grey powder-coated steel; that is very durable.
It also comes with a handy carry handle and splashes control shield.
---
5
The MedPro portable toilet seat and commode chair have a fully adjustable height.
It is a three-in-one design and can be used as a raised toilet seat, bedside commode, or portable toilet.
The frame is adjustable in height well as sturdy, and very durable.
The armrests are padded and molded for your comfort.
Assembly is quick and easy, requiring no tools.
---
6
The UltraCommdoe Portable toilet for elderly persons comes in two available colors.
It is a fully portable toilet and easy to use as a safe bedside commode.
The proper toilet seat size sizz and the frame is sturdy and durable.
It allows for effortless access with an open front.
Assembly is also fast and easy.
---
7
The Medline Portable Toiler is a three-in-one design for seniors.
It is steel with Microban antimicrobial protection.
The Portable toiler has a raised design for seniors.
The design is very safe and comfortable to use.
---
8
The Vive Bedside Assist portable toilet is ideal for the elderly.
The design is portable or perfect for bedside use.
The toilet has a durable and non-slip design.
No tools are required for assembly.
---
9
The Carex Three in One folding Bedside Commode is portable and lightweight.
Ideal for seniors and folds very easily.
It is safe and durable to use.
The Portable toilet also has multiple functions for seniors.
---
10
The Medline Portable Toilet is a more heavy-duty design.
The design is ideal for seniors for travel and bedside use.
It is a three-in-one design and has armrests,
The seat is also padded for comfort.
---
Index Table: Top Rated Portable Toilets for the Elderly
---
---