The best toilet grab bars for the elderly are ideal for an elderly person lacking stability, balance, and immobility.
The Toilet bars can help them independently go to the bathroom and use the toilet with less risk of falling and better stability and ease when sitting down and getting up from the toilet.

---
What are Toilet Grab Bars and Who Benefits from Them
Grab bars, safety rails, or handrails as they are known, are secure rails for a person to hold on to stabilize them when using facilities such as a toilet, shower, or bathtub that may be difficult to get in and out of, slippery, or that may need more stability when standing in.
In our article, however, we focus mainly on Grab bars used in a toilet to aid an elderly person when using a toilet.
Besides elderly persons with mobility or balance, disabled persons and adults with weakness or injuries that need healing time can benefit greatly from a grab bar in the toilet area.
A grab bar in the toilet is also a convenient device for a caretaker or family member that needs to assist an elderly or disabled person in using the toilet.
Who Benefits from Grab Bars?
---
Types of Toilet Grab Bars for the Elderly
Getting a Grab bar for the toilet of an elderly person may seem a simple and easy task, but let me tell you, it is not exactly.
There are different types of toilet grab bars available and different features that you need to consider, which will also depend on the needs of the elderly person, and how mobile they are.
Here are a few styles of grab bars that you can use in the toilet of an elderly person;
Straight Grab Bars – These are the most basic Grab bars used for a toilet, shower, or bathtub. Straight rail is obtained in different lengths and sizes, usually stainless steel or plastic. They need to be mounted to a fixed wall and usually come in single or double sets.
Support Arms – Supports arms are grab bars that extend horizontally from a wall and are ideal for an area you need to approach from a distance, such as a tub, toilet, or shower chair. They also need to be mounted to a wall and are ideal for facilities with limited space.
Adjustable Toilet Support Frame or Arms – These can be solid frames or support arms placed over the toilet and stand on their own or attached to the toilet. They are adjustable in height and length and are ideal for setting up to use a single device such as a toilet or bathtub alone.
U-Shaped Bra Bars – The U-Shaped Grab Bar extends from the wall in an oblong loop design and provides a range of gripping solutions. It is also fixed or mounted to a wall.
L -Shaped Grab Bars – This is a horizontal safety rail that mounts from a wall, bends down to a right angle, and is then fixed to the floor, gripping options when on the toilet, in the tub, or the shower.
---
Features of a Good Toilet Grab Bar for the Elderly
There are so many grab bars available for elderly persons that the choice may seem overwhelming. However, you must consider who will use them and where to install them.
So here are some easy tips you can follow to make a well-informed choice;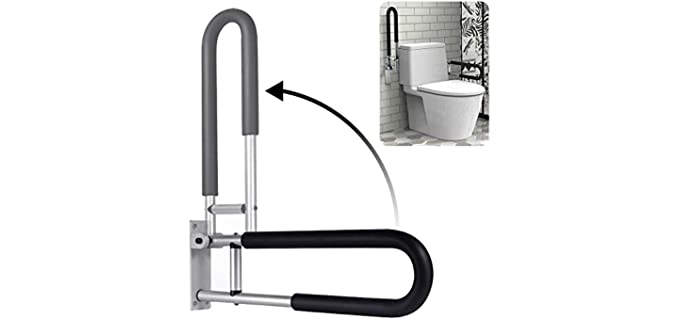 Material – Most grab bars for a toilet or bathroom area are durable and rust-resistant stainless steel or similar metals. However, you also get plastic models that are durable and easy to clean. Stainless steel is the most hygenic choice. Look for textured and contoured grips that may be plastic or rubber for a better grip.
Strength – The strength of the toilet grab bar will generally depend on the requirements and weight of the use and the mobility needs of the senior. Elderly users with balance and mobility issues will require a sturdy but less sturdy configuration than, for example, a disabled user, which will need full support and to hoist their full weight on the handlebar A. Simple handlebars are a means of support and some stability will be ideal for an elderly person who does not have too severe mobility issues, and who is not disabled.
Height and Length – The Toilet bar can be customized and fixed at the most suitable height for the elderly user so that the choice will be up to you. You will need to check for an available length that will also be most suitable for the elderly person's needs and preferences.
ADA Compliance – In any public accommodation, such as an Old Age Home, or public accommodations, a toilet Grab Bar for an elderly person will have to meet certain ADA rules and regulations. The Americans with Disabilities Act requires to grab bars to be 1 1/4" to 1 1/2" in diameter, with handrails behind and beside toilets at 36" and 42" wide. Yet, even if you only install Toilet Grab bars for an elderly person in a private residence, these rules and regulations are still excellent to follow and adhere to.
---
Reviews: The Best Toilet Grab Bars for the Elderly
Here are some of the top choices in grab bars for toilets and bathrooms that are ideal for the elderly;
We hope you love the products we recommend!
So that you know, We may collect a share of sales or other compensation from the links on this page.
---
1
---
2
The Famard handicap grab bars are foldable design stainless steel toilet grab bars.
The stainless steel is durable and easy to clean.
The TThefoldable design is portable and easily stored.
The gram bars have a non-slip safety design and a solid base.
---
3
From Carex, we have a toilet safety frame for seniors.
The design is adjustable in height and width.
The handgrips have Hypalon cushioning for comfort and grip.
The design is more economical and much easier to install than mountable designs.
---
4
From Zuext, we have the general grab rails for all purposes.
In the package, you get two 12-inch stainless steel grab bars.
The bra bars are mountable and can be installed by the toilet, the bathtub, or your shower.
There are also two size options available from which you can choose.
---
5
The RMS toilet safety frame is ideal for the elderly.
It is a folding frame that is portable and fits over your toilet.
The handlebar's height is adjustable and will fit most toilet designs.
The armrest is a durable and soft foam for grip and comfort,
It can hold a weight of 300lbs.
---
6
The Botabay handicap grab bars are also ideal for seniors.
You can use them in a toilet, tub, or shower.
They are sturdy aluminum and can hold a weight of up to 300 lbs.
Easy to install and versatile uses.
---
7
The Greenchief toilet grab bars are ideal for seniors.
They are secure and durable, as well as fully adjustable.
The handrails are ideal for the handicapped and seniors.
It has a foam grip and large suction cups for security.
---
8
From OasisSpace, we have an adjustable toilet grab bar for seniors.
It will fit any toilet with ease and is very sturdy.
The grab bar is a sitting-down and rising aid for seniors and handicapped individuals.
Easy to use and just as easy to install.
---
9
The Vive Toilet Grab Bars are a stand-alone design for seniors.
The grab bar is a sturdy frame with a comfortable non-slip handle.
It is versatile in use and has a stand-alone design.
Easy to assemble and easy to use by elderly persons.
---
10
From Zelen, we have handrails for toilet use by seniors and handicapped persons.
It is a 24-inch high-quality stainless steel grab bar.
The grab bar has a T-Shape and will easily mount to the wall or floor.
Easy to install, and it comes with full instructions
---
Index Table: Top Rated Toilet Grab Bars for the Elderly
---
---