A Portable shower for the elderly may be one of the most useful pieces of home equipment you can invest in.
If you have an elderly person who needs care, struggles to shower, or is in a wheelchair, the portable shower will be one of your best solutions.

---
---
Benefits of a Portable Shower for Seniors
The fear of slipping and falling is one of the most daunting concerns for an elderly individual, as it can be very severe, even fatal.
Statistics show that most slips and falls occur in the shower and bathroom. There are many precautions that you can take to prevent this. Still, as the person ages and showering becomes more difficult, consider a portable shower option in their room.
The Portable shower is not just a good solution for preventing slips and falls in seniors; it is also an excellent solution for seniors who have become less mobile or use a wheelchair.
It is an affordable way to make showering more comfortable for a senior loved one that will not require you to remodel your whole bathroom.
The Portable shower is ideal for going on holiday with an elderly person or for them to visit relatives.
---
Who Will Need a Portable Shower At Home
It may not seem obvious to you now, but there are certainly a few reasons why a portable shower for the elderly may be a good choice; here are a few reasons.
Individuals in a Wheelchair – Seniors who use a wheelchair cannot easily reach a bathroom or a shower and cannot stand or sit in a bathtub will benefit greatly from a portable shower in their room is easier to access.
People Who Can No Longer Use a Bathtub – Any senior that can no longer use a bathtub is much safer taking a shower when they need something close by and safer than a wet bathroom; you can use a portable shower.
Remodelling a Bathroom -If you are a senior individual's caretaker or family member, investing in a portable shower for the person may be much more affordable than building a new shower or making your shower safer.
Those Who Need Assistance to Shower or Bathe – For the senior individual that needs assistance from a caretaker or a family member when they shower, a portable shower can be a very easy and accessible choice.
For Family Holidays – A portable shower is a safe and easy choice for seniors on a family vacation.
---
Features of a Good Portable Shower for the Elderly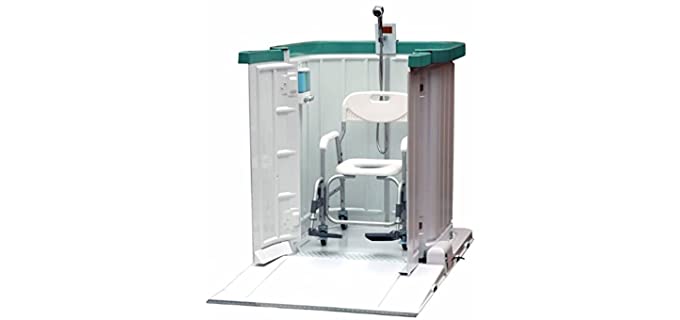 Size – When selecting an indoor shower for an elderly adult, you need to check the dimensions of the set-up shower and compare that to the space available for the person. Most portable showers for seniors are large and designed to accommodate a wheelchair. You get the smaller basin-type models that you can use in turn.
Additional Features – Features must include what you need specifically. You get standard portable showers, as well as inflatable options. They all come with different fittings for comfort and convenience.
Design – A few designs are available in portable showers for seniors. You get a solid portable shower or inflatable model, ideal for seniors. You get options wide enough to accommodate a wheelchair and regular sizes. Then there are also small basins ideal for washing hair and a quick wash.
---
Reviews: The Best Portable Showers for the Elderly
We hope you love the products we recommend!
We may collect a share of sales or other compensation from the links on this page.
---
1
---
2
From LiteShower, we have another excellent portable shower model for seniors.
The shower is easily accessible with a wheelchair and a low-cost, flexible option rather than a complete makeover of your shower.
It requires no professional installation and is easy to set up.
It comes with a handheld shower sprayer and faucet adapter,
There is a self-contained foldable shower tray, and the enclosure is made to be free-standing.
---
3
The Payoff is an inflatable bathtub and shower design for seniors.
It has durable PVC and an electric air pump for easy inflation.
The shower and bathtub allow you a full body wash and are safe and easy to use.
It folds and rolls away very compactly for the easy stage.
Ideal for elderly and disabled individuals.
---
4
The Medical Inflatable bathtub and shower for seniors are portable and compact.
It is inflatable and can be deflated and stored compactly and easily.
The shower and bathtub allow you to enjoy a comfortable cleansing experience.
It comes fully equipped with an air pump for inflation.
---
5
This is a basic kit for washing hair only from Fanwer.
The basin is small and inflatable and can be taken anywhere with you.
The package includes an inflatable basin, a waterproof pad, a water bag, a shower head, and an inflation pump.
Compact and easily stored design.
Ideal for seniors and handicapped persons.
---
6
From Shower Bay, we have a portable wheelchair-accessible shower for seniors.
The portable showers are safe and easily portable.
Its design accommodates wheelchairs for easy sliding in and out of the shower.
It is a plastic material that is green and white with a shower head sprayer.
---
7
The Portable bedside shower system is ideal for disabled seniors.
It includes a hair washbasin that is inflatable and an overhead shower head.
Ideal for a comfortable bathing and shower experience.
The PVC is lightweight and soft.
---
8
The Bolsehu Portable shower is perfect for seniors.
It is also an Overhead shower and shampoo basin set.
The basin is inflatable and easy to store.
The overhead shower is easy and comfortable to use.
Ideal for disabled persons and elderly seniors.
---
9
The Circa Air Bedside Shower system is perfect for seniors who can no longer stand for a shower.
It is inflatable and stores quite compact.
Here is a Water Shower bag and an inflatable basin for washing hair.
It is portable and easy to provide warm water.
---
10
The Dr. Prepare is a full portable shower that you can stand underneath.
Ideal for travel and camping, as well as for seniors.
It has a rechargeable air pump and a constant spray nozzle.
The Screwcap design tank is easy to refill.
You can warm the water in sunlight or add warm water.
---
Index Table: Top Rated Portable Showers for the Elderly
---
---