Ever had a slippery encounter in the bathroom? It doesn't matter if you are old or young. It's always frustrating when your feet slip out from under you. You can avoid this by buying the best non slip bath mat for elderly to put in front of the tub or shower.
This will help prevent any slips and falls that may lead to injuries. Read on for our list of the best non-slip mats for elderly people who need increased stability while they're taking care of their most basic needs!
---
Why the Need for the Best Non Slip Bath Mat for Elderly?
There are a few reasons why every senior person needs a non slip shower mat inside and outside of the shower.
Slippery Showers – A shower usually has some form of tile flooring, which can get very slippery when wet and soapy and even more so when not cleaned regularly. Older persons may not hold and resist slipping, and falls may occur, far more dangerous in seniors than in younger persons.
Imbalance – Older people likewise tend to be less balanced on their feet and slightly unstable, which can increase their risk of slipping and falling in the shower.
Slippery Tiles Outside The Shower – Besides inside the shower, many individuals have tiled or similar hard flooring in their bathrooms, which is also a slipping hazard when getting out of the bath or shower. Many shower and bath rugs are not slip-resistant and can actually increase your likelihood of a slip and fall.
---
Benefits of the Best Non Slip Bath Mat for Elderly
Inside the Shower – A non-slip mat inside the shower can improve your grip and balance and also provide a softer and more comfortable floor to stand on. You will be less likely to slip and fall, and the matt stays perfectly in place because of the bottom suction cups.
Outside The Shower – A mat outside the shower with a non-slip rubber or silicone bottom keeps the mat perfectly in place. You now also have a soft and comfortable, absorbent area to stand on while you dry off.
---
Features of Good Non Slip Shower Mats for Elderly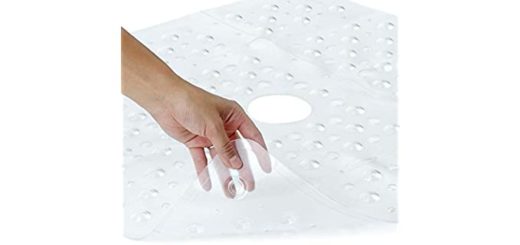 Materials – Rubber or PVC are good hypoallergenic choices in a shower mat, whereas Latex is also safe to use and a good material. The mat should be thick and durable as well as washable in a washing machine. Most Shower mats ar antibacterial, mold and mildew reistan, and rubber offers some water reistance.
Suction Cups – The suction cups are vital for non-slip properties, and in this case, the more, the merrier. Most mats offer 100 up to 500 suction cups for a secure non-slip fit in the shower.
Size – A larger shower mat provides a larger surface of protection that you can stand and move around on, yet still make sure that it fits securely in your shower, rather than being too big.
Drainage Holes – The drainage Holes are just as important if you do not want to stand in a puddle of water and risk mold and mildew build-up on your shower mat. Small drainage holes at the sides and one large drainage hole n the center over the shower drain hole are ideal and available in most shower mats.
Out Of Shower Mats – When you have tile floors in your bathroom, it is also important to have a non-slip secure, plush and absorbent shoer mat outside of your shower to stand on. Soft and plush cotton or microfiber on top and a rubber or silicone bottom for secure placement is ideal.
---
Reviews: The Best Non Slip Bath Mat for Elderly
These are the safest and best available Non-Slip Shower Mats that are ideal for Senior persons. Also note that this page includes affiliate links.
---
1
The Gorilla Grip is one of the toughest and most slip-resistant Shower Mats you will find.
The Gorilla Grip Shower Mat has hundreds of suction cups that keep it securely in place.
The design features large drainage holes, and the mat is large in size to cover a larger shower surface area for optimal safety.
The mat is anti-bacterial, mold, mildew resistant, BPA free, completely non-toxic, and hypoallergenic.
You can pop your shower mat into the washing machine for a quick and cool wash as needed.
---
2
The Vive XL is a large surface covering shower mate available in either a blue or clear color option from which you can choose.
This shower mat has a strong suction base and will attach easily to your shower floor, covering a large area.
The mat is made from latex-free and hypoallergenic materials from PVC material that is hard-wearing and long-lasting.
The mat is machine washable and very safe to use.
---
3
The SlipX Solutions non-slip Shower mat is large and comes in various color options for your perusal.
The mat covers 65% more shower surfaces than standard shower non-slip mats.
There are 100 suction cups at the bottom for a strong and secure fit on a non-textured surface.
The mat is soft and comfortable to stand on and has plenty of drainage holes and a square shape.
You can also easily machine wah your shower mat.
---
4
The Templeton Home non-slip Shower Mat is soft and durable, with high-strength rubber construction that is strong and still comfortable under your feet.
There are over 200 suctions cups underneath the rubber mats for a secure fit and non-slip surface.
The non-slip rubber mat is also water-resistant and very easy to clean.
You can trust this mat for a safe and comfortable non-slip surface area to stand on n your shower.
---
5
The All pride Non-Slip Mat for your shower has a safe and comfortable design.
The mat comes with 100 suction cups and offers a very sturdy and reliable grip.
There are 84 drainage holes for fast water runoff, and the at is latex-free and hypoallergenic.
Easily washable and beautiful design and ideal for heavy-duty use.
---
6
Here I have chosen a plush, soft, and non-slip shower mat option that you can use outside your shower on those slippery tiles when drying yourself off.
It is made from highly absorbent microfiber plush, shaggy, soft, and cushy under the feet.
This design is a multi-purpose mat to use anywhere in your home.
The matt's bottom will non slip on tile floors and stay in place.
What is more, this lovely mat is available in plenty of colors from which you can choose.
---
7
The Asvin soft has a soft PVC loofah design top and strong suction cups underneath to prevent slipping.
Here we have a soft touch shower mat with a loofah type surface and bottom suction cups to keep it in place.
There are two color options from which you can select.
The shower mat has a Hollow design and consists of durable PVC.
It is easy to clean and very quick drying.
---
8
Here we have a more decorative non-slip shower mat for seniors with a few color options.
The PVC shower mat is hygienic and durable with an anti-slip design.
It is adhesive to stay in place and has a pebble top design for slip resistance.
There are 200 PVC suction cups at the bottom to stick securely to a shower or tub.,
It comes in a few color options to suit all home décor designs.
---
9
This non-slip shower map is ideal for use inside and outside the shower to prevent slips and wet accidents.
The Shower mat has 122 individual suction cups to keep it in place.
The design has drain hole slotted panels for better water drainage.
It consists of high-quality TPE and PP Plastic materials that offer excellent slip resistance.
You can also select from a few color options in this specific model.
---
10
The Mantto Non-Slip shower map is safe as BPA, Latex, and Phthalate free and has ample drainage holes.
The Mantto shower mat is a high-quality TPR material that is BPA and Phthalate free.
It has large drainage holes to keep water from pooling.
There are suction cups underneath, and the top ensures good slip resistance.
You can also choose from a few color options available and different size options.
---
Index Table: Top Rated Non-Slip Shower Mats for Seniors
---
---