For anyone with limited ability and fragile elderly persons, the journey from the bedroom to the bathroom may seem quite difficult.
Then again, elderly persons with sensitive or uncontrolled bladders may not be able to make it to the bathroom on time.
This is where the best bedpan for the elderly becomes a much-welcomed necessity.

---
The Bed Pan for Seniors
A bedpan is a receptacle used for toileting someone bedridden or incapable of getting to a bathroom soon enough. Most bedpans consist of either glass, plastic, or metal. However, I would not recommend glass bedpans for elderly persons as they may get hurt.
Many diseases can confine an elderly person to their bed or make it difficult to reach a toilet in time. The bedpan is designed to cater to these needs and be used by a caretaker or older adult.
Bedpans are usually mostly stainless steel which is much more hygienic than plastic. Still, stainless steel is tough and cold, so many choose a softer plastic bedpan over stainless steel.
You also get a fracture bedpan that is smaller than a standard-sized bedpan and has one flat end. This bedpan is designed specifically for elderly patients with a hip fracture or recovering from a hip operation or injury who cannot raise their hips using a regular bedpan.
Bedridden seniors recovering from a surgery or medical condition or are confined to their beds will benefit most from a bedpan for long periods.
Then again, seniors who lack bladder control or struggle to walk to the bathroom will also find help in a bedpan.
[/super_list]
---
Using a Bedpan and What Equipment You Need
Here are a few tips for a caretaker of an older adult using a bedpan and exactly what you will need;
In the below video, I have a demonstration specifically for caregivers on how to easily and safely use a bedpan for an older adult;
The Equipment You Will Need – You will need to select from a regular bedpan and consider plastic or metal. You need a fracture bedpan if the older adult has a hip issue. Look for a comfortable and ergonomic design. You will also need some wet wipes and maybe a bedpan liner to make cleaning up easier. You will also need an absorbent sheet of paper to place underneath the bedpan for spills.
Setting Up for Using the Bedpan – Make sure to wash your hands and warm them, and if it is a metal bedpan, also warm it with some warm water and dry it off properly before use. Spread a layer of absorbent material or paper on the bed. Make sure to fold the older person's bedclothes down properly at the sides to prevent soiling. Use a drape or sheet to keep them warm and comfortable.
Using the Bedpan – Turn the older person on their hips, place the bedpan behind them, and roll it underneath. Or you can help to lift the elderly person to a sitting position on the bedpan. If the person can clean themselves, provide toilet paper and some wet wipes, you will need to clean them yourself. You can also use a warm washcloth which is a bit more comfortable than a wet wipe.
Cleaning the Bedpan – You will need to put the contents of the bedpan down the toilet, rinse it, and then thoroughly clean it with a detergent. It is good to steam the bedpan to kill off germs and bacteria that may have built up now and again.
---
Features of a Good Bed Pan for the Elderly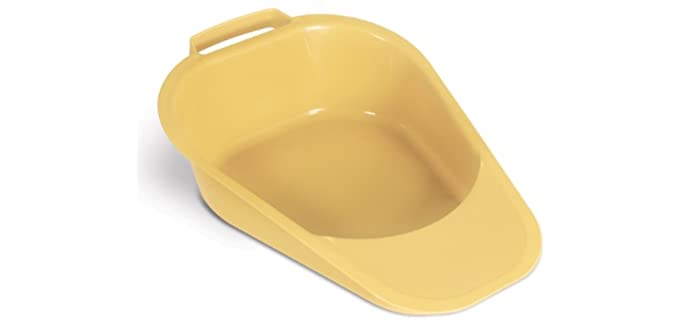 Size and Capacity – Make sure that the bedpan is the right size and dimensions for the person using it. Most bedpans are around 13 by 11 inches in size. If it is too small, it may be uncomfortable and can leak. If it is too big, the person may slip inside the bedpan.
Materials – The main options for elderly persons are stainless steel or plastic. Both have their advantages. Stainless steel is very hygienic but cold and must be heated with warm water, and stainless steel also lasts much longer. Plastic is warmer, softer, more affordable, and easier to come by, but it requires more vigorous cleaning and does not last as long as stainless steel.
Design and Shape – You get a regular bedpan and a fracture bedpan for persons with hip injuries or conditions. Look for a comfortable and molded design that is easy on the buttocks. You also get padded bedpans which are more comfortable.
Autoclavable – Make sure that the bedpan can withstand as high as 121 degrees Celsius heat. Cleaning the bedpan with detergents may be okay, but especially for plastic bedpans, you will need to do a deeper clean, using steam now and again.
---
Reviews: The Best Bed Pans for the Elderly
Here is our list of the best available bed pans for elderly persons;
---
1
---
2
From Alimed, we have a bariatric design bedpan, which is ideal for elderly persons heavier in weight.
It can be sued for weight up to 1200 lbs.
The bedpan is extremely durable and has an autoconclave design.
There is a low profile and a large flat supportive area for larger patients.
It is designed to be easy to be placed and remove.
Furthermore, we are durable and thick plastic and come in a neutral green.
---
3
Here we have a larger heady duty bedpan, a bariatric design.
The front of the bedpan is tapered and slides easily underneath a patient.
It is ideal for heavier-weight elderly persons.
The bedpan has a non-stick surface and is very easy to clean.
It is also completely latex-free.
---
4
The MedPro bedpan is a Fracture design bed pan.
This design is ideal for persons with a hip fracture, injury, or post-hip surgery.
It is much easier to use and has a plastic guard to prevent spills.
The bedpan jas a smaller tapered front, so it is easier to slip underneath your body.
It also has built-in handles and can be used as a female urinal.
---
5
From OdontoMed, we have a more hygenic stainless steel bedpan.
The bedpan is high-quality stainless steel that is safer, easier to clean, and more hygenic.
The design is simple, safe, and easy to use for seniors.
It is also a high-quality design.
---
6
This is a very thick and stable bedpan for seniors.
It consists of durable PP plastic that is of excellent quality.
The bedpan is easy to clean and adopts an open-type design to pour easily.
It has a contoured shape and a much more comfortable seat.
It is also ideal for hospital and nursing home use.
---
7
Here we have a thick and stable bedpan for seniors.
It consists of quality PP Plastic and is contoured for comfort.
The bedpan comes with liners and bags as well as gloves.
It is durable and has a comfortable design.
---
8
From Hymic, we have a portable bedpan for seniors.
The bedpan consists of PVC and is very lightweight.
This is an inflatable model ideal for traveling.
Also fully washable.
---
9
The AliMed Comfortable bedpan for seniors is very easy to clean.
It has an anti-spill design and can hold 325lbs in weight.
The design is durable and heavy-duty.
The bedpan is very sturdy and solid.
---
Index Table: Top Rated Bed Pans for the Elderly
---
---