Having a bath now and again, or every day for that matter is an extremely relaxing and enjoyable experience.
But as you age, this experience may become much harder and less enjoyable because getting out of the bath safely may not be as laidback as when you were younger.
This is where the bathtub rail for the elderly is a convenient invention to be considered.

---
Creating a Safe Bathroom Environment for Seniors
The bathroom, as is the kitchen is two of the most dangerous and slippery areas for an older adult because water and wetness are involved.
The bathroom is even more dangerous and difficult for elderly people because they need to get in and out of a wet shower or bathtub and on and off a low and small toilet.
Not only dangerous, but bathrooms are also quite uncomfortable, especially for seniors with less strength and mobility, requiring extra balance and stability.
Here are a few tips on how you can make the bathroom a much safer and easier to use space;
Easier Sink Accessibility – A sink with nothing underneath is ideal for sitting and standing seniors and accommodates a wheelchair. The faucets need to turn up and down easily, with no need for twisting and grabbing. An extra-long or tilted mirror is also ideal and easier to access.
Easy Reach Items – Seniors will need to reach their toiletry items easily without bending and stretching, so ensure that these items can easily be stored within reach. Look at the shower and bathtub caddy's within easy reach and toilet roll holders in easy reach.
Safety Lighting – Seniors with poor visibility may struggle with moving around in a bathroom, and poor lighting makes it even more difficult. Make sure that there are light switches within easy reach and proper lighting.
Transfer Bench – For seniors in a wheelchair or with mobility issues, a transfer bench can help them get in and out of the shower or bathtub.
Non-Slip Mats – Nonslip mats in the bathroom, both inside and outsole of the shower and bathtub, are essential for seniors as they help to prevent slips and falls.
Grab bars and Safety Rails. You get a variety of gab bars and safety rails for the shower, bath tuba, and toilet area to help a senior person with stability when getting in and out of these areas.
---
Guidelines on Installing Grab Rails
Proper bathtub rail or grab bar installation is vital for safety, comfort, and peace of mind as a caretaker or family member of the involved elderly person or persons.
Reviewing the ADA guidelines and standards for safety rails are a great place to start, keeping in mind that you do not have to follow the rules exactly for a private home. However, the standards state that;
1. A grab bar should be one ¼ inch in diameter for optimal grip.
2. There needs to be at least 1 ½ inches of space between the wall and the rail for the elderly person to get a firm grip on the rail.
3. It must be installed horizontally with a slight angle from 33 inches to 3 feet from the finished floor to the top gripping part. You can tweak this height a bit if you have a shorter or taller elderly loved one.
The rails must be secure and placed on well-reinforced walls. There must also be nothing in the way of a senior trying to grab the bar swiftly when needed.
---
Features of a Good Bathtub Rail for the Elderly
Here are some features and types of Grab Rails available for use in the bathtub;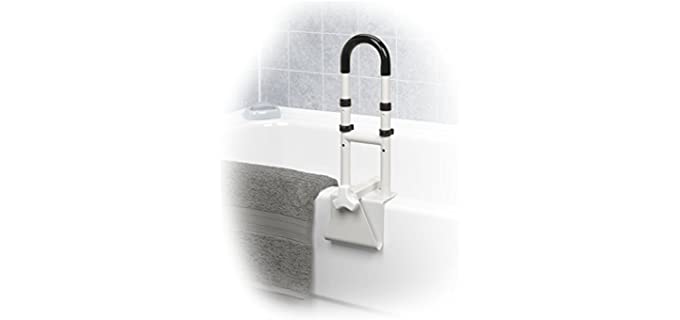 Straight Grab rail – The most popular grab rail style with two brackets fitting the wall and a straight rail that can be placed vertically or horizontally as needed.
Angled Grab Rail – This s the best-suited grab rail for a bathtub, as it is comfortable and provides a different grip option, ideal for moving from a sitting to a standing position and the other way around.
Folding Grab Rails – For seniors who share bathrooms with other individuals or who travel, this is a more portable option that you place in position when visiting the toilet or taking a bath or shower.
Length – The Length of a Bathtub Grab rail can vary from 28 to around 40 mm in diameter and 56 to 60 inches in length, depending on your needs. A few options are available, so you must choose what is most comfortable for you.
Finish and Style – Grab Rails come in various finish colors and styles to get something that also looks good inside your bathroom.
Weight Capacity – Because grab rails are made of different materials, they can hold different amounts of weight. The sturdier materials can hold a weight capacity of around 300 to 350lbs, whereas most grab rails hold the standard 250lbs.
Installation – You get two main installation options, wall-mountable that is fixed with screws or suction cups. The wall-mountable options are much more secure and safe as the suction installation options may slip off when weight is placed on the bar. I would only recommend suction rails for travel and portability.
---
Reviews: The Best Bathtub Rails
In our list, we have some of the best available rails for the bathtubs of elderly individuals;
We hope you love the products we recommend!
So that you know, We may collect a share of sales or other compensation from the links on this page.
---
1
---
2
The Carex Bathtub rail is also versatile for all users around the bathroom.
The rail is secure and very wide for a firm and sturdy grip.
It helps with safe entry and exit in and out of a bathtub for an elderly person.
The finish is very modern and classy in chrome.
You will need no tools for installation, and it has clamp attachments for mounting.
---
3
The Drive Medical Bathtub rail is a safe and comfortable plastic.
It is an attractive, ergonomically designed bathtub rail that provides a safe and comfortable grip.
The handle has a design that is perpendicular to the tub.
It is easy to install without any tools as it has an adjustable clam.
The rail can hold a weight of 300lbs.
---
4
The Nova Bathtub Safety Rail is a clamp design rail for bathtubs.
It makes it easier for seniors to get into and out of a bathtub.
The rail requires no assembly and comes ready to be attached with the clamp to your bathtub.
It comes in an attractive smooth white color and is rust-resistant.
---
5
The Moen grab rail for seniors is more versatile in use.
You can mount it on a bathtub, toilet, or shower rail.
It is stainless steel with a stainless steel brushed finish.
The rail has concealed screws and a SecureMount design.
You will need SecureMounts for installation, however.
The heavy-duty design holds up to 500LBS in weight.
---
6
The Drive Medical Adjustable Height Bath Tub rail is for bathtub use only.
The design is durable white powder-coated steel.
The height of the grab bar is fully adjustable, and it comes with a clamp-on function.
There is also a stainless steel locking mechanism with non-wearing rubber pads for scratchproof security.
---
7
The Vaunn Rails are ideal for bath and shower use.
They have a padded rubber clamp and a strong locking mechanism.
The assembly can be customized and is a tool; free.
The design is compact and lightweight for easy portability.
---
8
Here we have a barrier-free bathtub handrail for seniors.
It is available in two color options.
The handrail has ABS and stainless-steel materials for safety.
It provides non-slip and anti-fall protection for seniors.
Multi-Functional for bath and shower use.
---
9
The Delta Faucet Rail can be used for the bath by seniors.
It is a multi Grip device with a white finish and classic look.
The device offers leverage support for up to 250 pounds.
It is lightweight and rustproof with a durable powder coating.
All hardware for installation is included.
---
10
From Sammons Preston, we have the ideal bath safety rail for seniors.
It has a padded clamp and is adjustable.
The foot of the bar is rubberized to prevent slipping.
Also ideal to use as a toilet transfer bar.
---
Index Table: Top Rated Bathtub Rails
---
---