For elderly persons who struggle with mobility or who have severe arthritis, have had a stroke, or have other health issues, it may be quite difficult to put on and take off their socks and shoes, for that matter.
However, shoes are an easy option as a slip-on can be obtained, but with socks, it may still be difficult to take them off and put them on.
A sock aid for the elderly is an assistive device that allows you to put on your socks easily without bending or stretching to get to your feet.
The sock aid will help an elderly person overcome pain and physical limitations and to keep their independence.

---
---
Choosing a Good Sock Aid
With this very simple and basic dressing aid, an elderly person can easily slip their socks on with no pain or strain to their body.
The sock aid can be flexible or more rigid, attached to a loop or two long handles.
The sock slips very the flexible part of the sock aid while the top of the sock is held open. You then drop the device on the floor while holding the handles, slip your foot into the sock opening, and pull on the handles upward to get your foot in.
Rigid sock aid works a bit differently but with the same principle.
You do, however, need to consider a few aspects when choosing a sock aid for an elderly person;
Choose the Right Handle Type – Some sock aid has a long rigid handle while others have a continuous loop. The long rigid handles and continuous loop work well for persons who can only use one hand. On the other hand, seniors with depth perception issues may struggle with a single handle and can use a sock aid with two handles.
Flexible or Rigid device – The Flexible sock aid bends, making getting the sock into the holder much easier without overstretching your socks. The rigid sock aids us larger and will usually open the sock a bit wider, which is easier to get your feet into, especially if they are swollen.
---
Types of Sock Aids
Some options for sock aid may even come with foam handles for people with arthritis and a larger grip for easy holding.
Some wide sock aids feature a flat design to prevent the socks from rolling up during use.
There may also be a sock notch at the side of the sock aid to help keep the sock or stocking in place while you apply it to the aid,
It may take some practice in the beginning. However, you will soon come to enjoy and be able to use a sock aid with ease.
I have added this video to help you to use a sock aid properly;
Then there are also a few different designs of Sock Aids;
Stainless Steel Sock Aids – This sock aid usually comes with a shoehorn for putting on socks and shoes. This device has a plastic handle and a long bar with a curved hook for pulling socks and garments. The device can easily grip any item, but I wouldn't say that it will not open the sock up for entering your feet easily.
The Stocking Donner – This device has comfortable foam handles and dinner, so you can easily put on your socks.
Compression Stocking Aid – The Compression Stocking Sock aid is attached to a continuous loop cord with the shape of a plastic that you pace the compression sock over to insert your feet and pull the socks up.
---
Features of a Good Sock Aid for the Elderly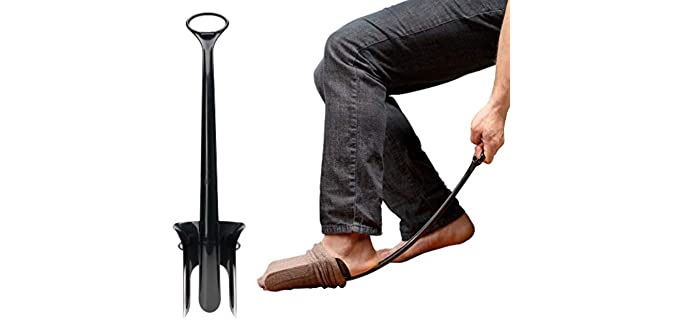 Materials – The Main Materials used in sock aids are plastic, metal, and textile materials for the loops. They are usually quite durable and sturdy. Some have foam handles, and others may have additional rubber materials.
handles – the sock aid may have handle grips instead of a cord or soft loop handles. There may be a single handle or loop or double loops for handles. It all depends on the design of the sock aid.
Cord or Bar length – With the corded types, the length should be long enough not to bend or stretch to reach your feet. The same principle counts for a rigid bar that needs to be long enough.
Sock Type – Most ankle-length and crew-design socks are ideal and work well with most sock aids. However, longer socks and compression socks may need some help. Some sock aids are designed specifically also to be able to help you with longer socks and compression socks.
Foot Size – There are some size options in most sock aids. However, most models come in a universal size. You will need to consider the size of the sock opening that the device allows, especially f your feet swell.
---
Reviews: The Best Sock Aids for the Elderly
Here are some of the very best sock aids available for seniors today;
We hope you love the products we recommend!
We may collect a share of sales or other compensation from the links on this page.
---
1
---
2
This is the full sock kit from RMS for putting on and taking off socks, compression socks, stockings, and other types of socks for men and women.
The sock aid kit comes with a sock aid with foam handles, a sock and stocking remover or offer, and all accessories required.
The sock aid is ideal for light and medium compression socks and hosiery.
It also works well for regular socks and stockings.
---
3
From Opole, we have the ideal sock aid for the elderly.
It is an easy slide, tug, and pull device to get your socks on.
The contoured design is latex-free for allergies and has a flexible plastic shell.
The handle is foam padded for your comfort and slip-resistant for better grip.
The product is of excellent quality and easy to use by seniors.
---
4
The Sock horse is another excellent invention for seniors to get their socks on easily.
The tool is fast and easy to use by seniors.
It has rubber grips for easy application and will not stretch your socks.
The long handle is ergonomic and reduces the need for bending and stretching.
It can also double as a shoehorn for putting on your shoes.
---
5
The Stauber is one of the best available sock aids for elderly individuals.
The sock aid has an extra-long handle and shoehorns for putting on shoes.
It is fast and easy to use with a hook and grips.
It can also be used to put on other clothing items and for gripping items out of reach.
---
6
From Allstar Innovations, we have a sock slider for seniors.
It is a full easy-on-and-off sock and shoe kit that includes a shoehorn.
The designs pack easily for portability and travel.
The full kit is straightforward to use by seniors and very versatile.
It is a compact and durable design.
---
7
The MarsWellness Sock Aid comes in different options.
It is easy to use and comfortable.
There are foam grips on the handles.
The sock aid is a one size fits all option.
---
8
The Vive Sock Aid is ideal for seniors.
It can be used for both socks and stockings,
It is a donner-pulling device ideal for the elderly and pregnant women.
The cuff is slip-resistant.
---
9
The Sock Ox is another favorite sock aid for seniors.
It is versatile for socks and stockings.
The device extends up to 36 inches and has three adjustable lengths.
It is a long-handle shoehorn design.
---
10
From rehabilitation Advantage, we have three options in their sock aid device.
It has a 27-long extension cord.
The device is lightweight and very easy to use.
Ideal for seniors and pregnant women.
---
Index Table: Top Rated Sock Aids for the Elderly
---
---