The days are gone when large boxy shoes were the only comfortable dress shoes an elderly person could wear.
Today, many stunning and fashionable dress shoes are available for senior ladies.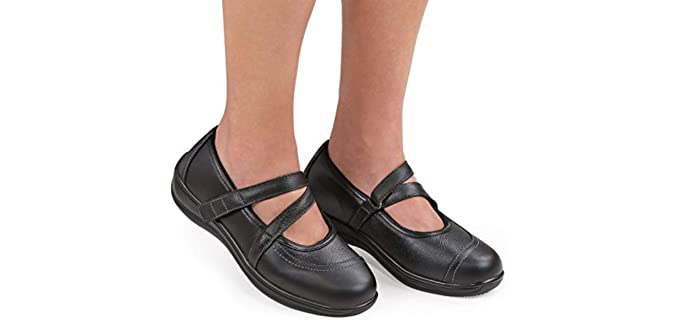 ---
---
Common Footwear Issues in Seniors
Our bodies and even our feet undergo many changes as we get older. Your skin gets thinner, there is less padding and muscle tone in your feet, and the joints may become stiff and aching.
Many foot conditions can occur as we age;
As people get older, their feet undergo numerous changes that can affect the fit of their shoes. For example, your skin gets thinner, and you lose fat padding on the bottom of your feet, so you may need extra cushioning in your shoes to stay comfortable.
Your joints also get stiffer, and your arches get flatter. Plus, your feet spread out more as tendons and ligaments lose strength, so you may need a bigger or wider shoe than you used to.
In addition, conditions like arthritis and diabetes can cause your feet or ankles to swell, so you will likely need shoes with adjustable openings and fasteners to accommodate your changing size. Arthritis can also make it painful to tie up laces, so Velcro shoes for seniors may be a good option.
Here are a few common foot issues that seniors experience;
Corns and calluses can develop, which are hardened skin patches due to repetitive friction.
Bunions can develop, a bony bump developing at the big toe's joint, causing the bone to stick out at the sides.
Your arches may fall, causing flat feet and a lack of arch support.
Hammertoes can develop where your toes curl downwards and point forward.
You can also develop Plantar Fasciitis, one of the main causes of heel pain.
---
Choosing Comfortable Dress Shoes for Senior Ladies
It would be best if you had a pair of comfortable and supportive dress shoes that will accommodate foot conditions, should you have one, and provide a proper fit.
Slip Resistant Sole – The dress Shoes should have a slip-resistant rubber sole that will prevent you from falling.
Lace-Free Closures – Lace-free closure styles are much easier for seniors. So Slip-on or Velcro closure is ideal.
Wide Mouth – A wider mouth or opening to the dress shoes for senior ladies allows for much easier access to the shoe.
Well Padded – The footbed should have adequate cushioning for impact protection and comfort.
Proper Materials – Harder materials in the uppers offer more support and stability, whereas flexible and soft upper materials are more gentle on your feet and skin.
Removable Insoles – It is always ideal to have removable insoles to use your own orthotic devices.
High Back – A higher back on the dress shoe helps to stabilize your ankles and provides more structure.
Low Heel – High Heels and even very flat solid soles are not ideal for seniors. These offer very little stability or support. Opt for a very low heel or a rocker-style sole.
Traction – Good grip and traction in the outsole are critical, especially for seniors.
---
Related Articles on Footwear for Seniors
---
Features of a Good Dress Shoe for Senior Ladies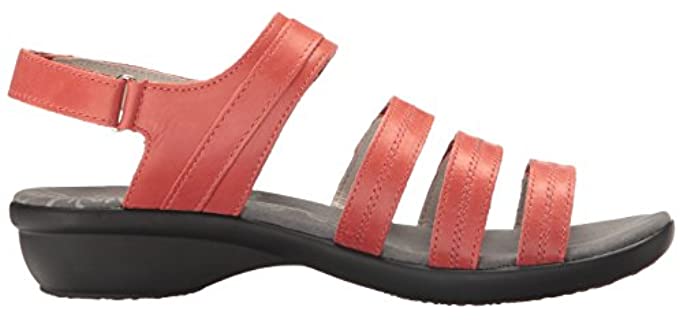 Uppers – Look for shoes with roomy fit uppers and a wide toe box. The uppers can be leather or textile with a seamless lining.
Support and Comfort – The Footbed and insole should provide ample cushioning and have a supportive design, such as arch support or an anatomical shape.
Outsole – Look for high traction, slip-resistant rubber, or synthetic outsole.
Options – Most dress shoes for senior ladies models I have chosen are available in wider widths and extended sizes; there may also be a few more color sections.
---
Reviews: The Best Dress Shoes for Senior Ladies
Here are some of the most comfortable and stylish dress shoes, specially selected for our senior ladies;
---
1
The Vionic Jacey slip-on dress shoe for senior ladies is perfect for all occasions.
The dress-style pump has the perfect formal design that is easy to put on and take off and comfortable to wear, especially for older ladies.
The Dress shoe has leather uppers with an elastic design back to slip on easily.
The sole has a slight rocker wedge style to take pressure off your feet and provide some stability.
The footbed and insole have three-zone comfort technology with cushioning in the heel and forefoot and good arch support.
There are more colors available so that you can choose your favorite.
---
2
An excellent choice in dress sandals for ladies of having is the Vionic Rest Harissa.
What I love about this sandal is that the uppers are fully adjustable for the right fit and are available in wider widths.
The strappy uppers will also help hide bunions and other foot conditions, and they are so soft and gentle against the skin.
The sandal comes in many solid colors, as well as printed options.
The sandal's footbed is fully cushioned with an anatomical design and light massaging dots for comfort and support.
The outsole is a very durable and high-traction rubber.
---
3
The Aravon Danielle is a comfortable closed-style dress shoe, ideal for colder weather conditions.
The shoe has a removable EVA and memory foam footbed for cushioning and support.
Inside is a Dri-Lex lining that wicks away moisture to keep your feet dry and comfortable.
The uppers are soft leather with a roomy toe box and comfortable fit.
A few neutral colors are available, and the shoe slips on and off easily.
Furthermore, it is also available in wider widths.
---
4
The Celina is a flat formal dress shoe for older ladies.
It has a pump style and a supportive, adjustable uppers strap.
They easily slip on and off and are a very roomy toe box.
The Celina has leather uppers with extra depth and a non-binding design.
The heel is low, and the sole is thick for shock absorbency and stability.
There is an Air Cushioned and ergonomic insole with arch support and a shock-absorbing EVA midsole.
The shoes are available in wider widths and neutral colors.
---
5
The Skechers Breathe Easy Calmly is a comfortable Dress shoe for elderly ladies with a breathable design.
The dress shoe is available in wider widths and features a roomy and comfortable toe box.
Ideal for bunions, hammertoes, and similar foot conditions.
The dress pump has leather uppers, a mesh lining, soft memory foam cushioned insole, and flexible rubber.
---
6
The Aurora boasts many features, another superb sandal option as a dress sandal for senior ladies.
The Aurora sandal has strappy uppers and a secure back strap. All the straps are adjustable in Velcro closures.
The sandal has a comfortably cushioned footbed with a supportive design.
There is a low, stable heel and thick rubber outsole for excellent traction.
The outsole has a light rocker design that helps balance and reduces pressure on our feet.
---
Index Table: Top Rated Dress Shoes for Senior Ladies
---
---