The velcro shoes for elderly are one of the best inventions to help our older generations, especially those who struggle with mobility and motor skills. We have no idea how difficult it can become to tie shoelaces, close a buckle, hook and loop strap when your hands are old, weakened, and even when Arthritis and other conditions set in.
Therefore in this article, I have found some of the most comfortable and ideal shoes for seniors, all of which have a Velcro closure design.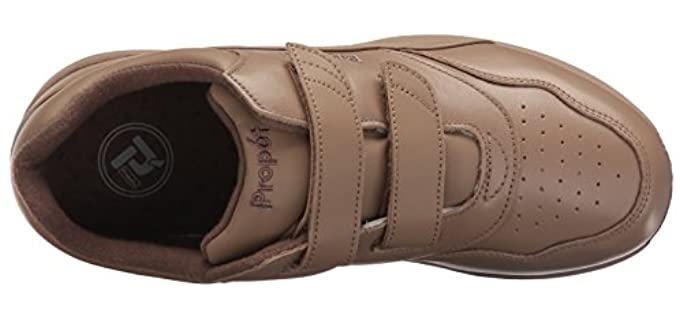 ---
Why Use the Velcro Shoes for Elderly?
The Velcro Shoe has a Velcro strap, usually single or sometimes two, or more that is used as a closure to provide a comfortable and adjustable fit.
Adjustability in a shoe is ideal for elderly feet that tend to become swollen or have certain irregularities, requiring an adjusted fit.
The Velcro closure is straightforward to use and ideal where there are weaker elderly hands that may lack mobility and coordination to tie laces or use other closures.
---
Benefits of a Velcro Shoes for Elderly
Easy to Adjust and Close – An older person may have less flexibility and mobility in their hands and struggle with laces and other closure types on shoes. The Velcro closure is rapid and easy to adjust and close, just by pulling and pressing. Elderly persons who can not bend down or reach their feet may need to use a device to put their shoes and socks on, and in turn, a Velcro closure is much easier to close with this type of device.
Adjustable Fit – Most Velcro Closure Shoe types offer an adjustable fit that caters to foot conditions and issues in elderly feet such as; swollen feet and edema, numb and tingling sensitive feet, foot deformities, and Bunions.
Other Comfort Features – Velcro fit shoes may also come with other comfort features such as a warm lining, cushioned and supportive footbed, and a slip-resistant and shock absorbing outsole.
---
Features of Good Shoes with Velcro for Elderly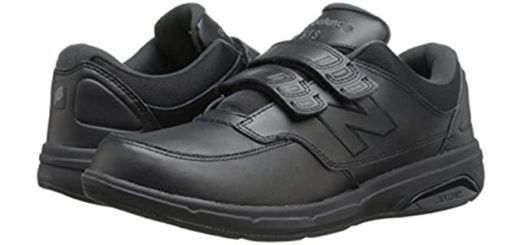 Closure – The Velcro Closure will either be two or one straps that can be adjusted. In sandal models, there will be a hook and loop or general velcro strap which can be in the front and back of the sandal.
Comfort and Support – Good comfort and support features include a contoured and cushioned footbed for shock absorbency and arch support, a shock-absorbing EVA or foam midsole, and stability features that are ideal for seniors.
Uppers – Comfortable and breathable upper that offers an accommodative and adjustable fit is ideal for seniors. Materials such as synthetic leather, genuine leather, or textiles make the uppers.
Sole – A thick shock-absorbing rubber outsole with lug patterns offers excellent slip resistance on most surfaces.
---
Reviews: The Best Velcro Shoes for Seniors
Below are some really comfortable and ideal, Velcro Shoes for Elderly Persons. And while you go through our list, we would also like to inform you that this page includes affiliate links.
---
1
Comfy Slippers for Seniors
The Propet Cush and Foot can be used as a slipper or a casual everyday wear velcro shoes for elderly ladies and men.
The Cush n Foot is available in many colors and patterns for both men and women.
A single Velcro upper strap also allows for a larger opening when you put your shoes on.
The fit is stretchable and adjustable, made from synthetic materials.
The footbed is fully cushioned and supportive.
A lug rubber sole ensures excellent shock absorbency and slip resistance.
The shoe can be worn casually or as a slipper.
The Cush N Foot is also Medicare A5500 approved.
---
2
The Walking shoe from New balance has a two-strap Velcro closure and Rollbar technology for better stability and support.
The upper consists of synthetic leather and mesh for breathability.
The fit is adjustable with two Velcro strap closures.
You can choose from neutral color options.
The shoe has Rollbar technology and Walking Strike Path technology for better balance and support.
There are a compression-molded shock absorbing midsole and a cushioned insole for comfort, as well as a PU footbed design.\the rubber outsole is durable and highly slip-resistant.
---
3
Walking Shoe with Velcro Straps for Seniors
The Propet LifeWalker and TourWalker are both comfortable walking velcro shoes for elderly woman and man, with easy-to-use Velcro strap closures.
The uppers are entirely genuine leather with two adjustable Velcro Straps.
You can choose from a few neutral colors or a black option.
The sole is a thick, durable rubber with a lug slip-resistant tread.
Inside is a plush and comfortable cushioned insole and a supportive midsole./
The Propet Walking shoe is also Medicare, and HCPCS A5500 is approved as a diabetic shoe.
---
4
The New Balance 813 is a comfortable and safe walking and casual wearing shoe for elderly persons, with Velcro straps for closures.
The New Balance 813 has a hook and loop style Velcro closure in two straps with an adjustable design.
There are a comfortable cushioned insole and a smooth textile lining for moisture management.
The Rollbar technology and Walking Strike Path Technology work together or better stability in support.
The rubber outsole is durable and slip-resistant.
You can also choose from a few neutral color options in the synthetic leather upper with a similar color sole.
---
5
Velcro Sandal for Elderly
The Breeze Walker and Bayport from Propet are both comfortable sandal types for seniors with Velcro closures.
The Propet Bayport is a Fisherman's style sandal with a Velcro Strap Closure, and the Breeze is a casual ladies sandal with two Velcro straps as closures.
Both sandals offer an adjustable fit.
The Bayport is available in black rob-worn color options, while the breeze offers many color options.
Both sandals have a genuine leather upper and a durable high traction rubber outsole.
The Bayport has an Ortholite insole and a double design EVA insole system for extra depth.
The Breeze features a Foam padded footbed with a Microfiber sockliner for comfort.
---
6
Velcro Dress Shoe for Elderly
Both these women and mens velcro shoes for elderly make the perfect comfortable dress shoes that are so easy to put on and take off.
Nunn Bush
The Nunn Bush has a leather upper and single Velcro strap closure.
There are a durable and high traction rubber sole and a supportive midsole.
For comfort, and memory foam and EVA molded footbed provides support and cushioning.
Three color options are available in the Nunn Bush.
Clarks Sillian Bella
Synthetic leather is used in the upper of the Sillian Bella.
There is a durable rubber outsole for excellent traction and a supportive midsole.
For comfort, there is a Cloudstepper technology, cushion soft Ortholite footbed.
Many color options are available in the Mary Jane style Sillian Bella.
---
7
An excellent cushioned stability shoe for seniors with a Velcro closure strap.
The shoes have textile and synthetic leather uppers.
The sole is a durable synthetic and offers good traction.
They are available in more colors and sizes.
The closure is a single wide Velcro strap.
---
8
A comfortable leather shoe with a Velcro strap closure.
The shoes are 100% genuine leather.
Neutral colors are available, and more sizes.
They are cushioned for comfort and have a durable rubber outsole.
The Velcro closure is easy o use by seniors.
---
9
This is actually a food industry shoe but with its slip resistance and cushioning, ideal for seniors.
The uppers are durable synthetic leather.
There are black or white color options available and more sizes.
The closure is two hooks and loop Velcro straps.
There is ample cushioning and a memory foam sock liner.
The durable rubber outsole ensures good traction and grip.
---
10
Comfortable and supportive shoes for seniors, with a Velcro closure.
The shoes are 100% leather in the uppers.
For easy fastening, there is a Velcro two-strap closure.
For comfort, you have a removable cushioned footbed and a shock-absorbing midsole.
The rubber outsole is durable and offers high traction.
---
Index Table: Top Rated Velcro Shoes for Elderly
---
---