As we age, our skin seems to lose its elasticity, becoming more prone to wrinkles, thinner, and dryer. In your 50s and 60s, you might start seeing more prominent wrinkles and dark spots, and your skin may start sagging; in your 70s, it may worsen.
However, there is always time to start caring for your skin and regain your youthful glow and soft skin.
The right Moisturizers for 70-year-Old skin can help to prevent further dryness and aging and will also help to diminish many signs of aging on your skin.
This article will examine body and face moisturizers containing potent ingredients to help with aging skin.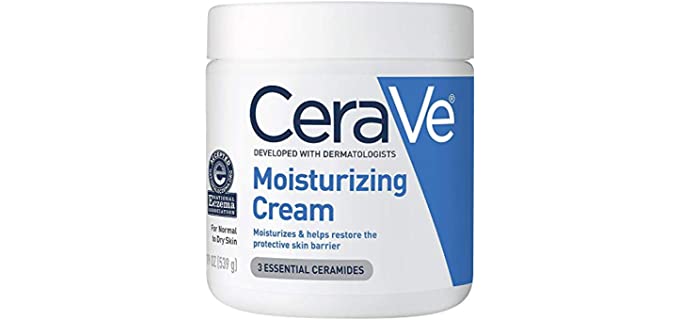 ---
---
The Purpose of a Moisturizer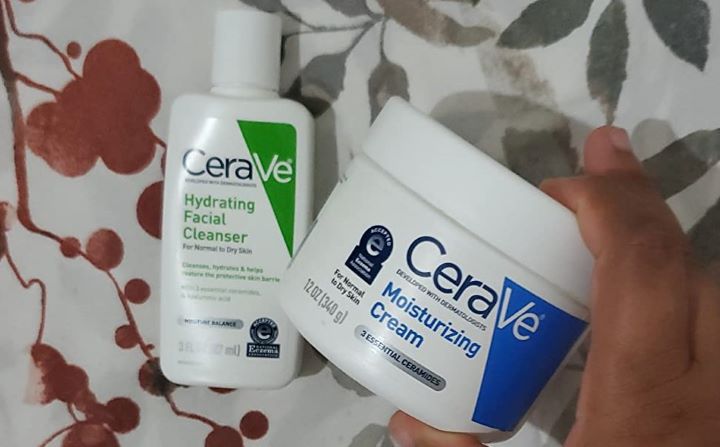 A moisturizer for your body and face has the simple purpose of providing hydration for your skin. It contains humectants that draw in moisture and emollients and occlusives that help to seal in moisture.
These are the basic functions of a good moisturizer; however, moisturizers today also contain other elements, such as Vitamins and antioxidants, that help reverse and prevent the signs of aging, such as dark spots and wrinkles, giving the skin a much more plum and elastic feel.
You get moisturizers for your face that are more expensive, containing more concentrated ingredients to help with aging and moisturize the more delicate skin on your face.
Then you get moisturizers for your body that are less expensive with less concentrated ingredients and more hydrating ingredients for your body.
---
Choosing Moisturizers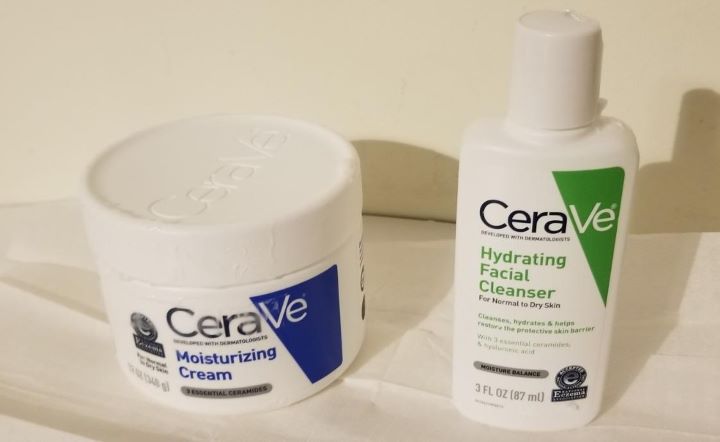 Here are a few moisturizing ingredients that help with specific conditions of the skin;

Hyaluronic Acid – Hyaluronic acid is ideal for dry skin as it hydrates, retains moisture, and plumps the skin to give you a youthful glow.
Retinol – Retinol or Vitamin A is ideal for aging and acne-prone skin. It is found in most facial moisturizers in different concentrations. Retinol is good for thin and crepey skin and helps reduce wrinkles and blemishes.
Niacinamides – Niacinamides are found in most skin creams and are ideal for treating hyperpigmentation and discoloration.
Ceramides are fatty lipids suitable for dry and sensitive skin and provide excellent moisturization for aging skin.
Vitamin C – Vitamin C is ideal for dark marks and pigmentation and helps with sagging and aging skin. However, vitamin C and Retinol should never be used in the same routine but rather alternate.
---
Related Articles on Personal Care for Seniors
---
Features of a Good Moisturizer for 70-Year-Old Skin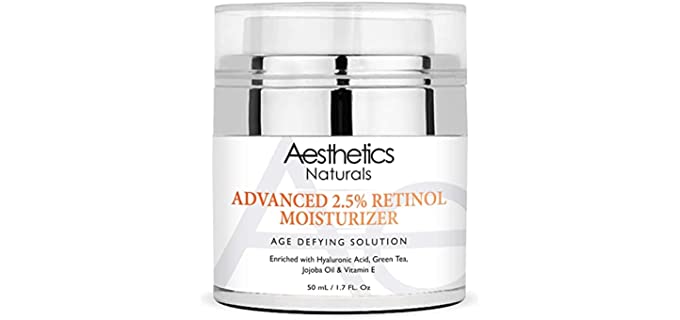 Barrier Protection – ceramides are fatty lipids moisturizing and protecting the skin barrier. Emollient lotions are also ideal for barrier protection, especially for dry and sensitive skin.
VIT C – Vitamin C is an excellent antioxidant in many skincare products. It helps to reduce and lighten dark spots.
Niacinamide – Niacinamide is an all-rounder ideal for anti-aging and reducing dark marks and wrinkles; it will also be found in most facial moisturizers.
Moisture Ingredients – Especially in body moisturizers, you must look for natural ingredients such as Glycerine, Shea Butter, Cocoa Butter, and other natural oils for hydration and moisture.
Hyaluronic Acid – Hyaluronic acid is ideal for skin hydration and moisture. It has excellent anti-aging properties and is found in most moisturizers.
Retinol – Many facial moisturizers contain an amazing anti-aging ingredient. However, Retinol does sensitize your skin and should be used as a nighttime routine, with good sunscreen in the morning.
Consistency – When picking a good body or facial Moisturizer for a senior, you need to look for a moisturizer with a thicker and more creamy texture rather than a runny and watery texture. Body butter and emollient creams are suitable, and serum-rich moisturizers are likewise ideal.
---
Reviews: The Best Moisturizer for 70-Year-Old Skin
In our list, we have some of the best facial and body Moisturizers for skin that is over 70 years old;
We hope you love the products we recommend!
We may collect a share of sales or other compensation from the links on this page.
---
1
The CeraVe Moisturizing Cream can be used on the face and body of a 70-year-old.
It is ideal for dry skin and contains hyaluronic acid and ceramides that provide 24 hours of hydration.
The Ceramides will offer excellent dry skin relief and will smoothen your skin, reducing the dry and flaky look of dry skin.
Dermatologists recommend the Moisturizer, which is suitable for all skin types, even sensitive and oilier skin.
It is a gentle moisturizer you can use daily on your face and body.
---
2
The Olay Regenerist Moisturizer is a facial-only moisturizer that is a Sculpting-cream for wrinkles and aging skin.
The Moisturizer is designed to diminish wrinkles and fine lines from day one.
It contains vitamin B3, amino peptides, hyaluronic acid, and antioxidants that penetrate the skin easily, hydrate your skin, and improve elasticity.
It will deliver moisture within the deeper layers of your skin to improve the feel and texture of your skin.
It is ideal to use after washing or exfoliating your skin as the last step in your skincare routine.
---
3
The Prima Skin therapy body cream is a rich and soothing body butter for aging skin.
The body butter contains hemp oil to combat dry skin and hydrate dehydrated skin.
You can use moisturizing body butter all over, even on your face.
It is ideal for rough to dry skin and ailments where extra care may be needed.
There are 275 grams of high-quality hemp extract in the Moisturizer that soothes and clams the skin and supports the skin barrier for protection against environmental stressors.
---
4
The Aesthetics Retinol Night Cream is a facial night cream that helps to combat aging and wrinkles.
The formula contains Jojoba oil, Hyaluronic acid, and shea butter for hydration and moisture.
Green tea and Retinol are added as antioxidants with Vitamin E to reduce wrinkles and fine lines,
Retinol decreases blemishes and clears skin by unclogging pores and removing dead skin cells.
The formula will also help to even out your skin tone.
---
5
The Eucerin Intensive Repair Body cream suits seniors with skin issues such as Eczema, dry and rough patches, and flaky or very sensitive skin.
The Moisturizer is a body cream that supplies 24 hours of hydration to the skin and helps t restore the skin barrier.
It is a three-dimensional formula that exfoliates, conditions and moisturizes very dry and flaky skin.
The Moisturizer is free of parabens, fragrances, and dyes that could irritate,
It comes in a convenient and easy-to-use pump bottle.
---
6
From ISDIN, we have a Body Cream that offers Intense Hydration for older skin.
It contains Uradin consisting of 10% Urea, 3 % dexpanthenol, and emollients that offer optimal hydration and moisture.
The emollients will form a barrier to prevent moisture loss and keep your skin soft and hydrated.
The Cream is tested for quality and can be used on dry and sensitive skin types.
---
Index Table: Top Rated Moisturizer for 70-year-Old Skin
---
---