The Walk-In tub has a comfortable design with a watertight door that allows you to walk in and out of your bathtub rather than climb into it.
Many seniors have mobility problems and may struggle to get in and out of a tub. This limits them to showering only, which may not be as enjoyable and comfortable as a relaxing hot bath.
The Walk-In Tub is ideal for easy in and out for elderly persons with restricted mobility. Yet still, desire a soak in their bathtub.
---
---
The Walk-In Tub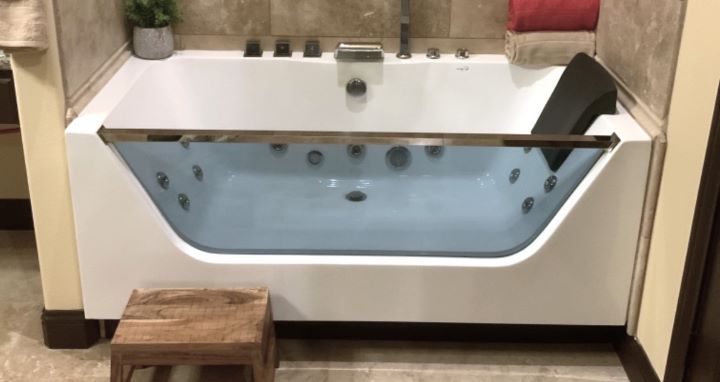 The Walk-In Tub provides a safe therapeutic benefit for seniors with limited mobility.
Soaking and relaxing in a bathtub can benefit seniors and help them relax, ease sore muscles, and improve blood circulation.
This experience can be hindered when older individuals can no longer climb into and out of their bathtubs. Therefore, the Walk-In Bathtube may be the answer that you are looking for.
The Walk-In Bathtub is explicitly designed to make seniors' and disabled individuals' lives better and easier. Most Walk-In Bathtubs have many other safety and comfort features to improve the overall bathing experience and make it much safer and easier to use.
Besides The Walk-In Bathtub, you can also opt for a Walk-In Bathtub Conversion kit, which allows you to convert your bathtub into a walk-in design.
Some Considerations Concerning Your Walk-In Bathtub;
Basics – Any Walk-In Bathtub has a watertight and hinged door built into the side of the tub, giving you a much lower threshold step over when entering and exiting your bathtub. The size and type of Walk-In Bathtub you choose will depend largely on your bathroom layout and spacing.
Quality – Make sure your Walk-In Bathtub comes with a Leakproof warranty or seal of approval. Opt for well-known and trusted quality brands.
Size of the Tub – Walk-in bathtubs will vary in size and shape, so make sure to measure the space of your old bathtub; extension kits are available if needed. Most bathtub spaces are around 60 inches long, and most standard Walk-In Bathtubs do, however, come in this size.
Door Options – The Door on the Walk-In Bathtub usually has an inward opening door on the left or right. I would instead look for an outward opening door if you are in a wheelchair or handicapped, as they are much easier to enter and exit.
Tub Types – The most basic Walk-In Bathtub Type is the soaker tub, but you can also get a therapeutic tub such as the whirlpool tub with water hets that offers a relaxing massage with bubbles and air jets.
Fast Filling and Draining – One of the greatest Drawbacks of the Walk-In Tub is that the bather needs to sit inside the tub and stay inside as the tub fills and drains. So, for this reason, you need a tub with fast-filling Faucets and fast-draining pump-assisted drainage systems.
---
Pros and Cons of a Walk-In Tub for Seniors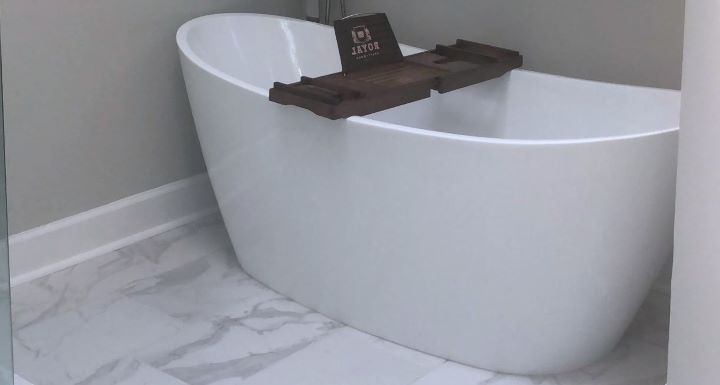 Before you decide to invest in the Walk-In Tub in your old age, here are some pros and cons to consider to make your decision more informed;
Pros of The Walk-In Bathtub

You can enjoy much deeper water depth because the design is not limited to size for climbing and out.
Other comfort features include water jets and bubbles for Therapeutic comfort and relief and features such as heated seating and chromotherapy lighting.
Walk-in tubs are generally much safer and prevent slips and falls in older individuals. Most models have built-in handrails, contoured seats, anti-slip flooring, and even a lower step for easy entry and exit.
Some models have wider doors and designs to accommodate individuals in wheelchairs easily.
Some modes and brands also come with a scald-prevention valve, which prevents burning.
Many Walk-In Tubes have combined features, so you do not need to purchase additional extras and attachments.
Hydrotherapy, massaging water jets, and soaking in a warm tub with your favorite bath salts can significantly improve seniors' health. This can also reduce aches and pains, improve circulation, and speed up healing certain health conditions in older people.
Most Walk-In tubs only take a little more water than a standard tub as they are usually narrower in size; thus, the water use is comparable.
Cons

One of the greatest issues with the Walk-In Tub is that the bather needs to sit inside the tub while it fills up or drains before you can open the sealable door.
Temperature exposure in this Bathtub is done immediately as the tub fills inside, so you cannot adjust the temperature first.
Installation costs of your new Walk-In tub can be quite hefty, and the Walk-In Tub itself is not a cheap buy, yet it is still a necessary and very functional and safe investment.
The time it takes to fill and empty the Walk-In tub may cause the water to become colder while still inside the tub.
There is always a chance of accidental flooding if the sealable door opens accidentally or is not closed properly.
---
Features of a Good Walk-In Tubs for Seniors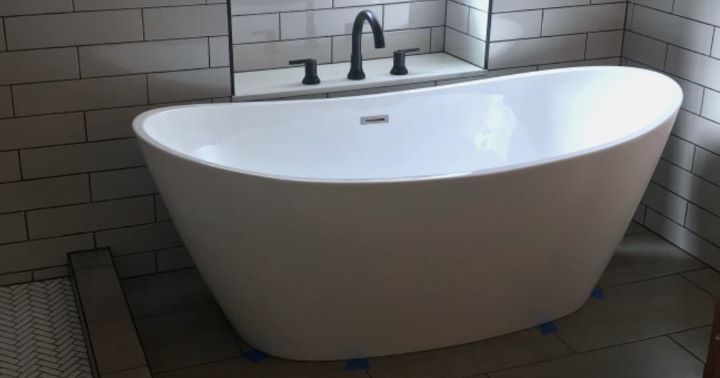 Size – The size should fit the available tub space and the bathroom layout.
Safety – Look for additional safety features such as a non-slip surface, low step for entry, sealable doors, rail to hold on, and a comfortable seat with a non-slip design.
Fill and Drain System – Look for a fast-filling Faucet and a pump-designed drain system.
Therapeutic Features – Water Massaging Jets and Hydrotherapy, Chromotherapy Lighting, and heated seating are all additional comforts and therapeutic characteristics of a Walk-In tub.
Tub doors – The doors must come with some form of warranty or acceptance seal of approval for their watertight sealing capabilities. The Door can swing either inward or outward, with outward being more desirable for individuals in wheelchairs.
---
Reviews: The Best Walk-In Tubs for Seniors
These are the best and safest Walk-In Tubs for elderly individuals;
We hope you love the products we recommend!
We may collect a share of sales or other compensation from the links on this page.
---
1
---
2
The Aqua Acrylic Walk-In Tub has a fast-fill system and a fast drainage system to enjoy your Walk-In Bath without these two primary concerns.
A Whirlpool therapeutic design that has Jets for a massaging experience and comfort.
There is also an additional heated seat option that you can choose from in the designs.
A 2 ADA-compliant two grab bars for safety, a textured floor to prevent slips, and two removable front access panels for safety and ease in and out of your Walk-In tub.
It has a rugged stainless steel frame that can handle the extra weight with nine adjustable leveling legs.
Cast in Acrylic with a high gloss finish that is easy to clean, gel coated, and fiberglass-reinforced.
---
3
This is an easy tub-to-shower and Walk-In Tub conversion kit ideal for seniors and disabled persons for easier accessibility.
A conversion kit with step-by-step instructions and all the parts you may require.
This conversion kit converts your tub into a walk-in shower quickly and easily.
Safe and easy to use.
Ideal for older individuals and those who are disabled.
---
4
A gorgeous Glossy White Walk-in tub for seniors is ideal for any home style.
This is the smaller single-seated Empava design.
The freestanding bathtub has a low step and an integrated seat inside.
It has a glossy acrylic finish and secure construction.
You get your bathtub with all the trimmings already added and attached.
---
5
Not quite a Walk-In Bathtub but rather a bathtub and shower door for your Walk-In Bathtub or Shower.
You can use a sliding door on your Ins Shower Bath Tub, or Walk In Bath Tub, converting your bathtub into a handy shower.
Double sliding design that moves without noise and with ease.
It has durable accessories for easy installation and a long stainless steel door handle.
The clear tempered glass is thick and ANSI-certified for safety and quality that will not shatter.
---
6
The Empava Walk-In Tub is a fantastic design for elderly persons and a neutral white color option.
The Empava is a freestanding walk-in bathtub; this one is the larger size option.
It has a glossy white acrylic finish and a durable frame.
There is a left sidewalk extra wide door.
The tub comes with all accessories pre-installed and already drilled in.
---
7
The Energy Tubs Store offers you their Whirlpool massaging Walk In Tub complete set with a faucet.
A whirlpool-designed massaging walk-in bath for seniors.
The bath can be selected in the right or left drain option.
It has massaging jets and a fast-draining system.
The tub comes with all accessories, and the faucet is included.
There are support and a warranty for a lifetime on this specific model.
---
Index Table: Top Rated Walk-In Tubs for Seniors
---
---