Going to the toilet is a breeze for a younger person, which is not given a second thought.
Yet, for older individuals, this simple task may be difficult.
Getting up and sitting down on a low toilet can be painful and very difficult for older persons.
---
Higher Toilets for Seniors
In this article, I want to concentrate on one of the best Toilet options you can get for an older person or anyone who struggles with mobility, explicitly standing up and sitting down.
The Higher, or Elongated toilet is one of the most sought-after and best designs that you will find for seniors and those struggling with mobility.
The Higher Toilet is one of the best designs; sitting down on the toilet and getting back up is much easier. Some models also have other ideal features for an older person, which you can look at if needed.
---
Choosing the Best Commodes for Elderly
Besides the Higher Toilet, there are a few other basics to look at in a good toilet for seniors;
Installation – Putting in a new toilet can be costly and quite a process; therefore, you need to keep in mind that you might need professional help and professional advice. Ensure that the toilet design you get fits the size available in your bathroom and the settings you have on your waste pipe at home.
Flushing Technology – An essential aspect that we do not always consider is the toilet's Flushing technology. Most Toilets use a GRAVITY FEED Flushing mechanism, so when you pull the lever, the water then drops from the tank to the bowl and uses gravity to pull everything down. Then there is a DUAL-FLUSH design, which has a two-flush handle for flushing either solids or liquids to save on water by reducing water for liquids. Lastly, a PRESSURE-ASSISTED Toilet has a special tank within the toilet tank, holding a combination of water and air under pressure. When you flush, the pressurized air will force and expel water into the toilet bowl to clear the contents.
Height – Height is significant for Seniors; you need to choose an elongated or heightened design that is easy to stand up from and sit down on without effort.
Styles – When it comes to a toilet style, there are many different designs with many color options, but two main models exist. The One Piece toilet, a tank, and a Bowl are integrated into one or the Two-Piece Toilet, which has a separate tank usually bolted at the toilet's top.
Bowl Shape – Most Toilet Bowls and seats are either round or elongated. The Elongated is a better choice for seniors and adults because it has a larger seat and higher sitting position, whereas the round bowl is ideal for small spaces and is more compact.
---
Features of the Best Commodes for Elderly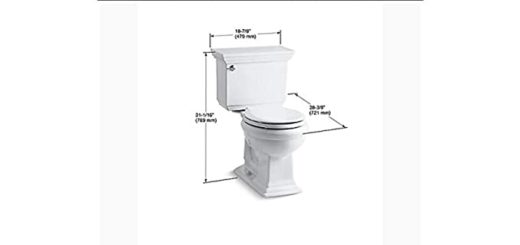 Design – Higher design for comfortable sitting and an elongated bowl, a separate tank and bowl, a more durable canister design for less exposed seal material and leak resistance, soft closing seat with durable stainless steel hinges, and a textured lid to resist water and scuffs. A Round-front bowl is also the ideal solution for smaller bathrooms and toilet rooms.
Flushing System – The Flushing System needs to be robust and save water. A few such systems include the; Double Cyclone flushing system or a Large 3-1/4-Inch Canister Flush Valve with Powerful Jet Action. Then there is also a Toilet Siphon Flushing one-piece toilet system, no clogs, NO leaks, or an Aquapiston canister, allowing water to flow into the bowl from all sides, thus increasing the power and effectiveness of the flush.
Finish – For the finish a clean and sleek appearance is desirable. This can be achieved with a polished chrome trip lever and a SanaGloss or high gloss ceramic glaze-prevents, which also debris and mold from sticking to ceramic surfaces. Most Toilet models are available in different color selections.
---
Reviews: The Best Commodes for Elderly
These are some excellent toilet models for senior people, but before you have a look at these, please note that this page includes affiliate links.
---
1
The Thetford Parchment is a High Profile improved flushing system toilet for elderly persons.
The Parchment from Thetford is a versatile and classic styled toilet with a taller seat and a single-hand system for adding water to the bowl.
The lid is textured to shed water efficiently and to resist scuffs.
The toilet is very lightweight and easy to install, use, and service.
It is a classic and elegant design that will fit in almost any home.
---
2
From Kohler, a top brand, we have their Cimarron Higher Toilet model.
The design is a two-piece toilet set with an elongated bowl that offers added room and comfort.
The>Comfort Height feature offers chair-height seating, sitting down, and standing up much more comfortably.
You will get a bowl and a tank with optional seating designs to choose from as required in the combination.
There are also other colors available in this model.
---
3
The Toto Vespin 2 is another classic when it comes to toilets for seniors.
The Toto features a Double Cyclone flushing system that has very low water consumption.
The Skirted design and universal height are ideal for elderly persons.
A Chrome finished Trip lever and a SanaGloss ceramic glaze finish on the toilet for an elegant appearance.
The SanaGloss also helps prevent dirt and debris from sticking to the toilet to be easily flushed or rinsed away.
The Elongated front bowl and seat allow for easy standing up and sitting down.
---
4
From Woodbridge, we have the classic elongated Dual Flush Toilet for senior persons.
The Toilet is available in white, black, or off-white color selections.
All in one package includes the toilet, pre-installed soft-closing toilet seat, a pre-installed water fitting, high-quality wax ring, floor bolts, and clear installation instructions.
The toilet is certified for a high-efficiency Water Sense Siphon flushing system.
The top-quality seat is comfortable for elderly persons, and there are durable seat hinges from stainless steel.
---
5
The American Standard Elongated Pressure-assisted toilet is another superb addition to our list for seniors.
The toilet has a Pressure assisted siphon jet for more powerful performance.
The taller height of the toiler makes sitting and standing up much more accessible for seniors.
The two-piece design has a separate tank and bowl.
A fully glazed trapway for effective removable and a speed connect tank and bowl coupling system is easy to install.
---
6
Another excellent addition to senior toilets from Kohler is their Memoirs model.
The Memoirs model is available in differing shades of white to choose from for your home.
The round front bowl offers the ideal solution for smaller bathroom areas where you have limited space.
The toilet has a very comfortable height for an older person and has a polished Chrome left-hand lever.
An Aquapiston canister allows water to flow into the bowl at all sides at a 360-degree angle.
The high-efficiency bulk flushing system also performs the best and saves as much as 500 gallons of water.
---
7
The Convenient Height Toilet is extra high ad comfortable for seniors to use.
Very high and comfortable seat.
Dual Flush mechanism.
There are a metal handle and a slow-close seat design.
Easy to use for seniors.
---
8
The Deer Valley Toilet has a comfortable high seat and a dual flush system.
A modern and classy design toilet.
Very easy to clean design for seniors.
Siphon flushing system and highly efficient dual flush.
Easily installed and maintained.
Comfortable high seat for seniors.
---
9
The Signature Hardware Braeburn toilet has a high seat and is easy to assemble.
The two-piece configuration allows for easy access to the toilet.
Easy to install and mount.
A higher set and the flushing mechanism are on the right side of the tank.
Round and comfortable chair height.
---
10
This two-piece toilet has a bidet seat and washlet for seniors.
A washlet and bidet in one design.
Use incoming water supply to mist the toilet before use.
Front and rear warm water washing.
Heated seat and warm air dryer.
---
Index Table: Top Rated Commodes for Elderly
---
---