Our skin is exposed to so much dirt and pollution daily, as well as drying elements in the air, which makes it necessary for regular bathing and cleaning with proper soap.
Elderly persons may have more fragile and sensitive skin that requires a more specific and milder type of soap.
Soap for seniors needs to hold some moisturizing agents and be free of harsh chemicals, alcohol, surfactants, and fragrances that could cause dryness and irritation.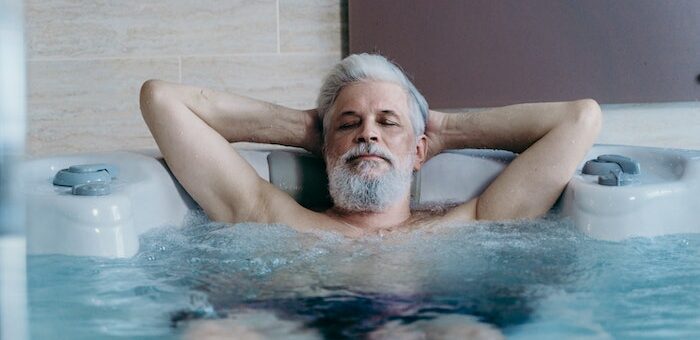 ---
Why Do Seniors Need a Special Bath Soap
Our skin changes as we age and generates much less of its own natural oils. It gets thinner and more fragile, as well as less elastic.
Other than just natural aging, the sun, UV radiation, and other natural variables, as well as medications and injuries or bruising, may increase the aging process and cause more damage to the skin.
Having a proper skincare plan can help to keep your skin in good shape and protect it against environmental and physical stressors.
A good soap for seniors will keep your skin clean and well moisturized. However, it is also advised to follow washing or bathing with a good moisturizer to keep your skin soft and supple, as even moisturizing soaps may not provide adequate hydration and protection for aging skin.
---
Choosing Soap for Seniors
When Choosing soap for seniors, there are ingredients to look for and ingredients to avoid;
What to Look For – Lanolin and Hyaluronic acid in some soaps are hydrating and conditioning for both your hair and skin. They are excellent for dry skins. Glycerin is found in most soaps and is a more natural ingredient that locks in natural moisture to prevent drying. Plant Oils such as coconut oil, jojoba oil, sunflower, and olive oils are deal to moisturize dry skin naturally.
What to Avoid – Try to avoid soaps that are colored with synthetic dyes, as they can cause drying effects and allergies. Fragrances that are synthetic smell good but can cause dryness and irritation. Sodium lauryl sulfate (SLS), is a surfactant used to cause the foaming action in most soaps and shampoos. It is not harmful. However extremely drying and not ideal for dry and sensitive skins.
As you will see, there are natural soap options on the market that contain mostly organic and natural derived ingredients that are healthy for your skin and quite moisturizing.
Other synthetic soaps may be just as beneficial, as there are some brands that have natural oils in their soap bars and do not contain dyes, SLS, or fragrances which is also beneficial for seniors.
---
Features of a Good Soap for Seniors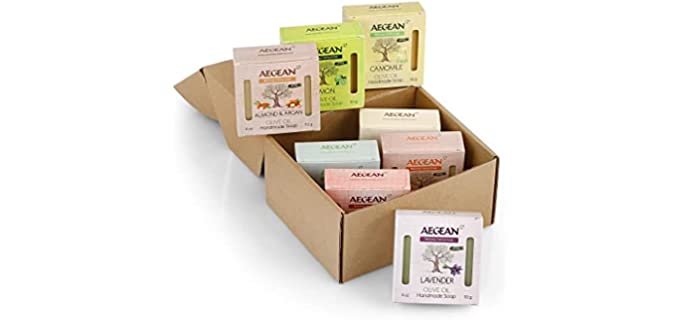 Avoid Drying Ingredients – Try to avoid drying ingredients such as fragrances, alcohol, and surfactants in your soap. Also, opt for soap that is not colored, as the dyes may irritate your skin and cause dryness.
Natural Plant Oils – Natural soaps containing plant oils such as coconut oil, sunflower oil, Jojoba oil, and even goats' milk are less harsh on the skin and more moisturizing.
Glycerine – Glycerine is found in most bath soaps. As soap cleanses your skin and strips its natural oils, glycerine in the soap locks in natural moisture and inhibits dryness.
Oils and Lanolin – If you are looking for a soap that is more moisturizing and hydrating, you can look for ingredients such as Lanolin and hyaluronic acid or glycerine in your soap.
---
Reviews: The Best Soap for Seniors
In our list, we have some lovely mild and moisturizing soaps that are ideal for seniors of all ages;
As you will see, I have added some safe synthetic soap bar options, as well as completely natural and organic options, all of that is ideal for aging skin.
---
1
The Method Simply Nourish bar soap is a moisturizing soap for sensitive and dry skin that is ideal for elderly individuals.
The soap contains coconut and rice milk, with shea moisture that offers natural hydration.
It is an all-natural derivative soap for dry and sensitive skin.
The soap has a natural scent and contains no Phthalates or parabens.
---
2
The Dove Sensitive bar soap is an unscented and mild soap that is suitable for skin prone to allergies and sensitivity.
The soap contains ¼ moisturizing cream to moisturize and nourish your skin.
It cleanses and helps your skin to retain its natural moisture.
The soap is unscented and contains no harsh surfactants, making it ideal for elderly skins.
---
3
The Australian Botanical soap is a Goats milk-based soap that contains soya bean oils and natural plant oils that moisturize and keep your skin healthy.
The soap contains rich goat milk suited for more sensitive and allergy-prone skin.
It has sustainably sourced plant outs and contains no SLS, HEDP, or EDTA, detergents, or any harsh chemicals and fragrances.
The soap bar has a light and tranquil natural scent.
---
4
The Aegean 100% Natural bar soap is mild and moisturizing for elderly skin types.
The soap is vegan, consisting of organic ingredients and nourishing essential oils.
It is hypoallergenic and helps to fight bacteria and germs with natural ingredients.
The soap is crafted by artisans for men and for women.
The Oils in the soap are cold pressed and offer maximum hydration.
---
5
The Dove original Beauty bar soap is a top favorite among many individuals of all ages.
It is a soap bar that contains ¼ moisturizing agents that will not dry out your skin.
The original version is suitable for all skin types and for dry skin.
The soap contains no harsh chemicals or fragrances and is safe and hypoallergenic for the elderly.
It is even suitable to use as a facial cleanser.
---
6
The Massey's Cf soap is a natural Probiotic soap that will not disturb the natural Ph balances of your skin and body.
It is designed for the therapy of many skin discomforts and ailments, especially in the elderly.
The soap contains natural lavender that cleanses Aloe Vera, Lipoic Acid, and a CF formula of Bacillus Coagulans.
The soap will be strong enough to cut through dirt and grime and gentle enough not to dry your skin.
---
Index Table: Top Rated Soap for Seniors
---
---