Hygiene is such a vital part of our daily lives. However, bathing and showering may become very difficult when we get older, especially with disabilities and immobility in seniors.
Something as simple as getting in and out of a bathtub, or a shower, may become impossible for an elderly person. This is where the No Rinse Body Wash for the Elderly becomes handy.
A No Rinse body wash is a cleanse that can be used while an elderly person is in their bed or a seat to cleanse them without needing a rinse.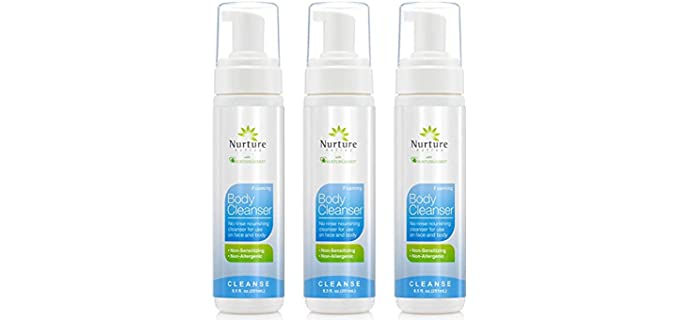 ---
---
How a No-Rinse Cleanser Works
The No-Rinse Cleanse is perfect for disabled or bedridden persons and seniors. However, it could also be ideal for traveling and camping trips where water or bathing facilities are unavailable.
In the video below, though, you can see exactly how to use a No-Rinse Body wash for seniors;
The No-Rinse cleanser will come in a concentrated option which needs to be mixed with water, or a premixed option, usually a spray, liquid, or foam.
You can use a washcloth or sponge to bathe a person and then wipe it off with a towel.
Many No-Rinse Body Washes are multi-purpose and can be used as a facial cleanser and shampoo.
---
Here are a few good reasons to Opt for No-Rinse Cleansers
The No Rinse Body wash has a few benefits;
Seniors and Disabled Persons – A No-Rinse Body Wash is the perfect solution for seniors or disabled persons, and even patients after surgery or injuries that are bedridden or in a wheelchair. There is no need to struggle to get the person in and out of a shower or bathtub; it is a much safer and just as effective option.
Ideal for Camping – The no-rinse body wash is ideal for traveling or camping, where you do not have bathing facilities, as an alternative to washing with water.
Cleans are Effectively and Easily – You can use the no-rinse body wash to cleanse your entire body easily and effectively, and your skin will be left soft and clean without a sticky residue.
Multi-Purpose – Much No-Rinse Body washes also double up as shampoo, some as shampoo and conditioner, and some as shampoo, body wash, and face wash.
---
Features of a Good No Rinse Bodywash for the Elderly
Scented or Unscented – Scent Free No Rinse body washes are much more gentle on your skin and hypoallergenic than the scented no-rinse body washes.
Spray or Foam – There are different dispensing systems for Rinse Body Washes. Most are foam washes which are more economical. Then there are also spray-on options.
Concentrated or Premixed – You do get No Rinse Body washes that are concentrated and require the addition of water before you can use them. Then again, you have the already pre-mixed No Rinse body washes that do not require to be mixed with water first.
Multi-Functional Body Wash – Many No Rinse Body washes are multi-functional or have a three-in-one function. They can be used as a body wash, shampoo, and conditioner, or as a Body and facewash as well as a shampoo. These are ideal for you as they are more cost-effective.
---
Reviews: The Best No Rinse Bodywashes for the Elderly
In our list, we have some safe and gentle no-rinse body washes that are suitable for elderly individuals;
---
1
The No-Rinse body washes brand will leave your skin clean and well moisturized.
The no-rinse cleanser can be applied directly to your skin or a washing cloth.
It would be best to massage the bath wash to get a foamy texture for cleaning, then towel dry.
The formula is safe and healthy, containing no alcohol or harsh chemicals.
It is a Multi-Purpose formula that can be used as a safe and non-irritating perineal cleanser.
The brand is trusted and approved by many hospitals across the country.
---
2
The Rinseless no-rinse body wash for seniors is a safe and concentrated formula.
It is ideal for sponge baths, and all you need s a washcloth or sponge and a towel for cleaning.
The economical bottle contains enough body wash for a month of bathing.
It is a gentle and safe formula that requires no rinsing and will not leave a greasy residue behind.
The formula adheres to strict environmental and manufacturing standards.
---
3
The Nurture Valley Rinseless body wash is a cleanser that protects and cleans your skin.
It has a nourishing formula that is safe for use on the face and the body, with no rinsing or water required.
It contains aloe vera, other moisturizing agents, and vitamins that are healthy for your skin.
The body wash is an ideal alternative for a water-free bath or shower.
It has a lovely mild citrus scent that will help to reduce odors.
---
4
The Medcosa No Water Body wash for the elderly is a full-body cleansing foam that requires no water.
It is very easy to use with foaming action and requires no water or rinsing.
The formula is safe for full-body use and removes dirt and bad odors.
It contains Allantoin, aloe vera, and chamomile that is nourishing and healthy for your skin.
The body wash will not leave a sticky residue and has a pleasant and mild scent.
---
5
The Aloe Vesta No Rinse Body wash for the elderly is safe and easy to use.
It is a no-rinse waterless foam cleanser that comes in a safe and easy-to-use pump bottle.
It contains humectants that attract and help to retain moisture in your skin.
Aloe is added to the formula to soothe irritated skin.
---
6
Another option is from the No-Rinse store.
The no-rinse body wash is mild and gentle, formulated for dry and sensitive skin, especially for the elderly.
The alcohol formula is nourishing and cleansing and will not irritate your skin.
It is also safe to use in the perineal area, containing no harsh chemicals or fragrances.
---
Index Table: Top Rated No Rinse Bodywashes for the Elderly
---
---