Most elderly individuals may find it quite difficult to get in and out of a bathtub. Bathing can be a calming and relaxing experience. However, getting in and out of the bath may be difficult and dangerous for seniors.
The bath lift for the elderly is a device similar to a chair that lifts you in and out of the bathtub, and that can also recline comfortably.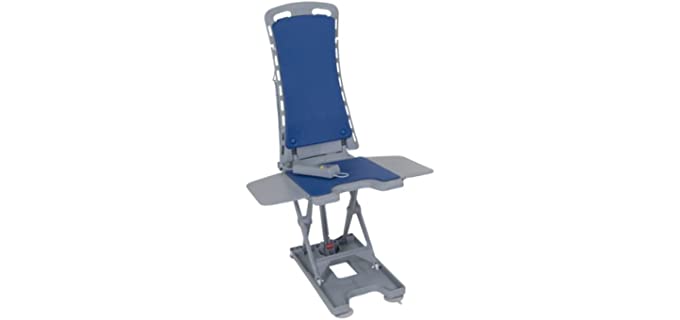 ---
What is a Bath Lift
The Bath Lift or tub lift is basically a medical device for elderly and disabled persons or persons who are recovering from surgery or injuries, and It assists a person when bathing, allowing you to get in and out of the bathtub easily.
The bathtub lifts up for you to get seated and then lowers inside the bathtub. Some models even have a reclining backrest so that you can lie down comfortably in the bathtub.
---
Choosing a Bath Lift
In the below video, you will see exactly how to use a bath lift safely;
Medicare Rated Bath Lifts – Generally, Medicare Part B will not pay for a bath lift for use by anyone. However, they do cover bath lifts for persons that are disabled and confined to their beds.
What is the Best Bath Lift? – Powered or battery-operated bath lifts are easier to use by seniors than manual bath lifts where you need to crank the lift up and down. The bath lift seat needs to lower gently and fully submerge inside the water with enough room left for your legs and feet to stretch out. Some bath lifts do come with a reclining back so that you can lie down in the bathtub.
---
Features of a Good Bath Lift for the Elderly
Size – You will need to measure your bathtub first and compare that to the size of the bath lift that you want to purchase in order for you to get the right fit. The bath Lift needs to be properly lined up with the sides of the bath.
Recline – Bath Lifts often come with a recline function meaning the backrest can lay flat. You get auto recline backrests that automatically move back to an upright position, and bath lifts that recline and lift against with the push of a button.
Power Types – The most popular types of bath lifts are battery operated. The bath lift will lower and raise by just pushing a button. You do also get manual hand crank bath lifts with levers; however, it can be difficult for elderly persons with limited mobility.
Tub Bottom and Seat – Most Bath Lift seats have a suction bottom and will only work with a smooth bathtub. It would help if you considered the seat of your lift as it may become slippery, meaning you might need some grips or stockers to place on it.
---
Reviews: The Best Bath Lifts for the Elderly
Listed below, we have some of the best available Bath Lift Devices that are especially ideal for elderly individuals;
---
1
The Drive Medical Bath Lift Chair is designed to fit almost any type of bathtub style and size.
It is a Whisper shower and bath chair for your bathroom with a weight capacity of over 300 lbs.
The Chair has quality construction and consists of durable plastic, with an ergonomic and padded seat and backrest. The height of the bath lift chair is adjustable and designed to fit your unique needs.
It has floating hand controls that have large color-coded buttons that are easy for seniors to see.
---
2
The Drive Medical Bellavita Bath Lift Chair is an Aluminium design that is lightweight and durable.
It will easily fit any size and style of the bathtub and is extremely lightweight, with a weight capacity of 300 lbs.
The Bath Lift chair is a quality and durable design with comfortable padded seats and a padded backrest.
The height of the bath lift chair is fully adjustable.
There are floating hand controls with large colored buttons for easy visibility by seniors.
---
3
The Aquatect R Bath Lift comes in a recline, specialized recline, and XL options from which you can choose as needed.
It is a high-back bath lift with integrated neck support and a very robust frame.
The device has a reinforced lifting mechanism and has self-releasing suction cups to prevent slipping.
The bath lift is a compact design that allows 40 degrees of recline for your comfort.
It is battery-operated and has built-in safety features.
The Bath Lift chair has a weight capacity of 300 lbs.
---
4
The Lumex Splash Bath Lift is an Ultra-Compact design for smaller spaces, that comes with an easy-to-use the remote-control device.
The Bath Lift has a lightweight design that you can easily fold and store n small spaces.
It has a slim and modern look with a fixed back design and optimal leg room by fitting close to the bathtub.
The Movement of the Lift chair is smooth and quiet with a stable and reliable design.
---
5
The Vollgut is an Electric operated bath lift chair that has many features for the elderly.
It is a powered bath lift for seniors who have very limited mobility and is very easy to install and set up in your bath.
There is an easy hand remote control for functioning with up and down buttons.
It complies with the IPPX8 eight-level waterproof standard.
The Bath Lift has suction cups at the bottom to prevent slipping for your safety.
---
6
Here we have the Aquatec Extra Large Bariatric Bath Lift that is battery operated.
It has a high back and integrated neck support.
There is a very stable frame and a reinforced lifting mechanism, as well as self-releasing suction cups for your safety.
The bath lift has a 375 lbs weight capacity and can be used with or without a washable cover.
The bath lift is easy you use and assemble or disassemble into two parts for storage.
---
Index Table: Top Rated Bath Lifts for the Elderly
---
---