Showering is generally a much easier option for most seniors that are still mobile enough and can manage to stand up for a short period of time. However, a shower is also a very slippery and dangerous area, where the floors may become wet and soapy and cause a great slipping risk for seniors.
The last thing you want is for a senior person to slip and fall, as the injuries may be severe.
An excellent invention generally is the safety strips for shower floors, which is ideal for seniors, adults, and even children that enjoy a shower. What is more, is that they are also ideal to use in a bathtub.

---
Shower Floors and their Dangers for Seniors
With the combination of moisture, soap, body oils and dirt, and oily bath products, the floor of your shower can become one of the most slippery and dangerous areas in your home.
Millio0ns of people of all ages are injured because of slips and falls in the shower every year. For a senior person, a slip and fall in the shower can cause very serious injuries and may even be fatal.
So how can you make your shower surface less slippery and safer?
Well, the easiest way is to add traction to the shower floor to make it less slippery. You can do this by using a shower mat or shower strips or installing textured shower tiles.
However, one of the easiest, quickest, most effective, and affordable ways that we will discuss today is to use shower strips or decals for slip resistance.
---
Ways to Make Your Shower Floors Safer with Safety Strips
There are two basic types of anti-slip safety strips for your shower;

Adhesive Safety Strips – These are adhesive anti-slip treads or strips designed specifically to stick to smooth surface s such as a shower or bathtub. They are designed to withstand water, soap, and bathing agents used in the shower and bathtub and have a textured surface that prevents your feet from slipping in the shower.
Anti-Slip Decals or Stickers – Ideally, the same thing, just a more fun and versatile option that has many choices available. Stickers or decals come in many forms and shapes, such as stars, animals, flowers, and shapes, and they work with the same principles. They are self-adhesive on a shower or bathtub surface and are water and wear-resistant for these areas and uses. They offer a textured and slip-resistant surface in the shower, which you can stand on without the risk of slipping.
---
Features of a Good Safety Strip for Shower Floors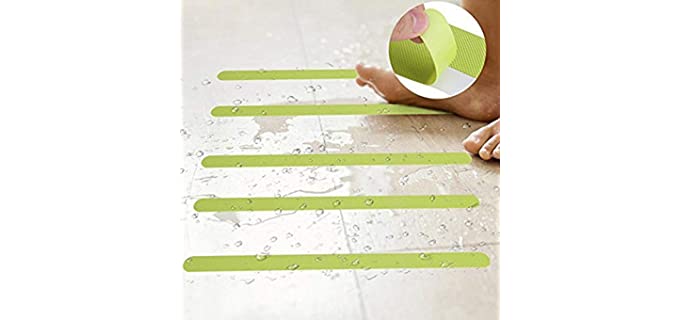 Materials – Safety Strips can consist of either PEVA material; PVC or similar materails. They are designed to be non-toxic and not to fade and to be self adhesive.
Design – You can get actual adhesive strips for the shower floor or different shapes and forms depending on the brand and model.
Adhesive – Shower safety strips are self-adhesive and peel on and off easily. Some models add a scraper for removing the stickers afterward.
---
Reviews: The Best Safety Strips for Shower Floors
---
1
The SlipX shower strips are strong and reliable, with a non-slip design for seniors.
You get twelve strips per package of self-adhesive strips for your shower or bathtub.
The strips are durable with a non-slip surface, and they are ideal for seniors and children.
They are available in a few options and are self-adhesive.
Designed to use on smooth surfaces only.
---
2
Here we have very strong adhesive strips for your shower that have an anti-skid surface.
These are anti-slip shower tread stickers.
They are an anti-skid texture with a strong adhesive grip for showers and bathtubs.
They are ideal for seniors, adults ad children.
Easy to stick on and easy to peel off.
---
3
The Secopad bathtub and shower stickers come in many colors for you to choose from.
These are PCS safety bath and shower stickers.
They come with a premium scraper for removal.
The stickers are durable with a non-slip surface, and they attach to the shower or bathtub surface with special glue.
The package comes with 24 stickers included.
There are also many more colors available.
---
4
The S and X Non-Slip Shower Stickers have a gritty texture and come in a few color options.
This is a non-slip sticker strip for your shower or bathtub.
The surface is the texture for optimal grip and slips resistance.
They come in more color options and are very durable.
The stickers consist of a waterproof and wear-proof PVC.
---
5
The Secopad shower stickers come in a set of 24 anti-slip stickers with a scraper.
Here we have decal stickers for your bathtub ad shower.
They are self-adhesive and come with a premium scraper to help you get them off when needed.
There are 24 stickers in each package.
They consist of durable and wear-proof materials.
---
6
Here we have luminous shower safety strips that also come with a handy scraper.
These are anti-Slip strips for your shower or bathtub that will prevent your feet from slipping when you stand on them in wet and soapy conditions.
They are self-adhesive and have a textured surface fr slip resistance.
They are also luminous so that you can see them in the dark, which can be ideal if needed or when there is a power cut.
Each package contains 24 strips, which is ideal for a large to medium shower and even for a bathtub, with a few to spare.
---
7
The GoTranquility Anti-Slip strops are ideal for your shower or bathtub.
Here we have PEVA self-adhesive shower strips that stick easily, and that stay down even with wet soapy water and many abrasions to them.
They have a slip-resistant surface texture for protection in the bathtub or shower that will prevent your feet from slipping on these surfaces.
They are self-adhesive and easy to remove and stick on. You will also not require a scraper for removal.
There are 12 strips in every pack, which are just enough for a smaller type of shower or even for a bathtub.
---
Index Table: Top Rated Safety Strips for Shower Floors
---
---