Having the right handheld showerhead makes showering much easier and more comfortable for seniors.
---
---
Why a Handheld Showerhead for Seniors
Some seniors may bend and flex differently than they used to when they were younger and need a handheld showerhead to reach all those hard-to-reach areas in the shower or bathtub.
Likewise, some older persons may struggle to stand and balance in the shower, needing to sit down, making it necessary to use a handheld showerhead.
---
Why is a Handheld Showerhead Imperative to the Safety of Seniors
Preventing Falls – With a handheld showerhead, there is no leaning or stretching to reach a showerhead above your head or at your side for adjustment, preventing slips and falls.
Bathing – The Handheld showerhead can also be used in a bath and is ideal for washing your hair so that you do not need to lie down to rinse your hair.
Adjustability – It is much easier for a senior person to adjust a handheld showerhead to where they need to be rinsed than one above their head.
Not Getting Burned – When a senior person turns on the shower first to get the right water temperature, they need to move back not to get burnt or to get cold water all over them initially, which may not happen fast enough and which can be a nuisance ora fall hazard.
---
Features of a Good Handheld Showerhead for Seniors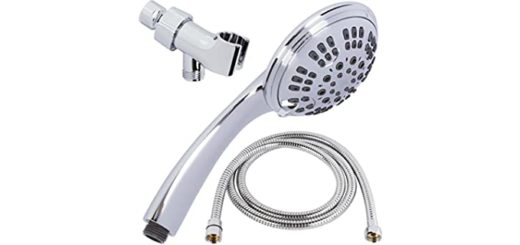 Hose – A long and flexible hose in most models that you can use sitting down or standing up in the shower, manufactured from corrosion-resistant materials.
Showerhead – This model has a large showerhead design with self-cleaning anti-clog nozzles and jets. The Showerhead can offer anything from one size to different sprayer and massage spray settings.
Installation – Installation is usually straightforward, and the package comes with full instructions and all the tools and parts you need.
Extras – Added extras such as an LED time and temperature display unit, a hanging hook, and brackets are included with some brands and models for your convenience.
---
Reviews: The Best Handheld Showerheads for Seniors
Below are the top-rated choices in Handheld Showerheads for senior persons;
We hope you love the products we recommend!
We may collect a share of sales or other compensation from the links on this page.
---
1
---
2
The Home Care Showerhead has a versatile design with a stunning rust-resistant Chrome finish, which shines like a mirror.
In the Home Care collection, there are many other bathroom accessories that you can get to match your Showerhead.
This design is hassle-free and easy to install with a long hose and single spray showerhead.
A Very durable, constructed, and hard-wearing showerhead.
---
3
From Delta Faucet, I have chosen their luxury Five Spray design showerhead for seniors.
This Showerhead is intensely powerful and can quickly satisfy all your showering needs.
Five spray options include full body spray, fast massaging spray, body spray and massage, aerated spray, and a quick pause.
A long 72-inch hose is also flexible and easy to use while sitting or standing.
All the pieces in the box are perfectly coordinated and very easy to install.
---
4
The Aqua Elegante is a luxury showerhead with three finish options to match your bathroom décor perfectly.
The Showerhead is a Plastic Version made from Thick Thermoplastic resin, which is BPA-free and withstands corrosion.
There are also corrosion-resistant high-pressure jets in the Showerhead, which are very lightweight and easy to handle.
You can choose between 6 different stream and spray types and a water-saving flow.
The package comes complete with everything you will need for easy installation.
---
5
Anna Bath is an American-owned bath and kitchen accessory company that makes this superb Showerhead.
The showerhead has anti-clog self-cleaning nozzles and a modern design with a large spray and surface.
The handle offers an ergonomic grip, and the Overhead bracelet is adjustable.
This is a five-function shower head from which you can select.
---
6
Enjoy a complete spa experience in the comfort of your shower with the Spa Station Handheld Showerhead.
There s a giant 7-inch showerhead with a rainfall spray design and six spray settings from which you may choose.
The Dual Zone anti-clog nozzles jets are safe and self-cleaning, with high-power dials for operation.
You can enjoy much better water pressure with this Showerhead and the stunning appeal of a Chrome Finish.
The Spa Station also comes with a temperature displaying a digital LED screen.
---
7
This is a full model where you get a handheld showerhead and mounted high-pressure showerheads in one for your shower.
This is the full AquaDance set with a handheld and stationary mountable shower head design.
The Showerhead has a rainfall spray that also has six different settings.
Massaging settings, pulsating, rainfall, Power Mist Rain Mist, and a water-saving setting.
You can use the handheld or the mounted shower head option separately and together.
They are easy to install and require no tools.
---
8
The Gabrylly is a full handheld and mounted shower set with attractive color options.
Another two-in-one shower system with a handheld and mounted shower head.
This model comes in many color options from which you can select.
The showerheads have three functions and a rain spray option.
There is a pressure balancing valve cartridge for optimal water pressure.
---
9
This is the single-unit handheld showerhead from AquaDance with six settings and an extended hose for easy handling.
Here we have the handheld-only version of the AquaDance.
The Showerhead has a 5-inch lever click dial and three settings.
The hose is longer and made of durable stainless steel.
It is easy, tool-free, and quick to install.
---
10
The Bright Showers Handheld Shower Set includes a handheld showerhead, bar, and grab rail.
This set includes a handheld showerhead, a stainless steel shower slide bar, and a grab rail.
The longer-length hose ensures you get to all hard-to-reach places.
The set has a stunning brushed nickel finish and is robust, safe, and durable.
The package will include everything you need for easy installation.
---
Index Table: Best Senior's Handheld Showerhead
---
---