The best magnifying glass for the elderly can provide effective handheld or hands-free magnification, much stronger than most eyeglasses.
The best Magnifying glass for seniors can be a handy piece of equipment to help them read and see many small prints that they may not be able to with their prescription or reading glasses.

---
---
The Magnifying Glass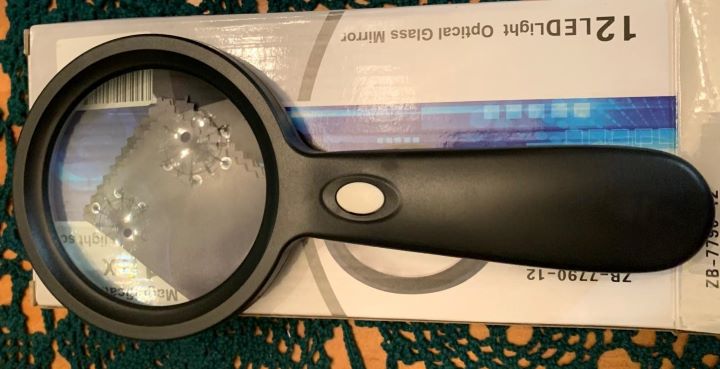 After around 45 years, most adults may have noticed a slight change in their vision, which may not be enough for prescription glasses but enough to make reading smaller prints quite difficult.
Seniors who use prescription glasses may still struggle to read small prints and perform small intriguing tasks.
A Magnifying Glass acts as a diffuser between an object and your eye, creating more clarity and enlarging the object it is placed on.
This, in turn, enables you to see smaller prints and intrigue things more clearly, with or without glasses.
---
Different Types of the Best Magnifying Glass for Elderly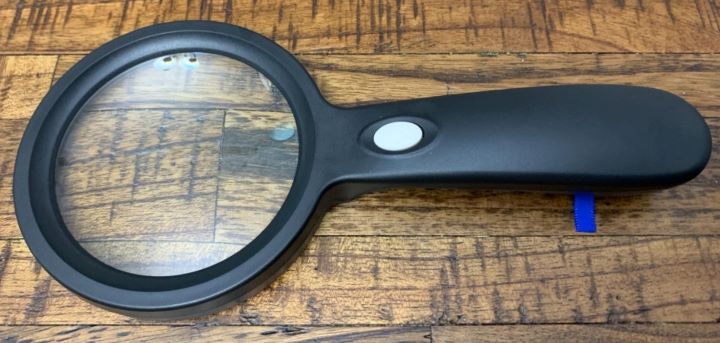 Magnifying Glasses come in different shapes, forms, and features. Here are a few;
Digital Magnifiers – The Digital Magnifying glass uses video technology to project an enlarged image onto a small screen attached to the device.
Magnifying Goggles – These are devices placed on your head, placing the goggles between you and an object to magnify it. They are ideal for seniors who work with their hands performing tasks with small objects.
Table Top Magnifier – Similar t a desktop lighter magnifier, it is a fixed top magnifier that you place on a desk and place an object below it to magnify.
Bar Magnifier – This sits on a piece of printed material, is favored by most engineers, and is ideal for persons who read line by line.
Dome Magnifier – A domed Shaped Magnifier also sits on the Printed Material.
Lighted Magnifiers – Similar to desktop and floor lamps they are adjustable magnifiers with an LED light.
Handheld Magnifiers – This is a magnifying glass that is handheld for use and can come with or without a magnifying glass.
---
Features of a Good Magnifying Glass for Seniors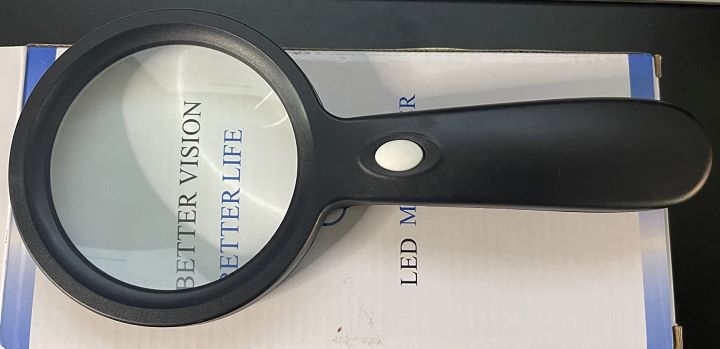 Glare Free Coating – Make sure that the magnifying glass you choose has a proper glare-free coating or anti-glare technology.
Scratch Resistant and Shockproof – For seniors, I would highly recommend a shockproof and scratch-resistant magnifying glass, as with fragile hands, it may be dropped and suffer a few dents and scratches.
Appropriate Magnification Levels – You will need to consider how much magnification you need, as magnification glasses come in different magnification levels. Levels of three times up to ten times higher magnification may be found.
Handheld or Hands-Free – In this case, you need to choose a magnifying glass style that best suits your needs. There are handheld styles available with a handy grip and those that are hands-free design. Hand-free or visor designs are handy for seniors who craft and read for long periods, requiring their hands to perform tasks.
Lighting – Many Magnifiers come with additional lights usually LED operated by battery. The lights can be dimmed and blighted as needed and for reading.
---
Reviews: The Best Magnifying Glass for Elderly
Below are some of our top favorite making glass models and ideal brands. Also, please note that this page includes affiliate links.
We hope you love the products we recommend!
So that you know, We may collect a share of sales or other compensation from the links on this page.
---
1
The Lele Life magnification glass is perfect for seniors.
It will magnify five times.
There is a large viewing area and a unique bamboo handle.
The design is lightweight and easy to use for seniors.
---
2
Here we have a handheld magnifying glass design.
The magnifying glass has ten additional LED lights on it.
It is lightweight and very easily handled.
The design magnifies up to 5 times.
---
3
This model from MagniPros magnification glass has an LED bright light and has anti-glare technology.
An advanced lighting system and magnifier.
It has a large and crystal-clear viewing area with LED lights.
The design is very lightweight, ergonomic, and easy to use by seniors.
One of the brightest and best magnifiers for reading.
---
4
The Jumbo-sized magnifying glass from MagniPros is ideal for seniors with low vision. It is also scratch-resistant and shockproof.
It has a rectangular shape and a very lightweight design for seniors.
There is a high-quality 3 X optical grade magnifying lens that magnifies up to 300%.
The Lens is acrylic, large, and shatterproof.,
The design is also fully shock-resistant and scratch-resistant.
---
5
From Gyanduly, we have a proper glass magnifying glass that offers up to 5 x magnification.
The Lens is extensive and magnifies up to 5 times.
It allows for a large 100mm 4inches viewing area and crystal-clear view.
The design is shatterproof with a rubbery frame for safety,
The handle is ergonomically and easy to use by seniors.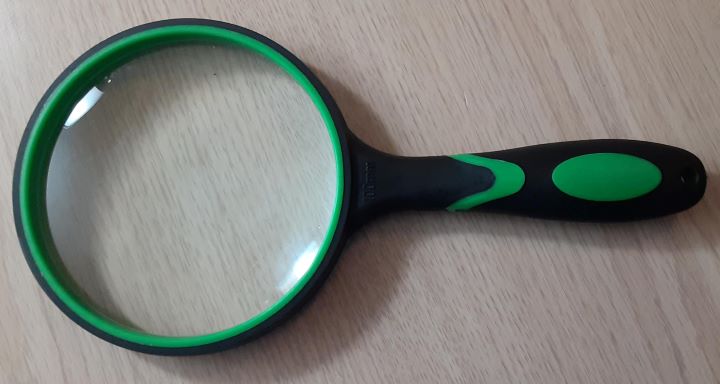 ---
6
Another excellent addition from MagniPros is their anti-glare design magnification glass for seniors.
The Magnifying Glass has a rectangular shape and is easy for natural reading.
It has a crystal-clear acrylic lens that is shatterproof and scratch-resistant.
There is a LED light that you can dim to reduce eyestrain as needed.
The handle is very lightweight and ergonomic for fragile hands.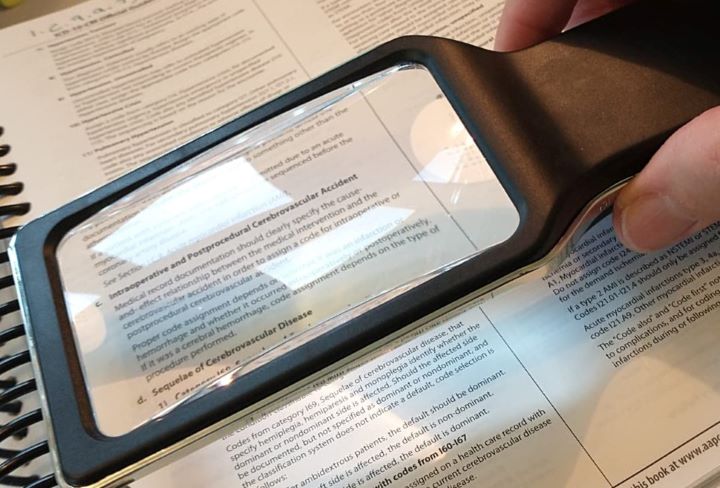 ---
7
From JMH, we have the superior 10 X magnification magnifying glass for seniors who have macular degeneration.
The Magnification glass offers excellent high power magnification.
It is a Magnifier with 12 pcs LED lights and a built-in energy-efficient LED designed for better reading.
The Lens is large at 3.34 inches and magnifies up to 10 times,
Ideal for the elderly that have difficulty reading smaller prints.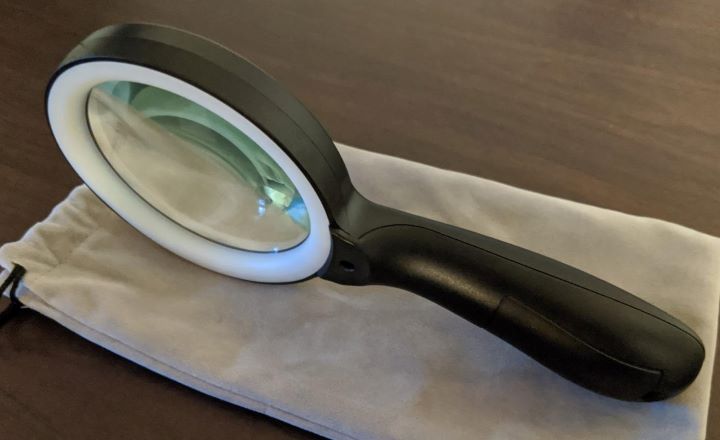 ---
8
Here we have a large handheld magnifying glass for seniors with up to 30 x magnification for seniors with macular degeneration and eyesight problems.
Offers high power magnification and 30 times magnification capability.
This is a LED light Magnifier with 12 ultra-bright Led lights.
It works with batteries and s very easy to use,
There is a four-inch-sized polished lens.
---
Index Table: Top Rated Magnifying Glass for Elderly
---
---